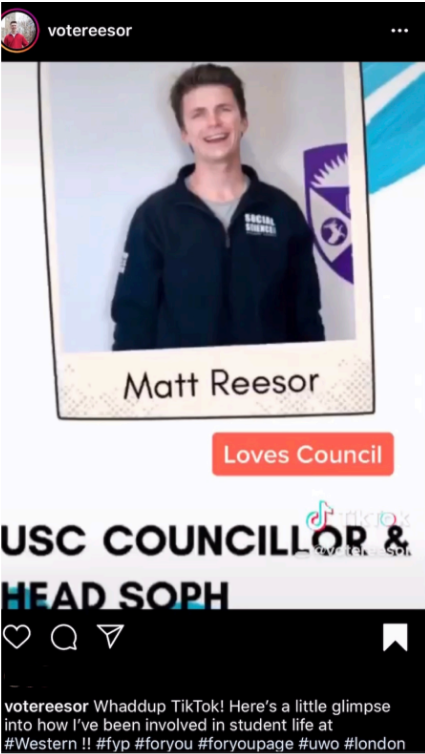 Matt Reesor was sanctioned by the EGC Tuesday night for posting a campaign TikTok that showed Western's logo, though it was announced hours after voting over Reesor's campaign closed.
Reesor posted the video on the second day of the campaign season, Jan. 21. The Elections Governance Committee heard and deliberated Reesor's case as voting began, on Feb. 2 and 3.
A report outlining the EGC's decision says that the committee determined enough of the logo was visible for it to be recognizable. 
"We would like to apologize for the infraction. We did not think a small portion of the logo would constitute a violation or be an issue, otherwise we would've avoided its use," said Reesor in a statement.
He added that his team respects the EGC's decision and is complying with the committee's request to remove the post.
The sanction is just the second the EGC has issued in the presidential race. The first was Keenen Qin for pre-campaigning, which was also announced late in the race despite the violation itself occurring very early on.
Many have been found using Western University's logo before, but this is likely the first time a TikTok has violated bylaw 2.
Section 12.1 of the University Students' Council's elections bylaw prohibits candidates from using "the USC or University logo or University copyrighted material or image." Reesor was not punished for breaking the rule, as smaller violations no longer carry a penalty under a revamped version of the bylaw.
The complainant, which per procedure is anonymous in the report, says the video had "pictures of him in various positions, one of which includes the copyrighted Western University crest."
"This is an easily identifiable symbol of the university and should not have been included in campaign materials," the complaint finishes.
To the committee's hearing over the video on Feb. 2, Reesor sent two proxies, according to the report.