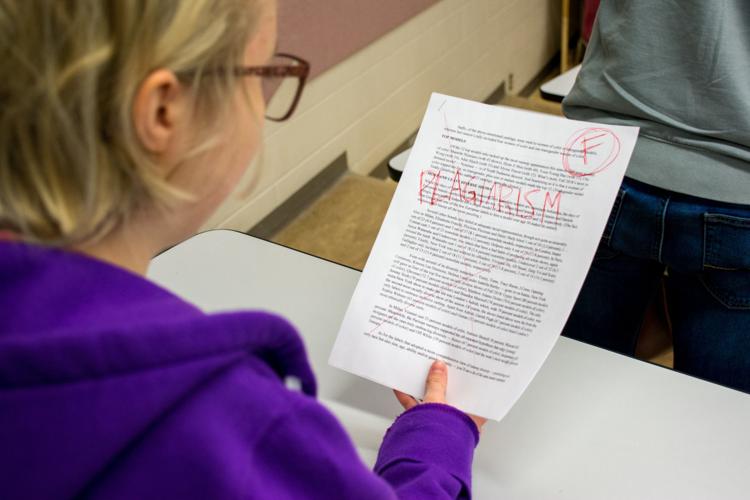 The 2017-18 report of scholastic offences at Western reveals that infractions, although up from 150 to 182, are likely still under-reported.
Scholastic offence statistics were presented at the Oct. 19 senate meeting and included all offences that were officially reported to the departments. The last three years have each seen the number of offences stay between 150 and 200.
Each offence is linked to the specific sanction that was given to the student. This ranged from a 20 per cent reduction in the course grade to a failure in the course. These vary based on the nature and severity of the offence. They also take into account the year of the student, as graduate students should be more aware of scholastic rules than first-years.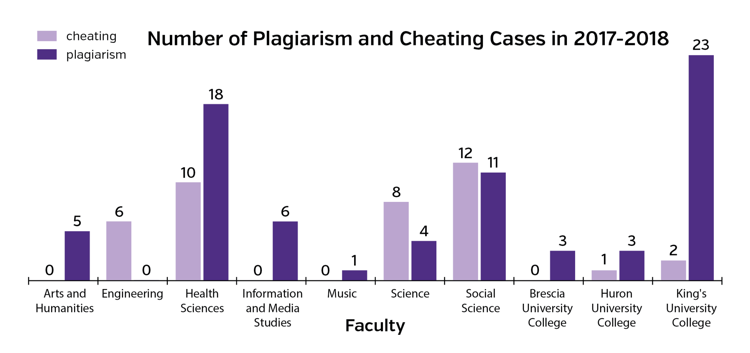 The graph above outlines the cases of plagiarism and cheating but excludes other offences.
In terms of total offences, the Faculty of Health Sciences came out on top, with 29, and the Faculty of Social Science was just behind at 28. 
Plagiarism made up the bulk of the offences, with 98 total instances, King's University College having the most, with 23, and the Faculty of Health Sciences coming second, with 18 counts.
Outside of plagiarism, cheating was the second most common offence. Twelve of these incidents occurred in Social Science.
Some unique instances include one case of impersonating a candidate for an exam at King's, for which the student received a zero on the final exam.
In Social Science, one student submitted false medical documentation, which awarded them an "F" in the course as punishment. Another student in the faculty submitted a fraudulent academic transcript and was suspended for three years. Similar offences also occurred twice in the Faculty of Science.
The Ivey Honors Business Administration program had the most notable offence, with five instances of "intentional interference with another student's scholastic work." As such, three of the students were deemed ineligible for graduation distinctions and for the Dean's Honor List.
John Doerksen, Western's vice-provost of academic programs, noted an instance 10 years ago where a student purposely misfiled a library book to prevent other students from reading it. However, This offence has not been seen in recent years.
John Hatch, a visual arts professor at Western, said that under-reporting issues stem from instructors who deal with scholastic offences internally through informal processes.
"If we could capture everything that goes on, these numbers would probably be a little bit bigger," Hatch said.
He also brought forward an idea to give instructors a larger role in deciding the sanctions by streamlining the approach. This would set up a committee to look at the academic offence policy overall to find if there is a more effective way to respond to concerns.
Doerksen hopes that reforming the process would hopefully mitigate issues of under-reporting.