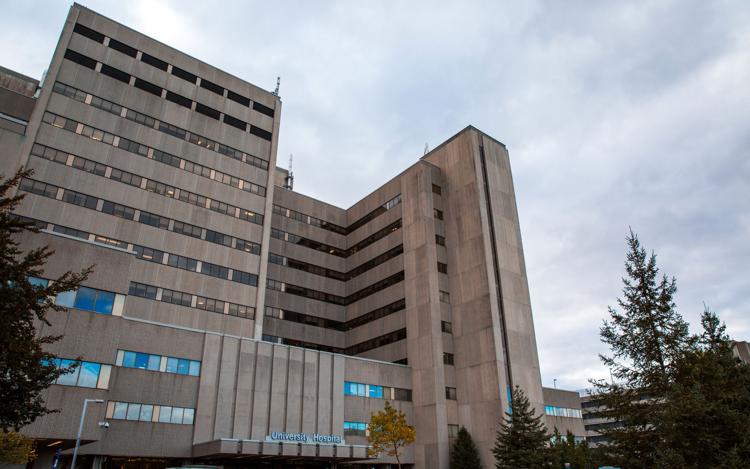 Scientists and medical practitioners from Western University's Bone and Joint Institute have discovered new information about diffuse idiopathic skeletal hyperostosis, which could lead to new therapies and treatments for the disease. 
DISH is the second most common type of arthritis next to osteoarthritis and is identified by ectopic spinal calcification, where soft tissue-like ligaments develop mineral deposits along the spine.
Although this disease affects 15 to 25 per cent of North Americans over the age of 50, with a greater prevalence among men, DISH is poorly understood and its causes are unknown. 
Schulich School of Medicine & Dentistry professor Cheryle Séguin and her team recruited surgeons, radiologists, physiotherapists and patients suffering from DISH to learn more about this disease. 
The paper was published in the Journal of Orthopaedic Research on Feb. 12.
In the study, they evaluated 19 human cadavers using advanced micro-CT technology. Physicians who collaborated in the study diagnosed 53 per cent of the cohort, giving researchers a lot of material to work with, explained Dale Fournier, one of Séguin's students who helped with the study. 
They were able to highlight three distinct presentations that match the criteria of DISH, which may help clinicians classify and categorize different stages of the disease and the patient's individual treatment plan, said Fournier. 
"What we've done is use micro-CT that's very detailed,…and with this advanced imaging, we can look at some of the nitty-gritty details and see if we can find any differences," said Fournier. "And that's where we sort of found three distinct groups or presentations that still fall under the criteria or definition of DISH". 
Fournier hopes that finding heterogeneity in DISH's classification can help develop early-stage detection criteria. This is important in providing treatments for the disease because each presentation may require a different treatment.
The diagnosis of DISH is currently based on radiographic criteria, which is limited to detecting the disease at an advanced stage.
"The problem with standard radiographs or X-rays is that we are only able to detect when these calcifications are quite large and severe," explained Fournier.
"It's at that point when patients will typically have more of the symptoms, and it's a little too late for anything to happen because it's more of the advanced late stage of the disease," he added. "So what's sort of been the limitation to date is that we're unable to detect it early enough to try to come up with any therapies."
Those with DISH may have trouble breathing or swallowing, explained Matthew Veras, another member of Séguin's research team. As the ligaments and connective tissues harden along the spine, this also causes back pain and stiffness.
"Since DISH is typically diagnosed later in life, those symptoms of being stiff, for instance, or in pain, is something you'd expect, particularly in an old man, so it kind of goes to the wayside," explained Veras. 
Finding different presentations of DISH, Veras and Fournier are hopeful that they can follow up with treatment interventions and discover which works best with each specific presentation. 
Moving forward, they hope to explore DISH at the cellular and tissue level. In collaboration with Veras' work on the mouse model, they will use this information to compare both human and mice forms of DISH to map out therapeutic strategies to treat the disease in the future.