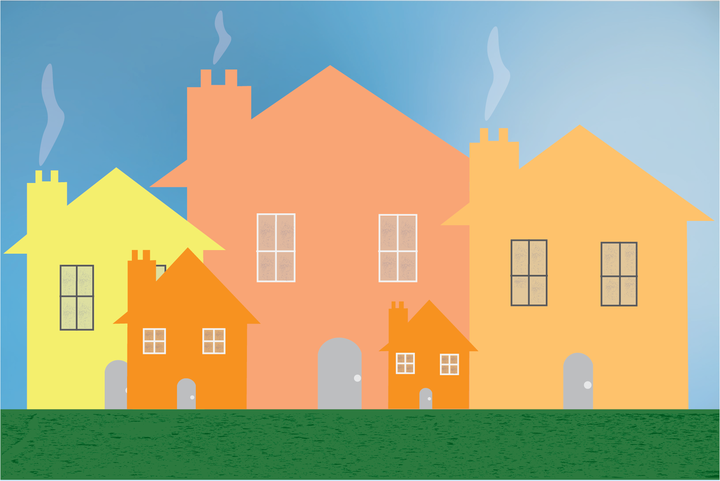 Just over a year ago, Sara Calvert had to admit a critically ill child to Victoria Hospital's paediatric critical care unit, where she worked as a nurse. The child's family had recently moved to Canada as refugees, and nobody in the family spoke English, explained Calvert.  
The child was in critical condition and required significant medical intervention, including mechanical ventilation. Thankfully, a translator was available onsite to communicate the details of the child's condition to the family. When the translator was unavailable, Calvert would resort to using gestures and Google Translate to communicate with the family. The experience left Calvert quite unsettled.  
"I could see the fear in the parents' eyes, and I wished more than anything that I could have been able to personally communicate with the family, since I was the one spending 12 hours at the bedside with them," she said. "Having a critically ill child is stressful enough. I can't imagine not being able to understand what was happening." 
A Western University graduate nursing student at the time, the experience instilled a sense of curiosity in Calvert to better understand the state of refugees in Canada, especially considering the recent influx of refugees into the country.
"I was particularly interested in learning about resettlement experiences, because I was sure that the language barrier was only one of many challenges that these individuals may be facing," she said. "I realized I had a potential thesis topic on my hands." 
Calvert recalled that one of her nursing professors, Abe Oudshoorn, had previously sent out an email looking for research assistants for a study on the experiences of newly settled Syrian refugees. After reaching out to Oudshoorn, Calvert was thrilled to learn she could use the study data for a master's thesis on Syrian refugees' experiences of social cohesion. 
Oudshoorn and colleagues began research into Syrian refugees' resettlement conditions in 2017. Concluding in 2018, the year-long initial study examined the resettlement experiences of 17 Syrian refugee families located in London. The study is currently being reviewed for publication.  
Last January, the researchers received a $95,000 grant in federal funding to follow 51 families in London, Fredericton and Calgary for another four years, after the preliminary results provided new insights and prompted further questions. 
The families surveyed were government-assisted refugees, receiving federal support for the first year before becoming more independent. The study looked at the families' conditions throughout this first year of independence, revealing significant concerns. Calvert carried out secondary analyses of the results to take a closer look at the families' state of social cohesion.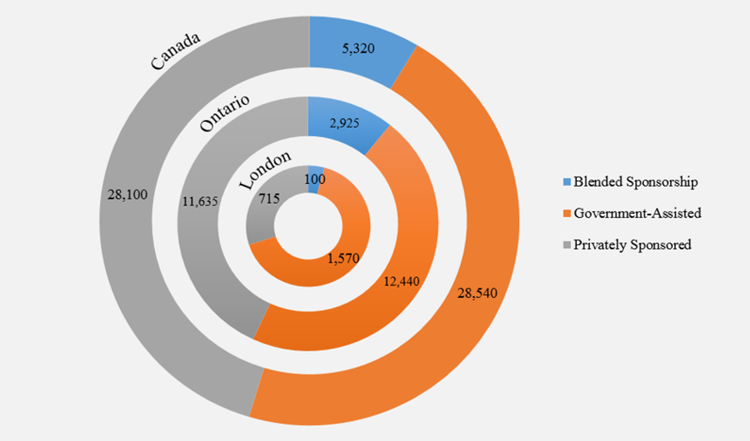 The researchers explained families were placed in two-bedroom apartments regardless of the number of members, which came up to eight in certain cases. Some expressed safety concerns related to letting their children outside due to issues of crime or drug use, while others reported issues with landlords who were making unfair or illegal demands. Some families also reported being placed in apartments with wheelchair inaccessibility, poor repairs or insect infestations, such as bedbugs and cockroaches. 
While most were still looking for better long-term housing, Oudshoorn explained all the families expressed significant thanks and gratitude to be in Canada. Many had left their homes six to seven years ago and had been on long journeys of displacement within Syria or other countries before finding a new home. Most participants expressed that Canada did or would someday feel like home, mainly attributing this to a sense of safety and kindness they had experienced since their arrival.  
"We found quite a diversity of experiences, but one of the things that was really common amongst all the families was that there were some housing concerns, but simultaneously, they had hopes and dreams for the future," said Oudshoorn.  
Calvert explained the families were able to learn about Canadian culture through newcomer workshops and could access most health care services in a timely manner, excepting mental health care. All children were enrolled in school, and parents were provided with the opportunity to attend English language classes.  
However, the participants reported experiences of homesickness, discriminatory attitudes from landlords and language barriers, all of which prevented a sense of social belonging. Further, they reported housing and financial assistance was insufficient for the families' needs.  
Above all else, the language barrier formed the greatest obstacle to integration. Participants who could not speak English struggled to find employment, form social relationships, change housing and access services. Transportation issues, such as inaccessibility to bus routes, made the situation worse.  
"Related to their housing situation, their poor apartment locations combined with their inability to afford a car not only made it difficult to attend English classes, but other events and services as well," said Calvert.  
The recent grant is for a second five-year study; four years of data collection and one year of analysis that will allow Oudshoorn and colleagues to look at how the refugee families continue to adjust over time. Oudshoorn hopes the study will provide an in-depth understanding of why some families do better or worse than others in the long-term. The money will support the local research teams in London, Fredericton and Calgary, and compensate the families for their participation.  
"Housing is one of the primary long-term concerns in terms of people's well-being," said Oudshoorn. "It's best for everyone if people have positive settlement experiences, whether we're talking about families themselves [or] about the general Canadian population." 
Calvert, who completed her thesis in December, further emphasized the importance of understanding how resettlement needs and government policies and programs improve over time.  
"Given that we are experiencing a larger influx of refugees into the country, it's important to make sure that we're following up with their resettlement experiences and really helping to promote their successful integration," she said.