Western is preparing for the large mass of students expected to come onto campus this weekend, as Fake Homecoming and Purple Fest draw out partiers in droves. 
Road closures and traffic detours, including for buses, are the major precautions Western University will take to ensure students are safe during the hectic weekend.
Facilities Management focused on students being able to walk around campus safely.
Elizabeth Krische, the department's associate vice-president, said traffic access will be closed from 6 a.m. to 6 p.m., or until the typically large crowd dissipates. 
Philip Aziz Avenue, Huron Drive, Lambton Drive, Middlesex Drive, University Drive and the bridge will be closed to all traffic, but will remain open for pedestrians and cyclists. 
"We've done everything in our power to try make this a safe venue as we possibly can," said Krische. "By closing the roads and having people walk where they want to instead of being constricted to sidewalks, that should help as well." 
The London Transit Commission released a statement on their website with detours for several major routes: 2, 6, 10, 13, 27, 31, 34, 90, 102 and 106.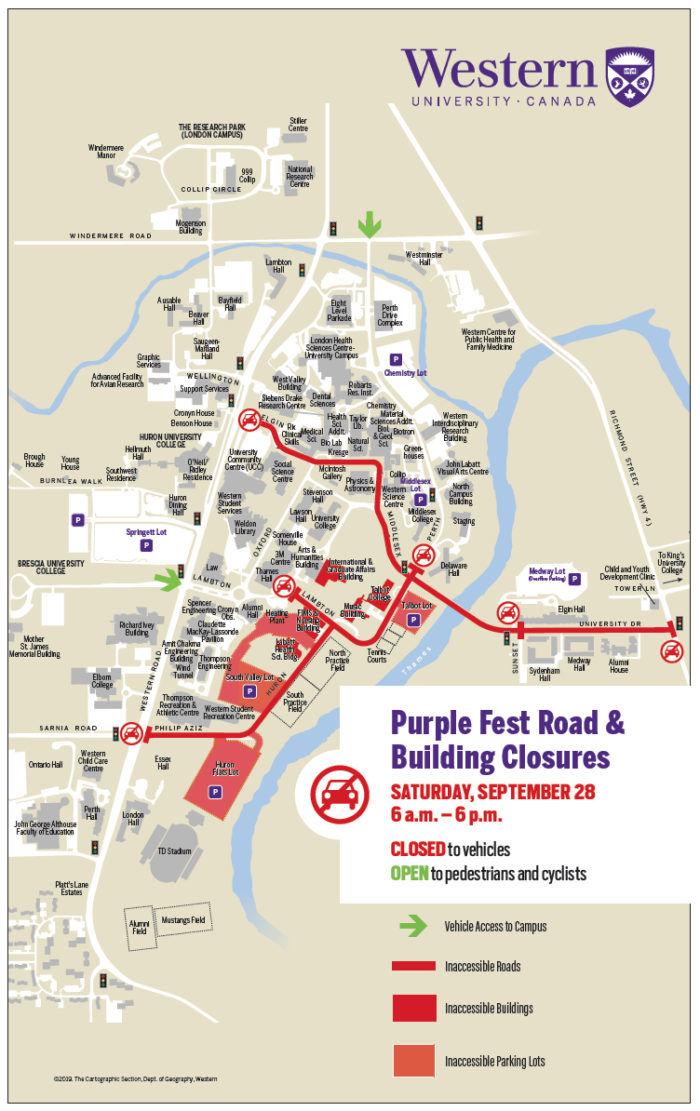 The LTC will not be coming North on Richmond Street past Cheapside Street. Krische said the LTC will avoid campus because of the Fake Homecoming partying this weekend.
There will be 65 volunteers around campus guiding people, according to Krische. She also said Western's Student Emergency Response Team will be "roaming" in case of an emergency. 
She cited the city organizations working with the university — the London Police Service, Middlesex-London Emergency Medical Services, City of London and campus police — who are developing safety plans for Saturday.
"Western has taken a lot of measures to try and provide safety," said Krische.