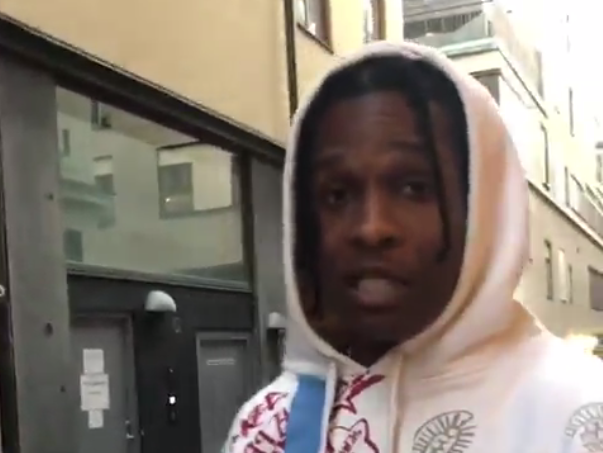 Sweden has pressed assault charges against A$AP Rocky after three weeks of uncertainty of the rapper's well-being and future.
Rocky's arrest on July 9 following an altercation in Stockholm raised questions about his ability to perform in Canada three months later, for the University Students' Council's Purple Fest on Sept. 28.
As an American abroad, Rocky has been held in Swedish solitary — spending 23 hours a day alone — while the country investigated his case.
Despite the duration and severity of his detention, charges were only announced today. Separate two-week and six-day extensions on his imprisonment were granted to allow authorities to investigate beyond Sweden's usual three-day period of detention without charge.
He will stand trial July 30, and will remain in Swedish custody at least until then, according to Sweden's prosecutor.
Purple Fest's worst-case scenario is a conviction: under Swedish law, Rocky could be sentenced to two years in jail if found guilty.
The prosecutor has recommended three days be allotted for the trial proceedings.
The USC said they are working to ensure Purple Fest continues smoothly.
"The USC and Western have been closely monitoring the situation in Sweden involving A$AP Rocky," they said in a statement.
"We are in discussions with A$AP's booking agency to understand the potential impact of today's announcement and determine next steps. We will provide an update as more information becomes available."
The initial reaction to Rocky's arrest was negative in many circles, with some accusing the country's justice system of racism; fellow rapper G-Eazy, who is white, was convicted of assault and drug charges in Sweden last year, but was released after one day and a $10,000 fine.
And criticisms gathering in recent days have brought the arrest to the international stage.
The US State Department asked Sweden for less harsh treatment, piquing public concerns about Rocky's conditions. Shortly after, four Democratic representatives called for the rapper's release, saying he was facing a "human rights violation."
American president Donald Trump then signalled his support for Rocky and offered to pay his bail. Celebrity couple Kim Kardashian and Kanye West have since accepted credit for asking Trump to speak out on Rocky's behalf.
As tabloids and news networks alike follow Rocky's fate, Western University's blockbusting September event hangs in the balance. Rocky's booking as Purple Fest headliner topped even last year's, Lil Uzi Vert, who himself turned heads around the province for his appearance on campus.
No other acts for the late-September concert have been announced, but the USC have confirmed the event will take place on campus away from it's East end. Last year, it was held only a few minutes from fake-Homecoming on Broughdale, which Purple Fest is meant to temper.