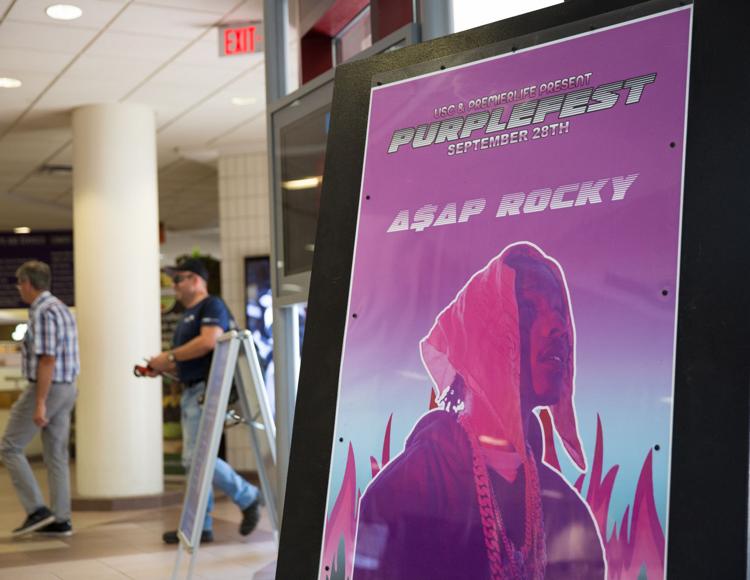 Purple Fest's final lineup is solidified with A$AP Rocky at its headliner, capping weeks of uncertainty after the event was sidelined by the international drama surrounding Rocky's arrest.
Rocky will perform alongside two other rappers — Tyga and A Boogie wit da Hoodie — and indie artist bülow, the University Students' Council announced today.
The full lineup details come just a day after the eligibility of Purple Fest's headliner, Rocky, remained uncertain as he faced a criminal conviction for assault in Sweden.
"Since June 30th, the University Students' Council has been closely monitoring the situation involving A$AP Rocky in Sweden. During this period, we have been in constant communication with both his booking agency and our representatives, as well as our partners at Western," said the USC in a statement.
"The artist's agency has now assured us that he will be able to travel to London for this performance."
The concert will occur Sept. 28 at Western University's TD Stadium, the same day as the fake-Homecoming gathering across campus on Broughdale Avenue.
Tickets are $59.95. It is open to all Western students, who can bring one guest each.
Rocky's arrest in Stockholm on June 30 cast a shadow over the festival planned to divert traffic away from Broughdale into a safer environment.
A possible prison sentence for the rapper meant the Western community's planned response to its largest political issue, fake-Homecoming, was in jeopardy.
In the following weeks, as he was held in solitary confinement without charge, American celebrities ranging from Donald Trump to Kim Kardashian all stepped in to show support — with Western just as invested in the trial's outcome.
"The USC and Western remain committed to offering students a safer alternative venue to celebrate their purple pride on September 28th and we look forward to welcoming our constituents back to campus in a few short weeks," said the USC. "We are confident that this lineup sets up a festival that our students won't want to miss."
Last year's Purple Fest set a precedent of high-profile bookings. Lil Uzi Vert headlined, next to Loud Luxury and Juice WRLD, attracting 11,000 people into a fenced and gated campus parking lot.
But it struggled to achieve its goal of attracting students until later in the day, when its headliner performed.
Drone footage released by the London Police Service showed a scarce crowd at the concert around noon and 1 p.m., when Broughdale was swarmed by up to 20,000 people, according to police estimates. John Pare, who was then police chief, said the event worsened the fake-Homecoming situation by attracting more people into the streets.
The USC have altered the concert for 2019, moving it away from the Broughdale area to the South of campus. It will be an all-day, "festival-style" event, with gates open in the morning. Attendees will not have in-out privileges.