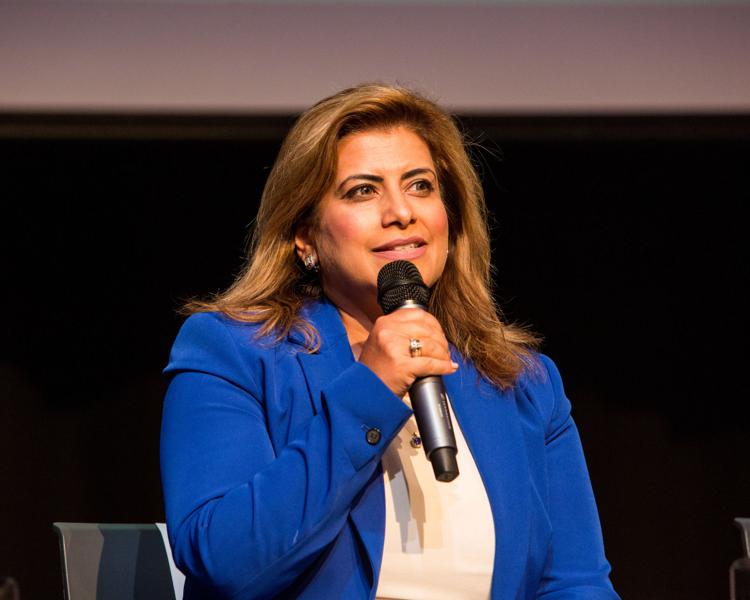 There's a fresh face running for the Conservative party in London.
This is the first time Sarah Bokhari has run for a federal position, competing against five candidates for the chance to represent London North Centre in Ottawa. With the election just days away, her campaign is in full swing.
The day of her interview with the Gazette, Bokhari's teenage daughter even took a day off school to pitch in around the office. They're new to London — something Bokhari's political opponents won't let her forget.
"People are saying 'oh she's a newbie to London' but I'm a newbie to Canada… It does not mean that I cannot stand for people," she said. "Being an immigrant in Canada, I've been living for not more than two years in [one place]." 
Bokhari immigrated to Whitby, Ont. from a small town in Pakistan, where she had worked as a diplomat to try and settle the country's rising nuclear conflict with India. 
"I came to Canada for equality, justice, particularly gender rights, freedom for women… Canada is my heaven. Canada has given me shelter."
Women's rights and pay equity are close to Bokhari's heart and she said she will stand up for them both personally and with Conservative platform policies.
Bokhari told a story about her experience at a CBC debate last week with her London competition, when another candidate made what she calls a misogynistic remark.
"My extreme right opponent told me to hush up and talk softly… I said, [it's been] many many years now that I have worked hard to give women a louder voice," she said. "I will have a louder voice for myself, for women and for the people of Canada."
The member of Parliament candidate said there are Conservative platform policies to back it up, like their proposed tax-free maternity leave benefits and supporting the rights of women and girls.
When asked about why students should vote for her, Bokhari talked about security against domestic and foreign terrorism and the Conservative national autism program.
Her London-specific policies focus on safety, homelessnes, the opioid crisis and human trafficking that she said runs rampant in the city. The party's domestic safety platform focuses primarily on gun law reform.
With three master's degrees under her belt — in international relations, political science and strategic studies — education is an important issue for Bokhari, especially for young women. 
But for the Conservatives, this doesn't come in the form of increased loans or what she called "Band-Aid solutions." Instead, the party is looking to help families save more on a day-to-day basis.
"We want to make life affordable. When families lead an affordable lifestyle, they will be able to help their children go to university, go to college," she said.
The Conservatives promise to increase the amount of government funds that match contributions made by families in RESPs as parents save for their children's future.
Bokhari said the party also wants to move away from Band-Aid solutions when dealing with the climate crisis. The Conservatives are using tax credits as a solution to many issues, including money back for homeowners who install green technology or use public transit.
She also said they're targeting the biggest polluters in the country, mandating businesses and corporations install green technology in compliance with Paris climate agreement goals 
"The top polluters will not be given any sweetheart deals," she warned.
Bokhari said she takes personal steps to be more environmentally friendly, starting with cutting down food waste and excessive plastics — something she promised will be implemented across the country if elected.