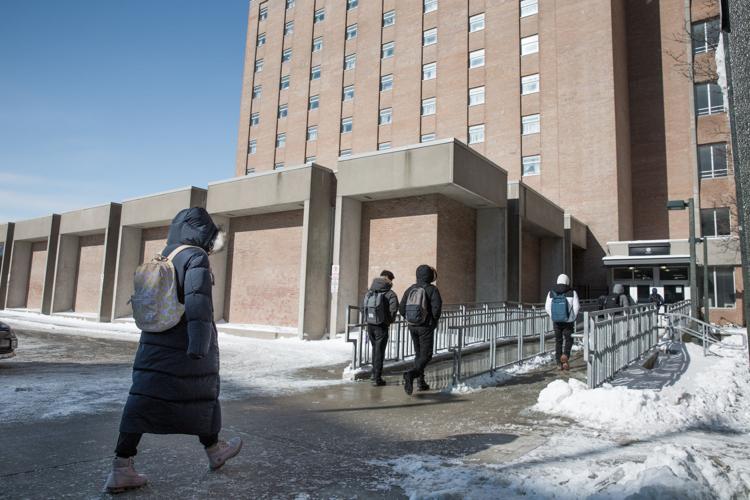 London's health unit declared an outbreak in Saugeen-Maitland Hall after eight students in the residence tested positive for COVID-19.
The Middlesex-London Health Unit announced the outbreak Thursday afternoon and said all affected students and some close contacts have been "moved to a quarantine location." 
The health unit is still tracing the contacts of those affected and is working to test all residents in Saugeen.
This is Western's fourth outbreak and second in a residence building since classes began in September. At least 85 Western students have now tested positive for the virus, though the health unit stopped reporting student cases consistently over a month ago. 
The outbreak is not linked to any recent off-campus house parties, according to Dr. Chris Mackie, medical officer of health with the MLHU, but rather "activity within the dorm."
Saugeen is a traditional-style residence building, where students share bathrooms and showers with others on their floor. Up to 20 students can live on the same floor under the residence's social distancing measures, which eliminated roommates. 
"I think Western is doing a lot," said Dr. Mackie. "The one place where it's always difficult is enforcement … at a certain point students have to take the responsibility on themselves to act safely, even when there's no one watching over their shoulder."
An outbreak in Western's London Hall residence over the Thanksgiving weekend saw at least five students affected. London Hall has apartment-style dorm rooms. The floors with positive cases were told to not return to the residence and  if they travelled home for the holiday.
Students can seek testing at Western's coronavirus testing centre in the Western Student Recreation Centre, open weekdays 9:30 a.m. to 4p.m., or at one of London's local testing centres. 
Only confirmed close contacts of positive cases or those exhibiting symptoms qualify for testing in Ontario.