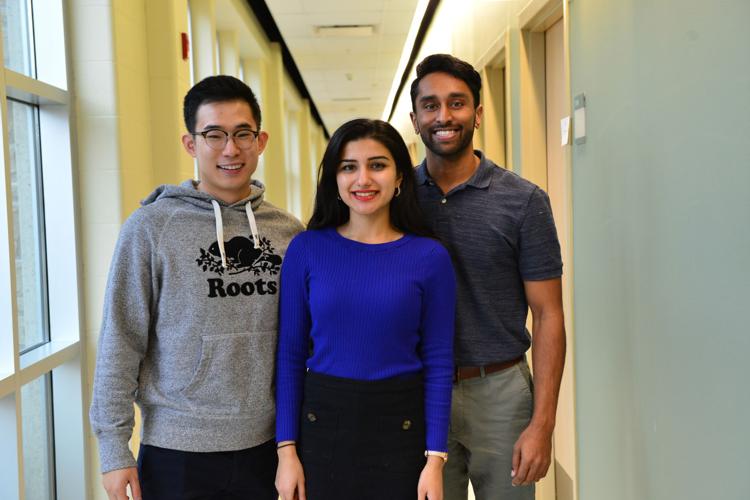 Three graduate students from Western University's Schulich School of Medicine & Dentistry received the top prize of $20,000 for innovations in artificial intelligence.
Megha Verma, Kartik Pradeepan and Qingfan Liu didn't have computer science or artificial intelligence backgrounds prior to signing up for the Thales Canada Student Innovation Championship.
Of over 50 teams who applied, the students placed first in the final round of the competition in Montreal on Nov. 3. A team from Ryerson University won $10,000 in second place, and a team from the University of Windsor won $5,000 in third place.
The annual case competition challenges students to provide innovative solutions for different theoretical problems. This year, the competition prompted students to consider how artificial intelligence might be used to classify varying opinions and perspectives found on the Internet.
"The current problem with search engines … is that they personalize the results based on your past history," explained Pradeepan, a master's student in neuroscience. "As researchers, you can fall into basically this rabbit hole that puts you in an echo chamber where you're essentially confirming your previous search history." 
"To overcome that, we need to not treat researchers and clinicians like consumers," added Verma, also a neuroscience master's student. "The algorithm has to treat them as what they are: researchers looking for new things."
The students' proposal, called "Opinion Galaxies: A Machine Learning Network Approach to Big Data in Medical Research," used a series of algorithms to categorize opinions within the medical field and rate their robustness.
More specifically, the students used an algorithm that examines semantics to categorize scientific papers into 'opinion galaxies' by evaluating the language used in the paper. The algorithm creates a network of papers, where papers are connected based on similarity in views and opinions. A mathematical model then analyzes the network and gives a score to each node in the network, which reflects the robustness or validity of each paper.
"When we think about opinions with regards to the medical field, opinions that have direct consequences to our health, it's really important to be able to determine what opinions are worth listening to and what opinions are not," said Liu, a master's student in anatomy and cell biology.
The students, unfamiliar with the world of computer science, explained they had a total of six weeks to delve into its basics and learn the necessary algorithms to present the project. The proposal's win was unexpected to them, as they were competing against several teams specializing in computer science.
"Hearing the news that we had won was an absolute surprise, and I think all three of us were exceptionally ecstatic," said Liu.
"It was really crazy, because when I signed up, I didn't ask their permission before signing them up for it. I told them, 'Don't worry, guys. Probably would just be one or two days of work,'" said Verma. "It was quite the challenge, but it was a great learning experience."