The USC presidential race got its second entrant today with two fourth-year students, Brandon Palin and Robbie Cohen, joining the race.
Palin, current Social Science Students' Council president, said the pair will be emphasizing engagement with students.
"We've built our platform on a basis of contacting students who kind of haven't been involved with the USC recently," said Palin. "We were pushing 20 per cent voter turnout last year, which is ridiculous — the amount of money students pay for the USC we should be giving back to them."
Cohen said their focus is bringing tangible results to students with platform points that make sense and that are attainable. An example is the possibility of a nap room in the University Community Centre, which has seen success at the University of Calgary.
"We have the resources to make it happen, it's just putting it in place," said Palin.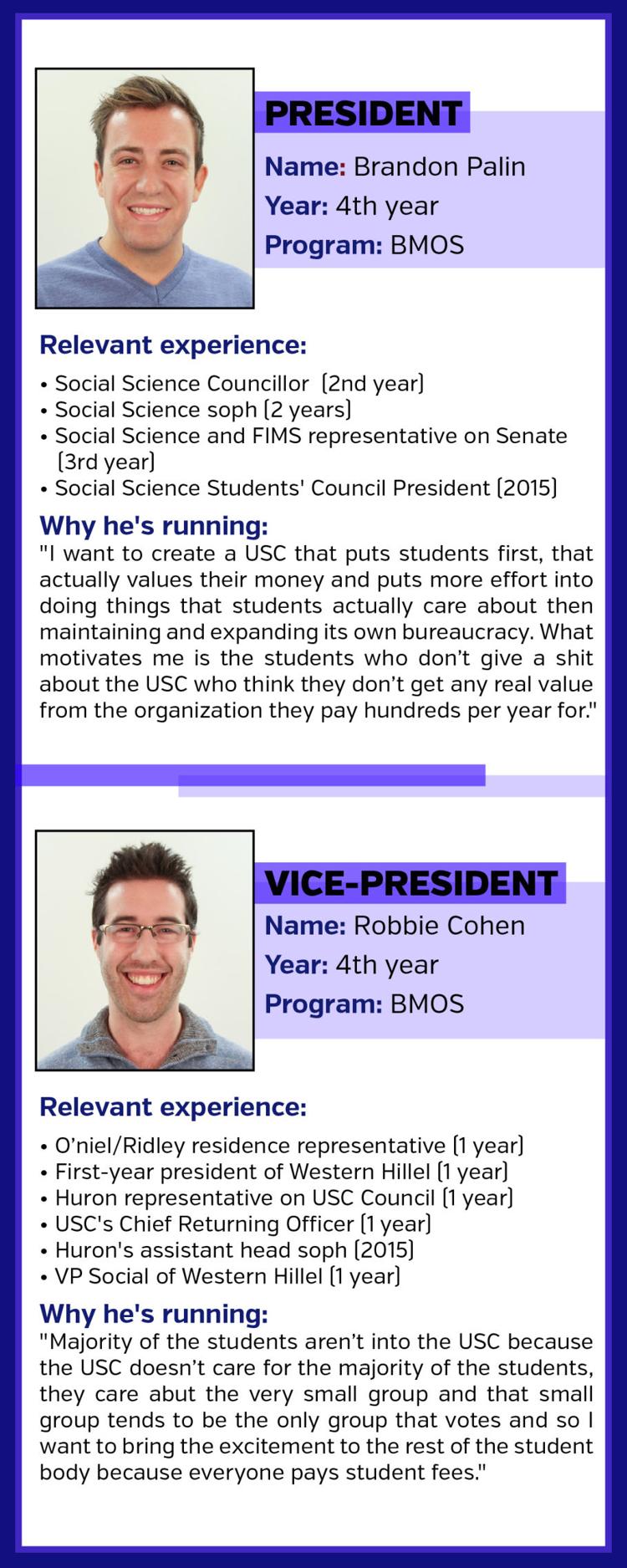 They also plan on speaking with all types of student groups on campus to increase voter turnout.
Both have been friends for quite some time. They believe their experience and skills complement each other and will differentiate them from other candidates.
The decision to run for USC president was a tough one for Palin, but he knew that if he was going to run it would have to be with a partner he felt confident with and was bringing a different perspective to the USC.
As current assistant head soph of Huron, Cohen is excited to partner with Palin, who has been on USC council for three years, to bring an outsider perspective to the USC.
Palin says in the past, a lot of weight was been placed on candidates having a lot of experience to fulfill the roles and as a result, a niche market has been created in which a small group of people care for the USC — the same people that vote.
According to Cohen, rather than a lot of relevant experience, "the presence of someone who will work hard, who is passionate and who has ideas and wants to implement them" is most important for the vice-president position.
Palin said it's the students that don't care for the USC that motivate him.
"I want to create a USC that puts students first, that actually values their money and puts more effort into doing things that students actually care about rather than maintaining and expanding its own bureaucracy," he said.