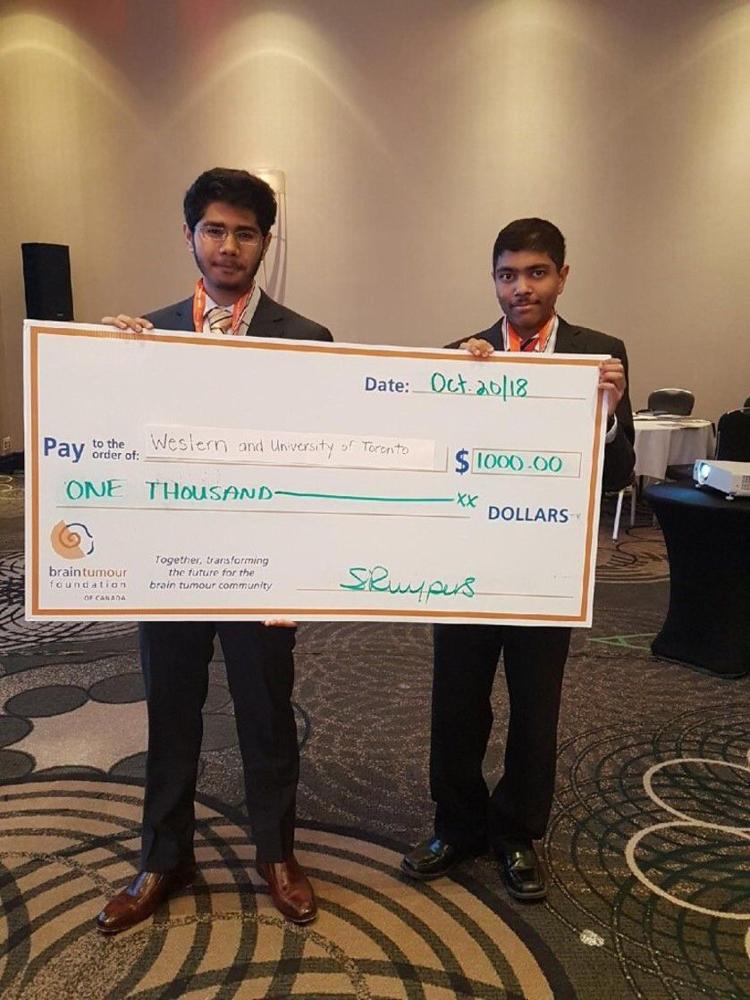 Two second-year students from Western University and the University of Toronto won first place in the 2018 Pam and Rolando Del Maestro Family Undergraduate Student Research Competition for innovative brain tumour research.
Deejesh Subramanian and Syed Mohammad Raza competed against eight teams from across Canada for three final monetary prizes. The team won $1,000 for securing first place in the final round of the competition, which was held at the Brain Tumour National Conference in Toronto on Oct. 20.
The students proposed novel methodology for the treatment of diffuse astrocytoma, a common type of brain tumour that slowly infiltrates surrounding tissue areas. It has no well-defined borders, making it difficult to remove and more likely to return after treatment.
"The current treatment that is used is surgery and chemotherapy, [where] they give chemicals and they do radiation, but usually after they diagnose the tumour, it takes a long time for them to actually be able to treat it," said Subramanian. "The tumour can spread and become more severe in that time."
Subramanian, Western medical sciences student, explained current treatment uses invasive surgical treatments and high-energy radiation, which may cause tissue damage.
Submaranian and Raza proposed the use of organic nanoparticles that target and induce the slow death of cancer cells using lower-energy radiation. The treatment allows for simultaneous brain tumour imaging and therapy, reducing the wait time between diagnosis and treatment. It is also non-invasive, more site-specific and cheaper than current treatments.
"We could stop the treatment at any point, even after we insert the nanoparticles, so it gives us a lot of control," explained Subramanian. "After the treatment, the nanoparticles will be naturally released from the body, so it's very safe."
Eight teams presented their proposals at Brain Tumour Research Symposium in London on Sept. 15, where four teams progressed to the national conference in Toronto. In second place, students from the University of Windsor won $750 and two teams tied for third place, with members from McMaster University as well as McGill University, Concordia University and Dawson College respectively securing $500 per team.
The first-place win came as a surprise to Subramanian and Raza, as they were competing against third- and fourth-year students with more research experience.
"I wasn't really expecting to even progress to the final stage in Toronto," said Subramanian. "It was a really good learning experience."
The Pam and Rolando Del Maestro Family Undergraduate Student Research Competition Awards were established in 2017 to promote scientific innovation among Canadian undergraduate students. Pam and Rolando Del Maestro co-founded the Brain Tumour Foundation of Canada 35 years ago.