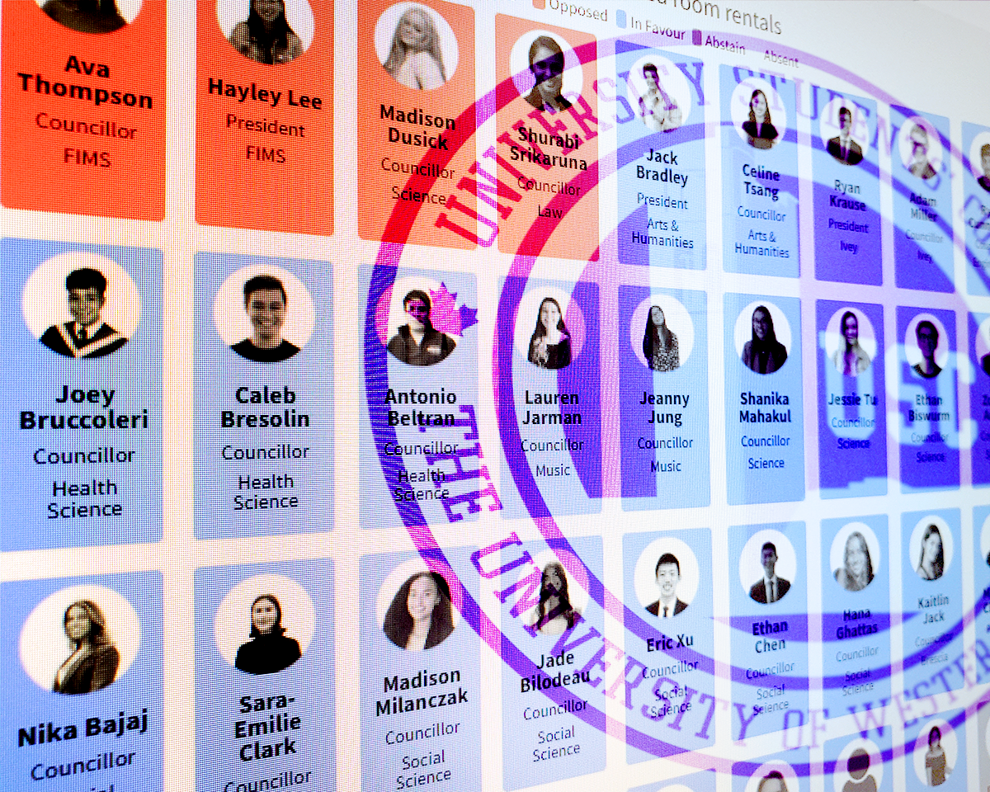 The University Student's Council voted to end subsidizing room rentals and their involvement in recruitment activities for Greek Life organizations. These privileges have been afforded to Greek Life for a decade, despite council never formally voting on them. 
After reports of sexual assault during this fall's Orientation Week, the USC's relationship with Greek Life faced scrutiny from students. USC president Zamir Fakirani brought the issue to council, explaining he felt that students should be able to choose whether the USC continues offering Greek Life special treatment as unaffiliated student groups.
"Based on the feedback that the executive team has received from students, including councillors, we felt it was important for us to have a conversation on the council floor about whether these specific special privileges should be afforded to Greek life," said Fakirani.
Clause 1: End subsidized room bookings for Greek Life
Eighty-three per cent of council members voted in favour of the motion to no longer offer subsidized space and room bookings for Greek Life, with four councillors opposing. 
Ratified clubs with the USC are able to book spaces on campus at a subsidized rate. Greek Life has been afforded the same privileges despite not having a ratified club status or paying USC club fees. According to Fakirani, the USC has never received a formal application from any Greek Life organization to seek ratified club status.
Clause 2: End support of Greek Life's rush week programming
The USC voted to end its support of Greek Life's rush week recruitment programming, with 76 per cent of councillors voting in favour of the motion. 
Rush Week programming includes Greek Life's recruitment week activities. The USC had previously allowed sororities and fraternities to use space on Concrete Beach to recruit incoming students during Rush Week.
Clause 3: Remove Greek Life members from council
The USC failed the third motion to remove Greek Life non-voting members from their seats on council. Just 37 per cent of councillors voted in favour of the motion while 41 per cent opposed and 22 per cent abstained.
Resource member seats on the USC council allowed leaders of Greek Life to participate in council meetings and discussions without voting rights. According to Fakirani, these seats have rarely been used. 
Despite proposing the three motions, president Fakirani abstained from all votes, explaining that he was confused.
"I was elected on a platform of further building and solidifying our relationship with Greek life … I am genuinely confused and conflicted and I'm not sure what the outcome of this vote should be. And that's why I'm abstaining," said Fakirani.
Hayley Lee, Faculty of Information and Media Studies Student Council president opposed all three clauses, despite previously being one of the strongest critics of the USC's relationship with fraternities and sororities.
In the September council meeting, Lee accused Greek life of being "a body that supports racism, inaccesibility, financial barriers, rape culture, harmful party culture and not being very inclusive."
"The outcome of the vote represents the feedback from constituents and perspectives that we garnered following the September council meeting," said the FIMSSC in a statement on Lee's behalf. "The FIMSSC representatives on the USC feel firmly that this voting record makes the student voice clear and demonstrates our capacity to respond accordingly to student feedback."  
Science councillor Maddy Dusick also opposed the three clauses, and was very vocal in the meeting about her belief that the USC should instead work towards a formal relationship with Greek Life to solve underlying issues.
"I don't think the way to go about doing it is separating ourselves from them, kind of taking our hands off the wheel and saying, 'oh, it's not our problem anymore,' because it's kind of a lot of what this seems like to me," said Dusick.
Ivey Business School councillor Adam Miller was a strong opponent of Greek Life in general and voted in favour of all proposals.
"You also have to recognize that real students are harmed by the [organizations] … whether it is around sexual assault culture, whether it is around over encouragement to consume alcohol beyond what people are comfortable with stuff like that, that does exist within Greek students," said Miller. 
Most faculties and affiliates voted unanimously in favour of the first clause including Arts and Humanities, Ivey, Engineering, Health Science, Music, Social Science, Brescia, Huron, Education, and Medicine. The faculties of Law and FIMS were the only opposing groups.
The same faculty voting pattern followed for the second clause, with some additional dissent from councillors in Health Science, Huron and Medicine.
The third clause saw the most mixed reactions from councillors in each faculty as well as the most abstentions.
With additional reporting by Ashley Goveas, Rebekah Rodrigues and Kirat Walia. Additional graphics by Anastasiia Fedorova, Erin Grace and Jason Yu.
---
Correction (November 11, 5:15 p.m.): This article has been corrected to include the proper titles of voting members.