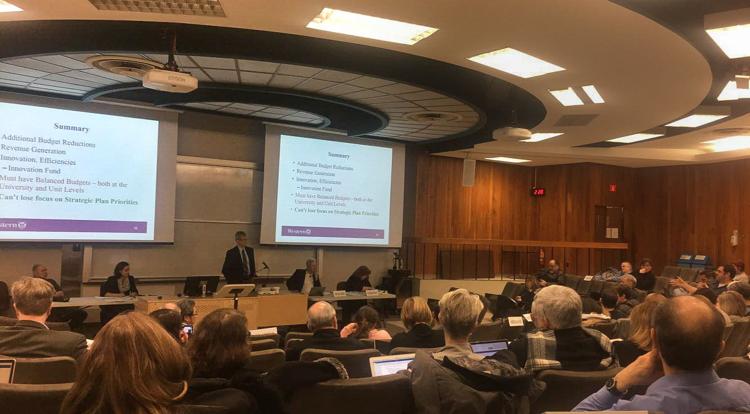 Western's provost Andrew Hrymak highlighted adjustments to the university's budget planning process considering the recent provincial changes to the post-secondary tuition framework at a Senate meeting Friday.

Western University's budget planning for the next two years started in late September, well before the government announced in January that domestic tuition will undergo a 10 per cent cut in 2019-20, which will be held flat in 2020-21.  
The cuts will cost the university $35 million in the year 2019-20 and $43.3 million in the year 2020-21. Hrymak explained the impact of the announcement is two-fold, as the annual three per cent increase to domestic tuition will not take place on top of the overall 10 per cent cut to tuition.  
"The 10 per cent tuition rollback is actually a much worse financial condition for us than what our September plan was," said Hrymak at the meeting. 
To mitigate the loss, the university must enact a 10 per cent reduction in the base budget through generating revenues and decreasing expenditures over the next two years. The university will use part of its reserve from previous years, estimated at $70 million, to fund the two-year transition but will prioritize creating a stable budget in the long run.  
"We will have to end up at a lower spending structure, and we must achieve structurally stable and balanced budgets," said Hrymak. "We will not be carrying deficits forward and trying to figure out how to make it up later, and everything we do has to be governed by what our strategic plan priorities are." 
Hrymak highlighted several long-term and short-term action steps to achieve the necessary reductions.  
Increasing international student enrolment  
The university will increase international student enrolment in programs with available capacity. Hrymak explained the university is working on diversifying the regions international students come from and ensuring that they see opportunities in more than the few international student-dense programs at Western. 
"This will be what all the Ontario universities will be doing, so there will be intense competition for those international students," said Hrymak. 
Hrymak explained levels of international tuition will be guided by those set at other Ontarian universities in order to ensure that a fair but competitive price is charged. Further, student interest and each faculty's ability to accept them will determine how much international enrolment increases. 
"For example, I know engineering is ready to take on more international students and a plan to do that is in place," said Hrymak. 
Increasing master's program enrolment 
The university hopes to increase student enrolments in master's programs across campus. Hrymak indicated a possibility of expanding the capacity of several programs, including the master of public health, professional engineering programs and the Hub and Spoke model provided by the master of management of applied science.

The university is studying the possibility of investing in online program offerings in the upcoming years. Hrymak explained Western's Faculty of Education and Ivey Business School already have online educational platforms set up that the university can learn from.  
"This has been common for a number of universities, [and] certainly in the United States and in Canada. It's something that we're going to look at very seriously to create a business model around," said Hrymak. "We're looking to create something that would be university wide and university branded in the long term." 
Hrymak explained the mature market of online education increases the level of competition and sets high expectations, making the project expensive. The costs may potentially be offset by focusing on content while choosing to license someone else's platform.  
$10 million innovation fund  
Hrymak proposed the university set aside $10 million from its reserve money to create an Innovation Fund. The fund will identify opportunities for investment throughout the university's academic units to help them achieve a lower base operating cost at the end of two years.  
"We will be looking for a return on investment, and we'll be using [the money] very selectively," said Hrymak. "We'll be working with the units to help identify what those opportunities are and what the business case is that a one-time investment can help with long-term restructuring." 
Hrymak explained the university-wide cuts are spurring people to come up with various ideas on how to deliver services cost-effectively and look towards new revenue generation sources. He hopes the fund will help create some of those new revenue lines. 
While there is no official hiring freeze, Hrymak explained there is a pause on continuing faculty and staff appointments unless they are deemed mission-critical until the two-year budget is approved on May 1. All externally-funded positions, such as research positions, will go on as usual. 
On top of the three per cent annual reduction to the base budget required to adjust to inflationary costs, academic units are required to further cut their budgets by an additional 2.5 per cent in each of the next two years. Each faculty will make its own adjustments to achieve the necessary cuts, while using the carry-forward money they have available and potential help from the university's reserve. 
"The next two years I see very, very much as a transition phase where we'll have to implement some changes. Some we can do right away; some will take a bit of time," said Hrymak. "The next two years will be challenging for us, as they will be for all the Ontario universities."