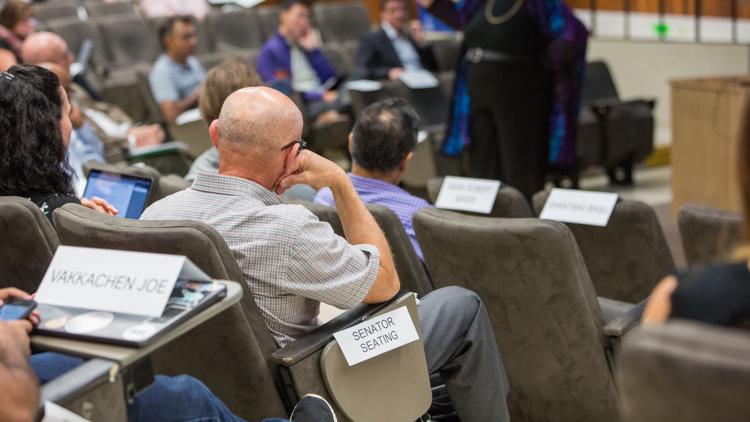 With the blockparty weeks past, senate went over Fake Homecoming's low-points — its sexist bedsheet messages that drew city-wide scorn and the misfired Purple Fest concert.
President Alan Shepard said there won't be university repercussions for the students whose banners sparked outrage from the community, which were roundly called misogynistic. 
He said that because the banners were probably a form of "protected free speech", even the misogynistic ones, and didn't want Western to become the centre of a free speech debate.
Shepard said in an interview that "the punishment is that the whole community was disappointed."
"Their fellow students felt embarrassed. Alumni felt embarrassed. People that live in London felt embarrassed. That's punishment enough, I  think," he said. "I don't think the punishment would have any effect. I think that the disappointment from the whole community is very powerful."
He also said that, since the banners were on private property, penalizing the students could be legally problematic.
Jane Toswell, an English professor and a recurring voice in senate debates, said that the banners brought up pressing issues that are "something we all happen to share." Shepard said that he wants a campus where respect is fundamental, and free speech helps maintain that atmosphere. 
Toswell entertained whether Purple Fest's date should be moved. Hours before headliner A$AP Rocky was set to take the stage, he cancelled his appearance, citing visa issues at the Canada-US border.
Shepard said he and University Students' Council president Bardia Jalayer had previously concluded that cancelling the event would've brought "serious implications" from the student body, potentially abandoning the 13,000 who did eventually attend the concert. 
Shepard also said that it is the USC's job to address students to act with more respect to Londoners and in making clear that an unsanctioned street party should not mean acting inappropriately. 
Jalayer said that Purple Fest didn't go according to plan. Amid the cancellation, it's also unclear how many students went to just the concert, and not Broughdale. The concert's historical struggle has been partiers starting at the street party and then watching the music acts.
He mentioned the USC is in talks with Student Experience vice-president Jennie Massey to determine whether there will be another event next year and "to see what we can do to improve this culture."