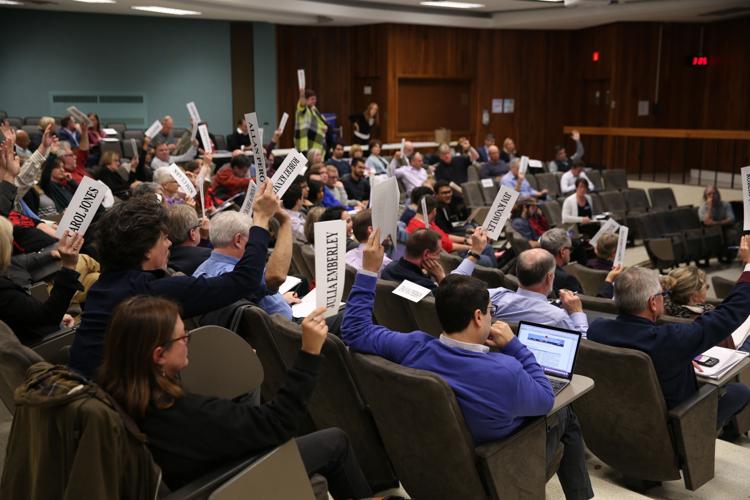 Results for this year's Senate election show a very competitive field.
The results for the Board of Governors undergraduate student representative position were also announced. 
Out of the 38,565 eligible voters, 5,261, or 13.6 per cent, voted in the election.
Elections for the undergraduate student science senator positions are currently being rerun. BMSc students in year three and four were inaccurately included in the voter's list for this category. Results were deemed invalid and the new elections are being held. 
The new elections will be held from 8 a.m. on Feb. 15 until 8 p.m. on Feb. 16.
Board of Governors, Undergraduate Student
Victor Pirone — 1023 votes (41.1 per cent)
Senate
Business, Education, Engineering and Law
Yazan Hassan — Acclaimed 
Schulich (including BMSc. 3 and 4)
Courtney Hardy — Acclaimed 
Graduate Student
Tamara Hinan — 212 votes (30.1 per cent)
Wisdom Avusuglo — 152 votes (21.6 per cent)
Ahmed Abuhussein — 142 votes (20.2 per cent)
Edmund Walsh — 120 votes (17.0 per cent)
Arts and Humanities, Music and FIMS
Jaclyn Siou — 234 votes (52.8 per cent)
Social Science
Lauren Kim — 334 votes (30.1 per cent)
Shaha Yousafzai — 272 votes (24.5 per cent)
Thomas Mingle — 191 votes (17.2 per cent)
Ian Orr — 185 votes (16.7 per cent)
Health Sciences
Rahina Damji — 155 votes (54.4 per cent)
Brescia, Huron and King's
Domonic McDonald — 253 votes (30.2 per cent)
Esme Panarello — 181 votes (21.6 per cent)
Undergraduate Student At Large
Rav Datt — 812 votes (7.9 per cent)
Maailah Blackwood — 751 votes (7.3 per cent)
Justin Kim — 705 votes (6.8 per cent)
Ocean Enbar — 702 votes (6.8 per cent)
You can check out the entire elections results here.
Editor's Note (Feb. 15, 2017):
An earlier version of this article erroneously stated that no positions had been acclaimed in the student Senate elections. Two Senate seats — Business, Law, Engineering and Law, and Schulich — were acclaimed. The article has been updated accordingly.