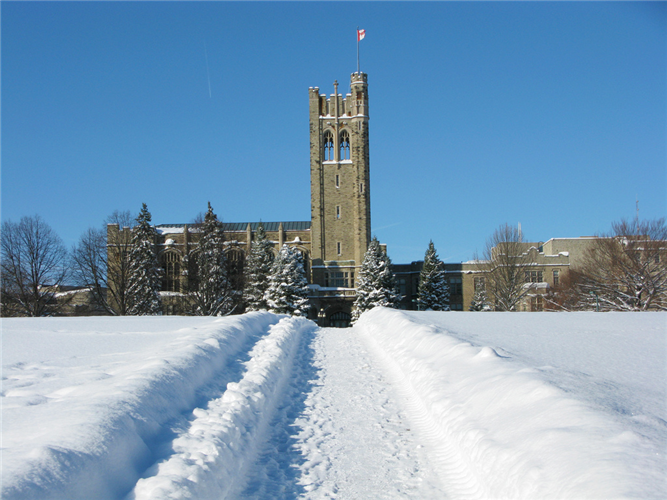 Western's Senate is discussing a possible extension of the winter break after a USC survey showed an overwhelming majority of students want an extra week off. 
The survey asked students if they would support a one-week extension of the winter break, which is currently set from Dec. 22, 2021 to Jan. 3, 2022. The survey released Nov. 10 garnered almost 15,000 responses in under a week, according to the University Students' Council. 
An extension of the break would likely result in a shortened April exam period, which is currently set from April 4 to 30. Sixty-seven per cent of respondents to the survey said they were in favour of extending winter break even if it results in a shortened exam period, while 30 per cent said they would support an extended winter break only if it meant the exam period would not be shortened. Two per cent of respondents did not support an extended winter break. 
The Senate Committee on Academic Policy and Awards is set to meet on Nov. 24 to discuss the extension, though a decision may not be reached until later in the term. 
"[The responses] speak to how a combination of navigating a return to in-person learning and the ongoing mental health challenges that our community has been contending with in the wake of numerous cases of gender-based and sexual violence has really shifted the way students are experiencing this semester," said Ziyana Kotadia, vice-president university affairs at the USC. "These pressures have really been unlike those of any other academic term."
This is the second year in a row students have pushed to extend winter break. Their advocacy succeeded in 2020, with university president Alan Shepard extending the break by a week, despite saying in a previous Senate meeting the break would not change. 
"We know putting out a survey is an efficient way to generate feedback because it allows students to quickly share their thoughts with us," said the USC in a statement. "Most of our advocacy-related surveys are specific to the topic itself so we expect students from many diverging opinions to bring their feedback."
The students' council also noted that a random draw prize was offered as an incentive to fill out the survey. 
USC president Zamir Fakirani and student senator Artika Pahargarh presented the issue of an extended winter break to the Western University Senate Nov. 12, citing the responses given in the survey. Students named concerns about affording return flights so close to New Years and "prioritizing their wellness after the violent September our community experienced" as primary reasons for wanting an extended break, according to Fakirani.  
"Some students are concerned about quarantining and not being offered the time that they need to properly abide by health and safety regulations," said Fakirani. "Some students simply miss their family."