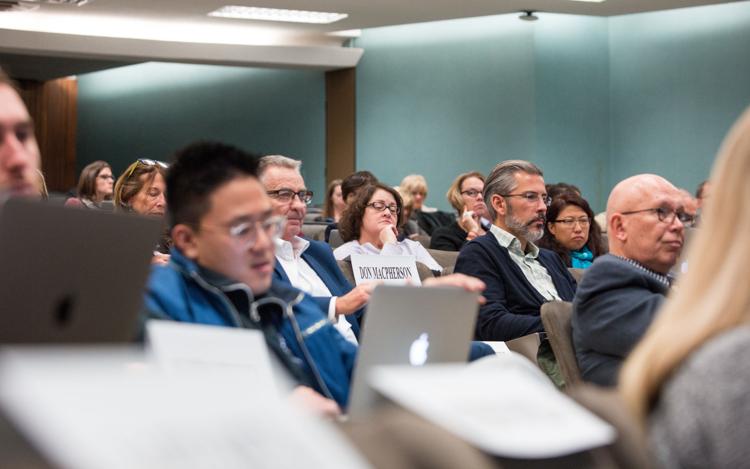 Senators on Friday searched for solutions after three successive Fake-Homecoming crises have grown despite a resistance from Western, the USC and London first-responders.
Western University's top administrators admitted their efforts to quell the FOCO gathering had not been successful, with numbers steadily worsening.
"Three or four years back, there was a serious problem. Police intervened, hospitals intervened, and they told us, 'do something,' and after that, we have just been doing our best, and it's not working," said president Chakma. "It has not yielded the desired outcome."
20,000 students stormed student neighbourhoods this last FOCO weekend, particularly around Broughdale Avenue, inciting over 3,000 warnings from an exasperated police force — making it the most dramatic in the three years since Western's official Homecoming was moved to October.
But as senate met on the cusp of their rescheduled alumni's weekend, they said their other goal in the date switch — protecting alumni celebrations — had been successful. The day after Friday's senate meeting, Broughdale saw a near-zero attendance on a cold, rainy day featuring only sanctioned Western programming.
Discussion on the floor revolved around how to achieve their next goal: reducing future partying on Broughdale.
Senators were complimentary of the University Students' Council's Purple Fest, a large concert on campus meant to redirect students from Broughdale to an easier-to-supervise area. The concert sold all 11,000 of its tickets and saw only one hospitalization, though the venue was nearly empty at noon and 1 p.m., when Broughdale was at its population peak.
Western vice-president external Kelly Cole said that in the past Western tried to engage students with official Homecoming programming like the football game, but they were largely unsuccessful. Students have been more interested in alternative programming like concerts such as Purple Fest and 2015's HOCO on the Hill, another concert with prominent bookings.
She said Western was consulting with other universities who experience similar issues, and that these universities told Western completing a "culture shift" from Broughdale to alternative programming could take four to five years.
Discussion then turned to another option: penalizing students through their university. After Broughdale, London's chief of police John Pare called on Western to punish their students using anything from the Code of Conduct to academic penalties, like preventing year-advancement.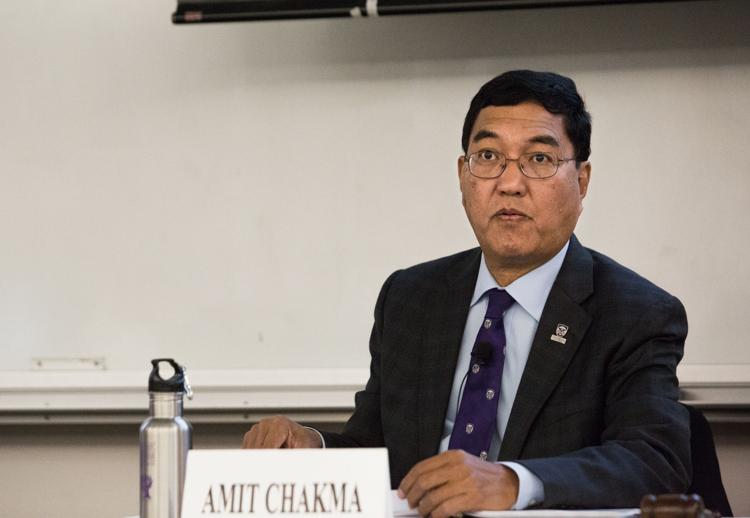 President Amit Chakma said he conceded to this one criticism of Western's handling of Broughdale and said they were now considering it. He was joined by Lynn Logan, vice-president of operations and finance.
Punishing partiers is complicated by how little the administration knows from the London Police, as they do not receive any list of their students who were warned or charged on the date.
Alumnus, former student advocate and current Homecoming chair David Simmons spoke against a penal strategy in a speech that brought uncharacteristic, unprompted applause from the whole senate.
"I encourage us to put our arms around what's important. What we need to do is be a leader in London.... If you saw me 15 years ago, I was a very different person," he said. "Things change, people grow. And that's our obligation as an institution: let's build citizens, not discipline."
Samuel Trosow, senator and law professor, spoke at length likewise against student penalties. He argued a root of the problem was a constant flow of students into Broughdale houses who become host to the enormous gathering piecemeal on their lawns and backyards. He sharply criticized Western for not engaging with residents' associations for homeowners on Broughdale and nearby, who he said were excluded from Western's consultation process; he believes Western should consider incentivizing faculty and staff to move onto Broughdale instead.
"That is something Western could do to change the very sick, perverted real estate market [on Broughdale]. I think you should be thinking about actually purchasing properties that go up for sale, and I know that's a lot of money, but I know there's a lot of money in your accounts," he said.
Student senator Justin Kim criticized Western for their date-switch policy and said they had not responded adequately. President Chakma responded sharply, saying that Western had tried everything and that nothing seemed to be working.