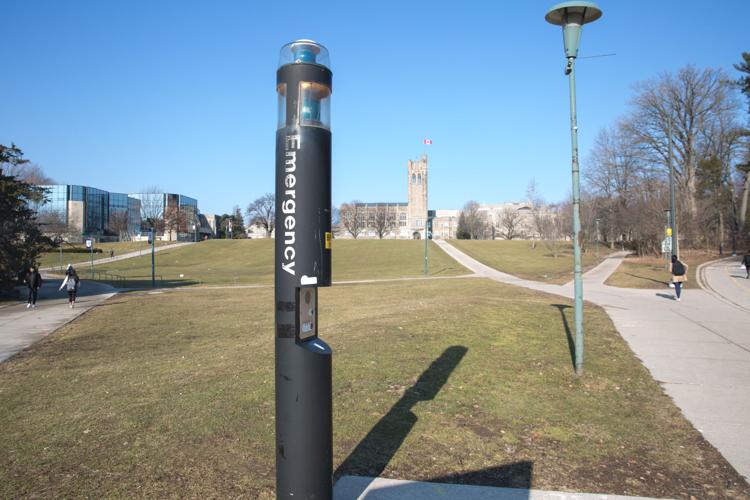 Content Warning: This article discusses sexual violence, specifically the results of the Student Voices on Sexual Violence Survey.
The provincial government doubled funding for a women's safety grant after they published troubling results from a province-wide campus sexual violence survey.
The Student Voices on Sexual Violence Survey was conducted in early 2018, and after a delay, showed 63 per cent of respondents experienced sexual harassment and 23 per cent experienced sexual assault.
The Ministry of Training, Colleges and Universities — which conducted the survey — also provide the Women's Campus Safety Grant to campuses for violence prevention. It previously allocated $3 million shared among 45 post-secondary institutions in the province. According to the University Students' Council, the increase counts for $8 per student.
"No one should have to worry about their safety on campus," the minister of training, colleges and universities, Merrilee Fullerton, stated in response to the results.
NDP MPP Suze Morrison told the Toronto Star the funding "falls woefully short of what survivors of sexual assault in this province need," adding that the grant money is insufficient for meaningful change.
The increase is counterbalanced amid cuts to rape crisis centres around Ontario as an $8 million promise by the previous Liberal government was dropped to $1 million. The PCs also recently recanted former-premier Kathleen Wynne's 2015 sex education curriculum.
The ministry's funding was announced as part of a directive outlining three more approaches to prevention and transparency on campuses.
The ministry stated they will mandate schools to dedicate a task force to addressing sexual violence on campus; the task force must include diverse student representation, which will be required to report their findings to the ministry and their university Board of Governors.
The directive also includes an annual report from each school to their Board of Governors on "a number of measures related to the experiences of and support for students who have experienced sexual violence." The final mandate is a review of campus-wide sexual violence prevention policies by the beginning of September.
Western's numbers
Western had over 8,000 students respond to the survey, with 72 per cent of students reporting harassment and 32 per cent reporting non-consensual sexual relations. This is larger than the Ontario-wide averages in post-secondary schools of 63 per cent for harassment and 23 per cent for assault.
Western has higher-than-average figures throughout the survey: 27 per cent of Western students reported dissatisfaction with Western's responses to sexual violence, compared to the 23 per cent average. Further, 64 per cent of students reported a lack of knowledge of sexual violence support with the average being 60 per cent.
In response, the USC issued a press release today stating that though the results were disheartening, they were not surprised.
"The survey results reveal the immediate need to take action to address sexual violence on campuses across Ontario," said Danny Chang, USC vice-president, in the press release.
But they acknowledged the efforts of the PC government to address sexual violence on campus through the grant and hopes to see an increase in programming and support.
Western issued an emailed statement to the campus in which the associate vice-president of student experience, Jennifer Massey, reacts similarly. After expressing her disappointment in the results, she pledges Western's commitment to enhance educational programming as well as better support for survivors.
"More should be done – and more will be done," stated Massey. "That starts with really listening to our students' concerns and advice on how to reduce violence and support survivors."
The Ontario Undergraduate Students Association said the results from the survey are a step forward in a dialogue about sexual violence — but added that the results are deeply concerning, and institutional change is required for the funding to be effective.
"The government must also adapt the terms and conditions of the [grant] to address the need for sexual violence education, bystander intervention training and other interventions, and program evaluation on university campuses," said OUSA. "The government [needs] to clarify the metrics that universities must use when reviewing their sexual violence policies."
If you need support, please consult the following resources:
Good2Talk: Visit https://good2talk.ca or call 1-866-925-5454

Anova (24 hour crisis & support line): Call (519) 642-3000

CMHA Crisis Centre & Reach Out (24/7 Crisis and Support Services): Visit 648 Huron St., London or call: (519) 433-2023

Sexual Violence Prevention Education Coordinator: Call (519) 661-3568, or email: svpec@uwo.ca

For a full list of resources, click here.