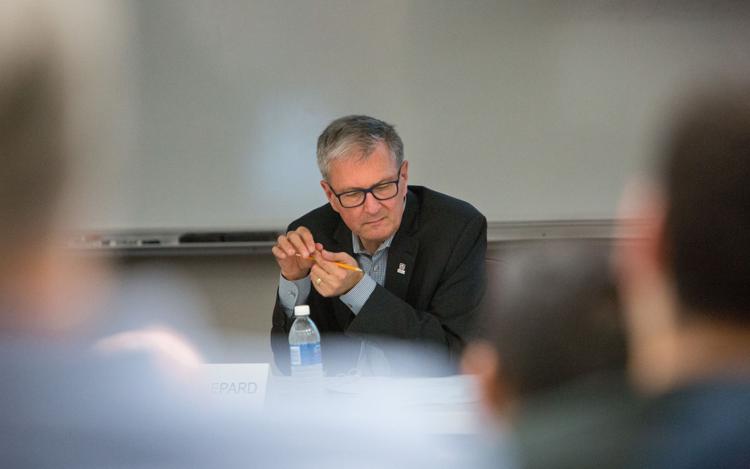 Western University's president, Alan Shepard, confirmed that a situation where online and blended courses would switch to in-person delivery mid-semester "wouldn't happen."
"I don't think we would do it in the middle of the semester," said Shepard. "I can't imagine a scenario where, in October, we would declare that everybody should come back for face-to-face classes."
Seventy to 75 per cent of Western's fall class will run entirely online, with the other 25 to 30 per cent composed of blended and a few in-person courses. But even with these plans in place, much of the 2020-21 academic year remains uncertain as the university awaits numbers and guidance from public health authorities. 
Shepard clarified that blended courses will all have a regular in-person component, such as "a seminar session attached to a large course" or a class that rotates where "half the class will be in person" each week; an online class that has an in-person evaluation would not qualify as "blended." 
Still, Western's reopening plan appears more ambitious than most. While many Ontario universities are opting to run their fall entirely online, or at least keep on-campus activities to a minimum, Western is hoping to welcome 40 per cent of its staff back to campus first term and Shepard said he hopes to have in-person classes running by second semester. 
"I may have it totally wrong. It may be that we try to do this and we can't achieve it. That is a distinct possibility," said Shepard. "But I feel like we should have the ambition to try to do it and to see if we can, and I hope that we can. I can't promise, nobody can promise."  
Shepard said he hopes winter term classes will be held in-person during Monday's virtual town hall, despite the majority of second semester classes on Draft My Schedule appearing to be online or blended. Shepard said he believes the administration will have a clearer idea of how to address this discrepancy in September. 
"I'm really looking to public health authorities for guidance on numbers," said Shepard. "Even if we're opening fully for the winter term I still think that we might have some courses that are being conducted virtually." 
The method of delivery for courses is determined by individual professors and their departments, so much of Western's reopening will depend on its faculty.
"It's really their call, not our call," said Shepard. "It means that 70 per cent of the courses will be taught virtually and I regret it's that high."
Shepard said the university is making all plans based on "a principle of accommodation and flexibility," though it will depend largely on a students' program whether they'll receive accommodation for any in-person components they choose not to attend.
Some programs, such as Nursing and Dentistry, have mandatory in-person components that are required for progression, and are unlikely to be flexible in granting accommodation for missed in-person components. 
"We would certainly go out of our way to provide all the accommodations we could," said Shepard. "But there are certain things you can't get a degree in if you don't actually go do the physical thing."
In-person classes and components will all be run with social distancing measures in mind. In addition to posting signs encouraging hand washing and providing reusable masks to students and staff, Western is hoping to adapt its campus to meet new health and safety requirements. 
The university is currently in the process of recalculating the occupancy of classrooms to account for social distancing guidelines, so that many of the smaller in-person components that will run on campus this fall will take place in classrooms usually reserved for larger groups.
"We have a big beautiful campus, we have enough space that we can actually get some physical distancing. Not like some campuses, which are right downtown urban areas," said Shepard. "We felt like we should do our best to honour the kind of education that Western offers."