With 500,000 people parking on campus annually, and just 6,200 spaces, Western University students looking for parking face a real challenge.
Should you pay for a permit? Where can a permit get you space? Students need to answer these questions early, before permits disappear: last year they sold out Sept. 5, before fall classes even began. Put in a difficult position, some offered to buy permits from other students in Facebook groups.
Student parking permits will go on sale June 15, according to Mark Emerick, manager of Parking and Visitor Services at Western. He clarified that the amount of spaces available to students should not significantly fluctuate from last year, which was 2,300.
"I wish it wasn't an issue. I wish I could assure students that they will always have a spot, but that's not our geographical makeup unfortunately," he said.
Emerick added that students will be able to pick up their permits at the University Community Centre on Sept. 4 and 5.
Some students return permits after Thanksgiving break, finding that parking is not for them. But those extras are not a guarantee, Emerick said. So, if you want to park on campus, it would make sense to purchase a permit sooner rather than later.
Here are a few important things to consider:
How can I get a student parking permit?
Permits can be purchased online on the Parking website. Monitor the website closely, as student permits are sold on a first come, first serve basis. After getting a permit, you have to pick up your hang tag at the Parking Office in the Support Services Building located on the Northwest end of campus by Saugeen-Maitland Hall.
Where can students park?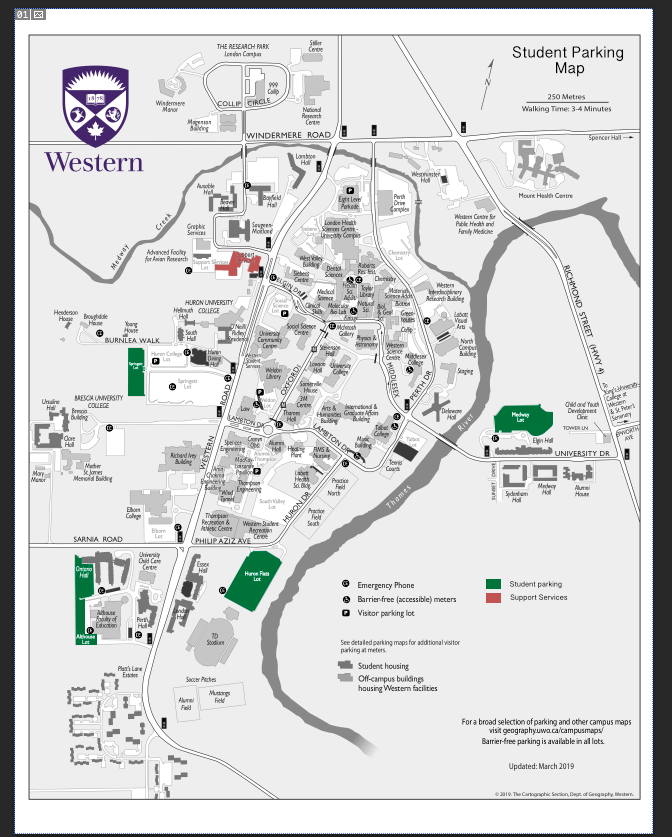 Student permits are for the "Green Zone", which includes Althouse West, Ontario, Medway, Huron Flats and Springett West Gate parking lots. Permits are sold by zone, not for individual lots, so you won't always get your preferred area.
According to tips on the Parking website, Springett will fill up relatively fast during the morning hours, so it's unlikely you'll score a space if you arrive after 8:30 a.m. For students with a later start to the morning, Althouse West is typically filled to capacity by 10 a.m. You may want to plan depending on your class schedule.
How much does it cost to park on campus?
There are a variety of parking options based on pricing and availability: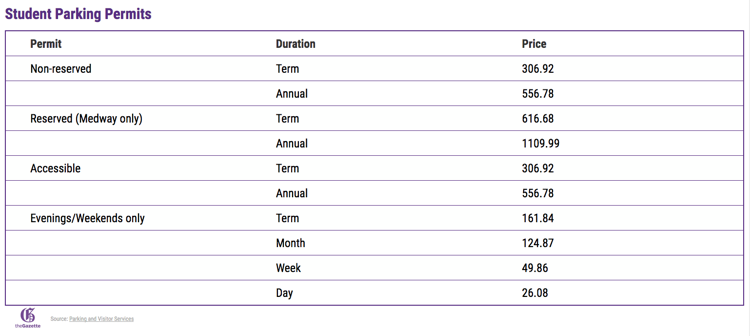 How do I know which type of green permit I should buy?
It depends. Buying one term at a time may seem conservative but, purchasing one annual permit is cheaper, even though annual permits include the less-used summer months. And, having to reapply for your second term permit can mean you miss your spot. As a result, you risk not having a permit for the winter term if you do not keep pace with updates on the Parking and Visitor Services website. 
Because of this, most students buy annual permits.
Do I have to buy a permit to park on campus?
No. For students who are not commuting to campus regularly, Western offers visitor or evening and weekend parking. 
What alternatives are there to parking on campus?
The most obvious answer would be public transit. Parking and Visitor Services encourage students to utilize London Transit, as it results in less traffic congestion, contributing to a safer campus for pedestrians. However, depending on how far you live from campus, LTC may not be the most viable option. A suggestion for students who do not live on a bus route would be to seek parking near a bus stop and commute from there.
Western also offers a Carpooling program, which requires that groups be a minimum of two people per vehicle. This can be easily organized online by using the Rideshare portal. Each member of the carpool receives a parking voucher combined with the added benefit of having a reserved space for your group, as opposed to gambling for an empty space in Springett.