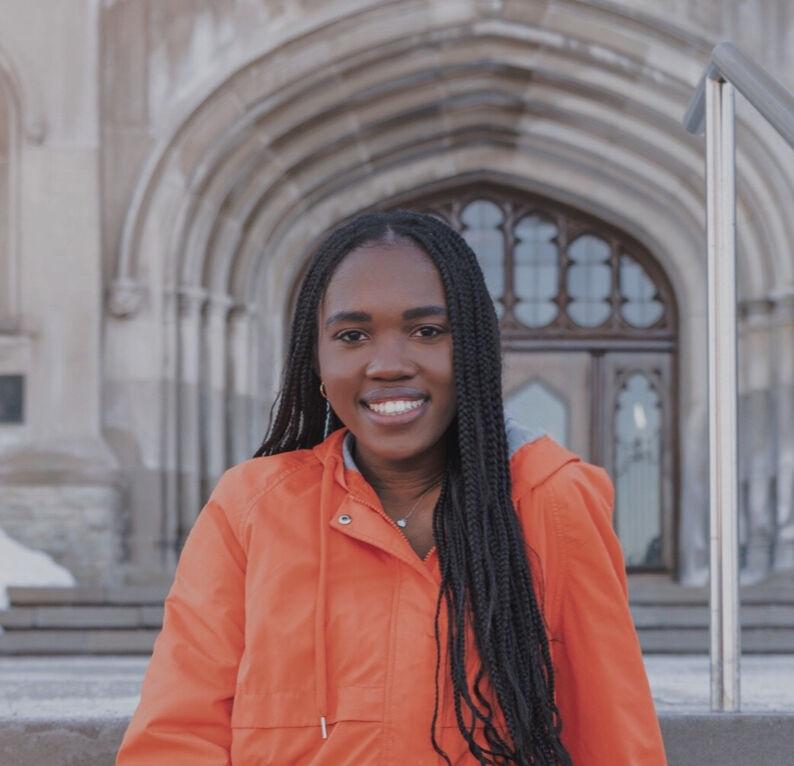 Eunice Oladejo, provincial advocate and associate vice-president of advocacy initiatives on the Social Science Students' Council, is running unopposed for vice-president external affairs on the USC's executive team.
The fourth-year political science and transitional justice student has been involved in multiple forms of advocacy during her time at Western University, including her role as an Ontario Undergraduate Student Alliance delegate, advocating to Queen's Park on issues like environmental sustainability and community development.
As the only candidate running for VP external, Oladejo needs to overcome a majority confidence vote in council to claim the position. This is the second year in a row the role has only one candidate running, the role was created only two years ago when the former vice-president position split in two.
Throughout her time as Social Science's AVP student advocacy — a new portfolio this year — Oladejo has worked on initiatives focused on addressing racism on campus.
"There definitely were some challenges there. Trying to figure out how to work with different portfolios on council and [figuring out how] to pick it up off the ground while addressing issues students are facing," Oladejo said. "It was a lot of groundwork … but [it was also about] developing initiatives and making it feasible."
Oladejo said her other roles — including a delegate at OUSA, president of Water Aid Western and sitting on Western's strategic planning steering committee — have given her experience with policy-drafting, student advocacy and relationship-building with politicians.
"[These positions have] definitely given me experience with carrying on the needs of my constituents and making sure these needs are met," Oladejo said.
Oladejo also attended the United Nations' Youth Assembly at the UN headquarters in New York in 2019, where she advocated for an intersectional climate action strategy that included eradicating poverty, marking a milestone in her advocacy career.
Oladejo plans to channel her advocacy experience as the USC's VP external, while making her work more accessible to students.
"At the end of the day, advocacy is for the students," Oladejo said. "If students aren't aware of what's going on, then I wouldn't be doing a good job."
To help make her role more accessible to students, Oladejo plans to host monthly meetings with faculty and affiliate councils and create a government advocacy case competition for students.
Oladejo will have to overcome a majority confidence vote at the USC's annual general meeting on March 7. If Oladejo is unable to meet a majority, council will have to vote on how to proceed, as there is no formal procedure outlined.
Update: Paragraph two was updated to correct Oladejo's program.