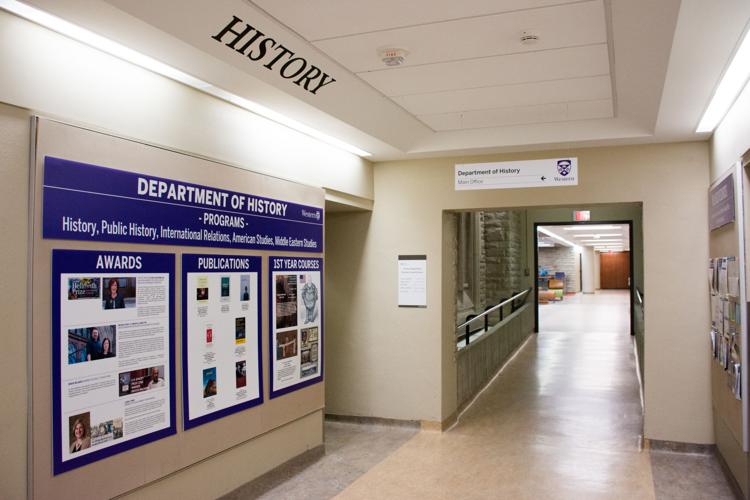 Hundreds of students are taking part in an online movement supporting three Western history professors whose contracts will not be renewed at the end of the academic year.  
Three current and one former Western University history students started a secret Facebook group on Oct. 23 to protest the termination of professors Karen Priestman, Geoff Stewart and Jeff Vacante. The group received widespread support reaching nearly 500 members within a couple of weeks. The group was made public on Oct. 31.  
"These professors really care about their students. They are passionate about what they teach, their doors are always open to students who have questions and they put in 110 per cent in their courses," said Tianna Voort, a fourth-year history student who is currently completing her thesis under Priestman's supervision. "The loss of these professors is not only a loss to the Western history department, but it's also a loss to Western in general."  
"I can safely say that almost every student who walks into their classrooms has a positive experience," added Sara Poulin, a Western doctoral candidate in history and one of the group's organizers. "All of [these professors'] classes are continually full and capped to the point where students can't get into them."  
Voort and Poulin explained the three professors have taught more than 10,000 students at Western over the past decade. The students also expressed concern over the cancellation of the professors' courses in the upcoming year. 
The group's organizers encouraged members to send emails to the dean of social science, Robert Andersen, and others in Western's administration starting Oct. 29 in order to protest the professors' contract terminations. The organizers also reached out to around 2,000 Western alumni asking for their support.
"I had the fortunate opportunity to have been a TA for a couple of years in our department, so I have a lot of my former students coming up and asking me what they can do because they've all had one or two or sometimes three of these professors," said Poulin.
Linda Brock, director of administration at the Faculty of Social Science, replied to student and alumni emails with duplicate responses thanking them for their input on behalf of the dean, Andersen.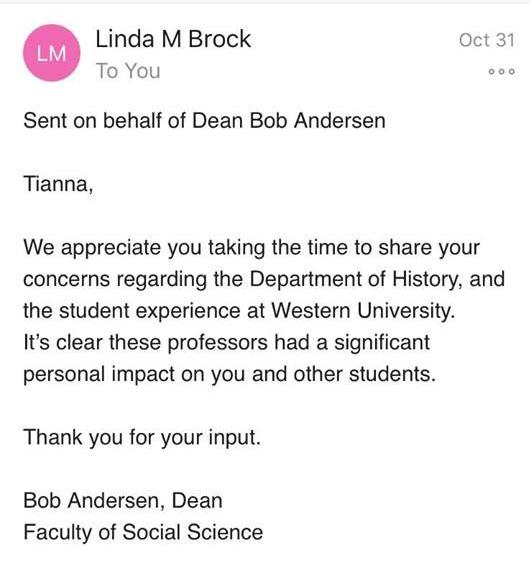 Poulin explained she had no way of tracking the number of emails that were sent to Western administration as members used their personal email addresses. 
"My guess is it was enough to make an impact because we got copy paste responses from the dean's office," she said. 
Andersen explained the funding for the professors' positions was reallocated to departments in greater need of faculty. According to Andersen, enrolments in history have declined over the past decade while several other departments have experienced significant increases in enrolments. 
"The appointments have gone to the departments that needed them most," he said. "When resources are limited, it would be irresponsible to keep positions in units that don't need them when others desperately need them."
However, Poulin noted that declining enrolment in history majors or specializations does not equate to declining enrolment in individual history courses.  
"We have a series of 2100-level courses, which are open to any student in the university to come take. They're history courses, but they don't necessarily count toward a history module," said Poulin. "Those courses have … 200 to 350 students in them." 
The cuts also highlights the long-standing dispute between faculties and Western administration regarding the supposed precarious work conditions of contract faculty, with a possible strike commencing on Friday at 12:01 a.m.
Poulin and members of the group are waiting on the results of these negotiations before taking further action. Possible next steps include mailing physical letters to Western administration and attracting more media attention to their cause. Poulin explained physical letters may be harder to overlook than electronic mail.
"It is not something that we think the dean is going to change his mind on overnight, so we have to be conscious of that," said Poulin. "It's something that we're going to keep trying to fight actively for." 
Priestman and Stewart expressed their gratitude for the community's support. Vacante believed it would be best to refrain from providing a comment at this time. 
"I'm completely overwhelmed by this show of student support," said Stewart. "At a time when the liberal arts appear to be increasingly on the defensive in post-secondary education, it's encouraging to see that there is still a critical mass of students who see the importance of a liberal arts education."
"It's incredible that they have devoted such time and energy to making their voices heard," said Priestman. "Their inspiring spirit is the reason why the students have always been the best part of what I do."