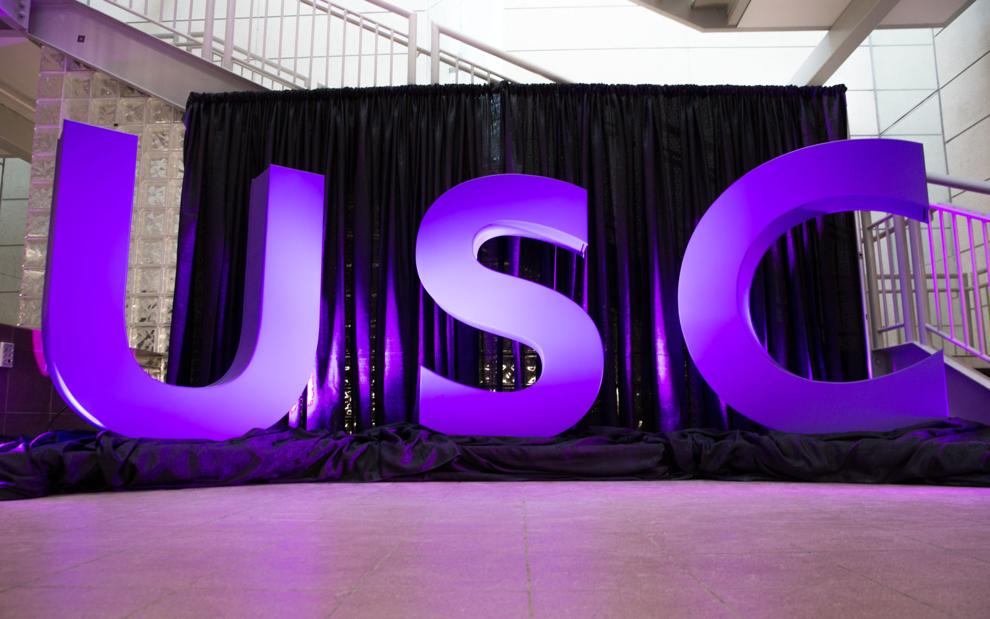 The University Students' Council introduced proposals to cut most of its ties with Western's fraternities and sororities during Wednesday night's council meeting — prompting councillors to accuse Greek organizations of "supporting" a toxic culture on campus. 
The proposals would see Western University Greek life organizations lose their privileges to subsidized rental space in the University Community Centre, USC support for Greek life recruitment events and Greek organizations' right to have resource members present at USC meetings. 
All three privileges will be brought forward for debate as separate motions for council to approve in their October meeting.
"I was elected on a platform that involved improving our relationship with Greek life," said USC president Zamir Fakirani to councillors. "Then I got into the position and I heard a lot of positions to the contrary, so my executives and I are confused and we don't know what students would like to see."
The proposals come just weeks after reports of sexual assault and druggings during Western Orientation Week surfaced on social media, though USC president Zamir Fakirani said the proposals to cut ties with Greek life are unrelated to these events. 
"It is not a response to any conversations you may have been hearing around campus and I do want to be clear we should avoid leveling specific allegations of wrongdoing in relation to recent incidents," Fakirani told councillors. "We trust survivors, we believe survivors, but this conversation isn't about specific incidents, it's about principals as a student council."
The council's executive team invited representatives from both the Panhellenic Council and Interfraternity Council, which respectively represent sororities and fraternities on campus, to the meeting to answer councillors' questions and explain their organizations' value to campus life. 
The Faculty of Information and Media Studies Council president Hayley Lee was among the strongest critics of the USC's relationship with frats and sororities — accusing Greek life of being "a body that supports racism, inaccesibility, financial barriers, rape culture, harmful party culture and not being very inclusive."
Zander Martins, a member of Western's Interfraternity Council, admitted fraternity members "are subject to shortcomings as we are students and we are learning … [but] these are widespread issues that affect beyond fraternities and sororities."
Lee responded saying "although [frats and sororities] are not the sole contributor to rape culture and party culture on campus, [they] are one of the largest contributors," and that the fraternity representatives' "ability to deflect this responsibility saying [they] are not the only ones is disappointing." 
Martins clarified after the meeting that fraternities "in no way tolerate sexual violence and, if it's found, those members are quickly removed from our community." 
The USC has worked to improve their relationship with Greek life since Tobi Solebo, a member of Western's Phi Gamma Delta fraternity, was elected USC president five years ago. 
Fakirani also ran for president and won on a platform that prioritized improving and formalizing the council's relationship with Greek life, something he said he's started to question since taking office. 
"We wanted to make sure that, if my executive and I are going to continue building this relationship, that is what students want," said Fakirani. "I've been reached out to by many students at large or USC councillors that they were hopeful that I would rethink some of my campaign promises — so that's why we decided to bring it to council"
Fakirani said a large reason for his initial support of formalizing the USC's relationship with Greek life was their charity work in the community. Western's Lamba Chi Alpha fraternity is one of the largest contributors to London's food bank and sororities connect their members with volunteer opportunities at local organizations like Anova, which works to support survivors of sexual and gender-based violence. 
Council has never formally voted on a mandate regarding the USC's relationship with Greek life organizations, with past executive teams unilaterally deciding to offer supports to fraternities and sororities without consulting student representatives. 
Fakirani said reviewing the USC's relationship was always going to be an agenda item during his term, but this issue became more urgent as feedback forms from OWeek highlighted some student concerns regarding campus' Greek life. 
"My time as USC president is so short, I wanted to make sure that if I am engaging in Greek life for the entirety of first semester, that's what students want," said Fakirani.
In Wednesday's meeting, councillors like Ethan Chen also questioned why the USC was subsidizing space and covering costs of training for a group of organizations that "hold a lot in endowment and funds." 
Martins said this was a mischaracterization based on Greek life culture in the United States and that Canadian frats and sororities do not receive comparable financial support. Interfraternity Council president Jack Reisman added that the training the USC offered Greek life leaders was invaluable.
"In [Zamir's] platform he went so far as to say he'd like to ensure that any fraternities and sororities that wanted access to sexual and gender-based violence prevention training would be funded by the USC," said Reisman to councillors. "I think it's safe to say everyone in this meeting would agree there's no price you can attach to that type of training — there's no dollar amount you can attach to how important it is to train your members."
Martins added that the issue of council's proposals wasn't so much the money but rather "a question of are we really welcome as an organization or on campus … being Western students, we feel we should be permitted to have the same privileges any other student group does."
Councillors pushed voting on the motions until their Oct. 27 council meeting, in order to have time to consult the issue with their constituents. 
"I don't think an all-or-nothing approach is appropriate for this matter, we may choose to engage on some things and not other things," said Fakirani. "Members of Greek life are folks we represent too, they're constituents."