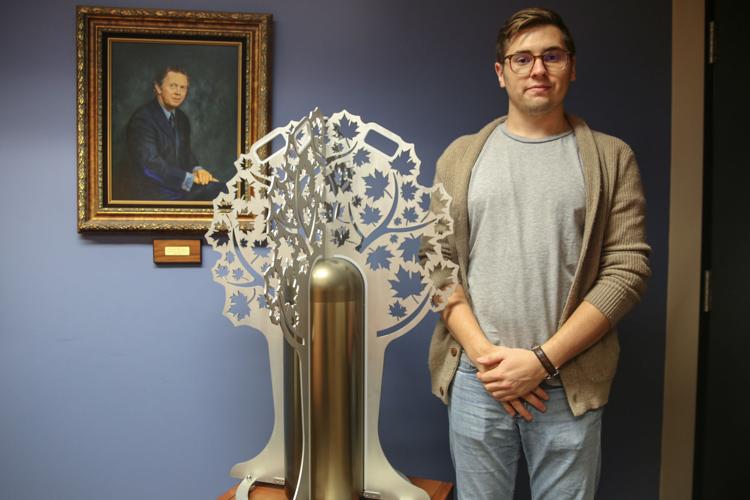 There's a lot of pressure that comes with designing Western University's Canada 150 time capsule — you have to create something that will last 50 years.
For Western student Ethan Kellough, this was his task as the time capsule's sole-designer. The time capsule project celebrates Canada's 150th by storing messages from staff, faculty, alumni, students and the wider community. This time capsule will be stored at D.B. Weldon Library and will be opened in 50 years. 
Kellough, a fifth-year mechanical engineering student, got the chance to design the capsule after he won a contest. The Western-run contest asked engineering students to submit designs for the time capsule. 
Kellough's time capsule is designed to look like the trunk of a maple tree. Silhouettes of maples leaves are cut into sheets of metal, surrounding the capsule to look like a tree's canopy. The design represents both Canada and Western because of the maple trees on campus.  
"It's something that both represents Western and the Canada 150 brand," Kellough said. "The maple tree [marks] the innovations that Western has created and how the encapsulated [items] in the time capsule have contributed to the growth of Canadian society."
The design of the time capsule had a few constraints: it had to last in the sunlight for 50 years, weigh less than 50 lbs, have an opening of at least five inches across and a few others constraints.
The material of the tree and time capsule itself is made out of aircraft-grade aluminum in order to maintain its light weight. University Machine Services, an on campus machine shop, manufactured the time capsule.
"It took over 100 hours to do the design and complete the design, from researching and coming up with the ideas and then creating the model," Kellough said.  
Unique to the Western time capsule, it won't be buried underground like traditional time capsules. It will be on display outside of the Archives at Weldon library, visible to students and the community for the next 50 years. The time capsule is currently completed and stored at the Spencer Engineering Building.
"You only get to do stuff like this every so often. Nobody does time capsules or cares about Canada's 151st birthday," Kellough said. "This kind of opportunity only comes around every once in a while, so that makes it unique."
To include your own personal message in the time capsule email community relations specialist Jo Ann Johnston at joann.johnston@uwo.ca.