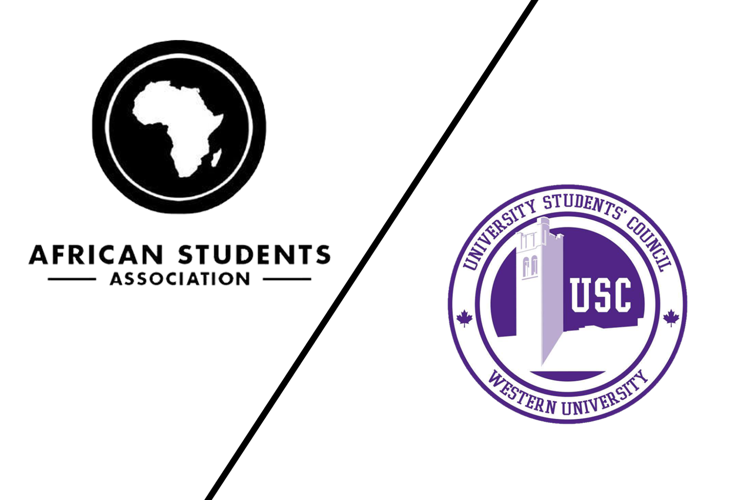 Six major student groups denounced anonymous racist emails sent to the student who went public with her story of an English professor using the N-word in a lecture on racial language.
Chizoba Oriuwa, a fourth-year health science student, posted her account of the lecture on social media a week ago. After media coverage of the incident, someone anonymously posted her Western email address online, calling for her to be harassed.
The African Students Association — of which Oriuwa is president — the Black Students' Association and the Caribbean Students' Organization issued a statement Wednesday morning, just hours after images of the hateful emails were posted to a Facebook page popular among Western students.
"[We] are incredibly disturbed by the messages directed at a Western student yesterday who was targeted for standing up against racism on Western's campus," it reads. "Together we stand in solidarity with Chizoba Oriuwa and unequivocally condemn those who cowardly and anonymously attack her courageous decision to speak out."
The statement was published with the University Students' Council, plus its Ethnocultural Support Services branch and the Society of Graduate Students — marking a chorus of voices in support of Oriuwa, including both student governments, after her story captivated campus and garnered Canadian media attention.
Western issued their own statement. Jennifer Massey, the associate vice-president of student experience, wrote a statement posted to Western News.
"Fostering a positive campus climate for all students is a top priority for Western," she wrote. "Racism in any form is not acceptable and we are already having conversations about actions that can be taken to address it and how we move forward."
The statement does not mention Andrew Wenaus, the professor. Western's response at the time was to post an apology from Wenaus on the Arts and Humanities website, and to say the incident was "not in keeping with their values."
Massey adds that she reached out to Oriuwa immediately after seeing the emails, and is making sure she is safe and supported.
Western's Black Students' Association posted a response on Instagram last night, beyond the joint statement, condemning the actions of the professor.
"BSA applauds those who have used social media to further raise awareness of this issue and appreciates all who have reached out in solidarity, including professors," it reads. "Let this incident serve as a reminder of the work that still needs to be done in our society to those who do not live the Black experience."
"Black students on Western's campus are continually subjected to racism, discrimination, and prejudice in our classrooms and lecture halls," the statement reads.
The group said they will be launching an inquiry into "incidents of racism, prejudice and discrimination on campus" through an upcoming roundtable discussion.
Campus grapples with a racism scandal
Revelations first emerged last week that professor Wenaus used the term "house [N-word]" when discussing historical classes of slaves; he has since apologized. The class, which studies popular literature, meets this Wednesday evening for the first time since the incident.
After her original social media story and Wenaus' subsequent apology, Oriuwa spoke out again, interviewing with local and provincial media. The campus reaction was divided: some praised her and criticized the professor, while others claimed that the academic context of a lecture permitted Wenaus to use the N-word, despite Wenaus' apology for doing so.
Criticisms and condolences continued as Canadian newspapers and TV stations began to publish interviews with Oriuwa. The joint statement also addresses the reaction, which they say betrays a deep issue on campus.
"The negative backlash that followed media stories and dialogue calling out the English professor's use of the N-word demonstrates that there is still much work to be done to raise awareness and catalyze critical conversations about systemic and institutional racism at Western," it reads.
Tuesday night, a Facebook user posted screenshots of emails sent to Oriuwa from anonymous email addresses that were replete with the slur. The post — on the "Must Knows" for Courses at UWO page, one of Western's largest online social spaces — blew up.
The statement credits the largely positive reaction to the post, saying it "symbolizes the strong community of people standing with Chizoba."
In an interview with the Gazette, Oriuwa said she had been in contact with the dean of Arts and Humanities, Michael Milde, and that Wenaus was enrolling in Western's Centre for Teaching and Learning.
The statement says the groups plan to meet with Western, too.
"This meeting will be our first step in a long journey of reflection and action," it reads, "that will include educational programming, university advocacy, and the formation of appropriate working groups and institutional reviews."
The University Students' Council meets Wednesday  evening on their normal monthly schedule. The incident is likely to be discussed.
USC president Bardia Jalayer commented on the Must Knows post, saying he would raise the issue directly with Western's president, Alan Shepard.
With files from Emily Tayler and Rania Osman.