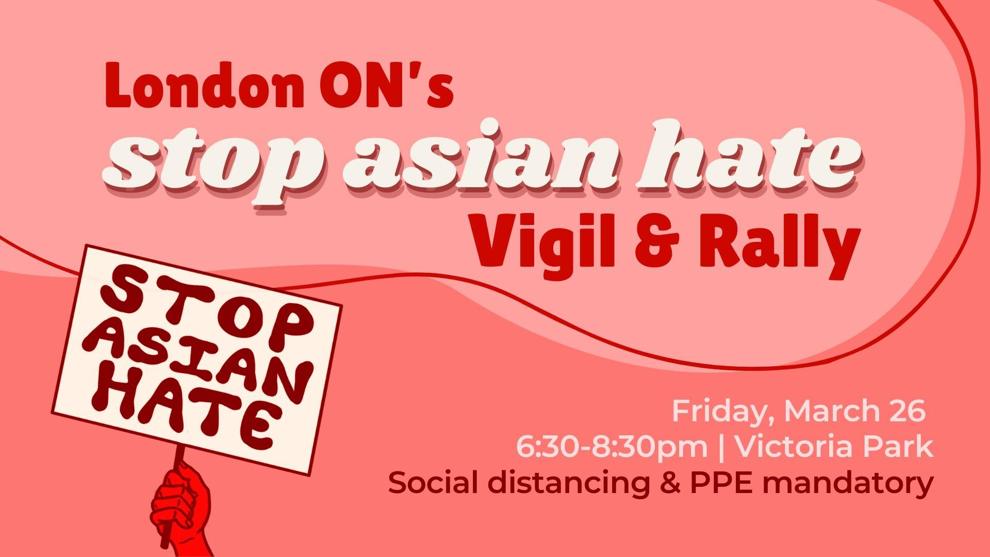 Western students will hold an online vigil and rally Friday to honour the victims of anti-Asian hate since the start of the pandemic.
Second-year King's University College student Teigan Elliott said she was inspired to organize the memorial rally after the mass shooting on March 16 in the US targeted Asian businesses and left eight people dead.
"It felt wrong not to [organize]," said Elliott. "When there's people who've died, it's just very natural to come together in mourning and have a vigil, and it just, to me, felt wrong if London didn't do that."
The event will feature speeches from Elliott, her co-organizers, Ayeza Tahir and Erika Juhsaz, and prominent members of London's Asian community. There will also be performances from Asian poets, as well as collaboration with SafeSpace London, a support centre for sex workers and women in crisis.
Elliott recently penned an open letter calling for the owner of a downtown bar to apologize to the Asian community for signs many Londoners condemned as racist.
Participants can watch the rally over Zoom and Facebook live. Elliott said she initially hoped to hold the event in-person at Victoria Park with social distancing measures, but received push-back from the city and London police, who said the group would not be able to legally use the stage and could only use the plaza in the park.
Under the Ontario Reopening Act, organizers of events exceeding gathering limits without special permission can face minimum fines of $10,000. London is currently in the orange zone, which allows up to 100 people to gather outdoors for organized public events.
Scott Stafford, managing director of London's parks and recreation department, clarified the city has banned all use of the Victoria Park stage until further notice to promote social distancing.
"Groups wishing to organize may utilize the plaza area outside the northwest corner of Victoria Park, this is a public space. At a time when case counts continue to increase in our community, we strongly discourage activities that don't comply with health precautions that are in place to prevent the spread of COVID-19," said Stafford in a statement. "However, we also recognize the right to free speech and to gather peacefully."
Mayor Ed Holder spoke about the rally at the Middlesex-London Health Unit's press briefing Thursday, supporting the effort against anti-Asian racism but saying such an event should not be held in-person.
"I want to make the point I do understand the need to want to respond and respect the spirit of what the rally's trying to do," said the Mayor. "The fact is, given where case counts are right now, these types of gatherings just aren't safe and how could I justify or encourage providing for an activity that increases the risk of spread?"
Elliot said the lack of support from the city, especially considering the major anti-mask rallies held over the last few months, was particularly disappointing.
"It was frustrating to hear, after seeing that anti-mask rally," said Elliott. "Hundreds of people in the park without social distancing, or wearing masks, who didn't go to the city about having to do their event safely, obviously because that goes against their entire thing."
Elliott and her co-organizers are encouraging people to attend through their Zoom link or Facebook live, though some people can still attend in-person at the park, as long as attendance remains under 100. Elliott said the event will be filmed and uploaded with closed captioning at a later date.
"We're all human, and these are human lives that are lost and humans that are being treated with racism and attacks and assaults, and to me, it's just super natural to care," said Elliott. "I feel like that's the bare minimum we should be doing for human decency."