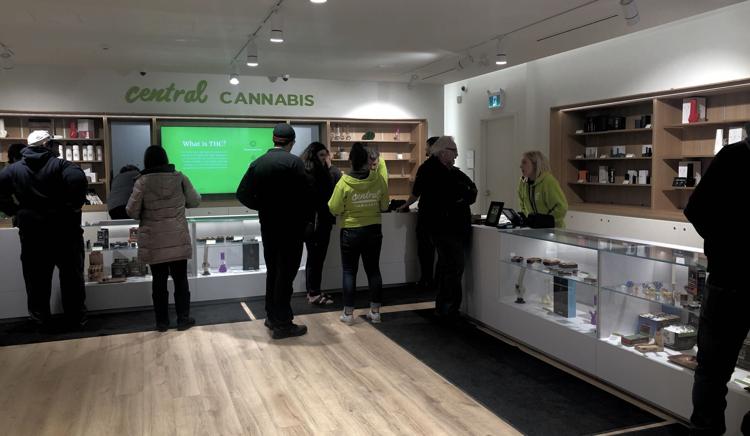 Edibles and other "Cannabis 2.0" products have been on sale for over a month, but cannabis stores surrounding campus say students haven't jumped at the chance to buy them.
Many stores began receiving shipments of the new weed products as early as Jan. 7, and now offer a wide array of edibles including gummies, chocolates and teas, as well as cannabis concentrates like vape and cartridge pens. 
But despite the new, highly-anticipated merchandise coming to stores close to students, the customer demographics have remained relatively constant: middle-aged.
Gareth Roast, assistant store manager at Central Cannabis on Wonderland Road and Oxford Street, said his average customer was much older than student age.
"We have an average of about 975 people in-store a day, but the average age is actually about 45 years old," he said. 
Before the introduction of new products, he said students made up 25 per cent of Central Cannabis' daily customers, and that number has remained the same even with their expanding product line. 
Greg Lawson, manager of downtown Cannabis store, J. London, reported the same. 
"It's surprising. There is a really wide array of people that are coming in now," he said. "I do see a little bit more of the experienced category of people — not so many students." 
Lawson said he noticed higher demand for vape products, not edibles, from students.
There is no doubt that edibles and Cannabis 2.0 have boosted stores' overall sales: Central Cannabis sold out of the products in just a day and a half. 
Both store managers attested to the convenience of edibles and Cannabis 2.0, saying the products are perfect for people who prefer not to smoke but still want to experience the infamous effects.
Roast said his store has seen significantly more sales for Cannabis 2.0 products than the old inhaled products they have carried since legalization. 
"You can now have cannabis on the go. It doesn't have a smell, you can have it with you 24/7 and [a vape pen] is only $40," he said.