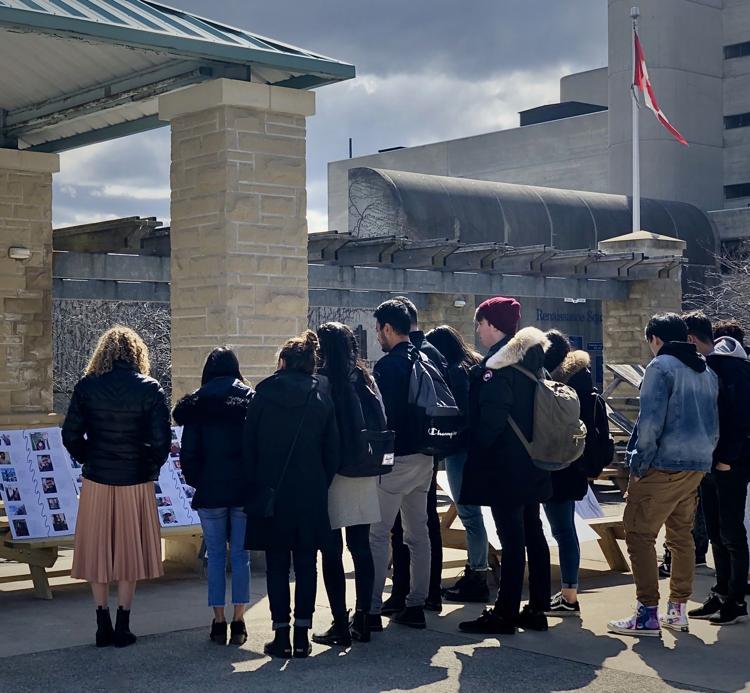 On Tuesday afternoon, students gathered in solidarity on Concrete Beach to remember the 50 lives lost and 30 injured in the Christchurch mosque shootings that happened last Friday in New Zealand. 
The peaceful rally was organized by Western University students Dana Murad, a first-year engineering student, and fourth-year global development student Harjas Grewal. They joined to honour the shootings' victims, speaking against white supremacy and standing in solidarity with all affected by it. 
Emma Lim, a first-year medical sciences student from the Congregation Or Shalom in London, said she reached out to the London Muslim Mosque to see how she could offer her support after Friday's tragic events. She shared words of compassion for the Muslim community and expressed concern for all religions affected by white supremacy. 
"[It was] really heartwarming to see a wide range of people come out. It's indicative of who we are as a society, that we are caring, and the vast majority of us are people who would never perpetrate terrible crimes like that," said Lim.
Volunteers compromised of students from the Canadians for Justice and Peace in the Middle East at Western and the Muslim Students' Association condemned the New Zealand attacks and encouraged unity from all students.
CJPME Western has been involved in efforts to combat Islamophobia on campus. They have also campaigned the Canadian government to recognize Jan. 29, the anniversary of the Quebec City mosque shootings, as a day of remembrance and action against Islamophobia. 
"We hope that if we recognize this tragedy and raise awareness, we can prevent hate crimes of this nature in our country," said Reda Belhadfa, a third-year economics and mathematics student and CJPME public relations and outreach officer.
He appreciated the rally's attendees for showing support for the New Zealand Muslim community.
"The turnout for that was huge, and it felt comforting to see so many people come and support the Muslim community in this uncertain and, quite frankly, scary time," said Belhadfa. "Racism and white supremacy have no place on our campus, or anywhere in the modern world, for that matter."
Last year's MSA president, Ali Jilani, a fifth-year software engineering and Ivey business student, read a passage from the Qur'an in tribute to the victims and to encourage everyone to be "patient in adversity." 
University Students' Council president Mitch Pratt and president-elect for 2019-20 Bardia Jalayer were also among the attendees.