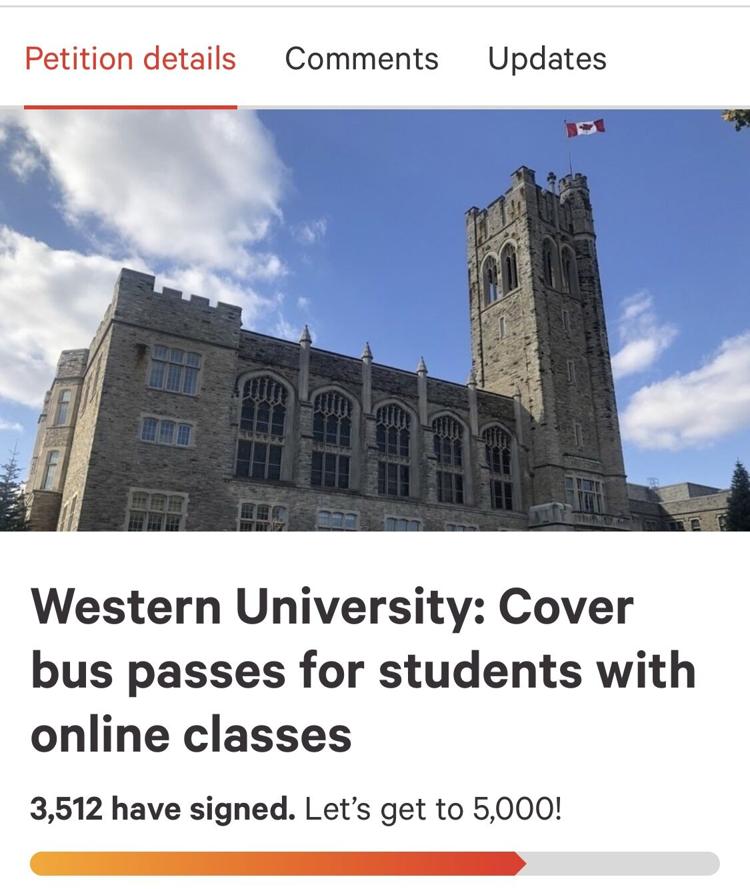 An online petition asking the USC to reopen negotiations for LTC bus passes surged in popularity overnight, gaining over 3,000 signatures in less than 24 hours.
The petition began circulating Sunday, after the University Students' Council announced their discounted bus pass rates of $263 will only be paid by and given to students who have in-person classes.
The USC signed an addendum to their contract with the London Transit Commission to alleviate student fees for those who will not be returning to London, although there is no option for students who have only online courses to opt-in if they require the service.
The petition has 4,052 signatures at the time of publication. 
"I was really dismayed," said George Macaulay, a third-year philosophy student, who started the widely-circulated petition. "Public transit is absolutely necessary for basic necessities in life … students usually don't have the finances for other modes of transport."  
Macauley's petition received dozens of comments from students who have only online classes but were still planning to rely on the LTC for daily activities, such as getting groceries, appointments and trips to campus for extracurricular activities and office hours come September. And despite only 25 to 30 per cent of classes taking place on-campus, many students plan to return to London for their fall semester.
"There are a lot of obligations other than courses that force students to come to campus [such as] extracurriculars, athletics and work," Macauley said. "All of these students still have to go to and from campus, but may not have the transit covered … I think that's incredibly detrimental to students who may be most at risk financially."
The petition asks the USC to either provide an opt-in model or reinstate the discounted rate as a part of full-time students' mandatory fees.
The USC struck the amended deal with the LTC with the aim of "providing savings for those who do not plan to be in London" fall semester, such as out-of province or international students who returned home to spend quarantine with their families.
"I am not going back to London. It's definitely something I could save money on … but I know for people who are going back [to London] this can definitely be a struggle," said Richard Yang, second-year health science student, who is taking all his courses online. "[But] people should have the option on what [they want] to do." 
In response to the outcry, the USC executive team said they initially advocated for "an opt-in or opt-out system," with the LTC, but their hand was forced. They also posted a "frequently asked questions" page, promising to listen to student concerns following the backlash.
"The LTC mandated a universal system which would require the USC to charge all students the LTC fee, regardless of their plans to head back to London," reads the statement to the Gazette. "With students and issues of affordability in mind, we negotiated an addendum that would ensure that students with a fully digital course load would not be charged for the fee."
But, the USC executives also indicated changes may still be underway.
"[We] are working alongside community partners to accommodate for as many students as possible and will update students in the coming weeks."