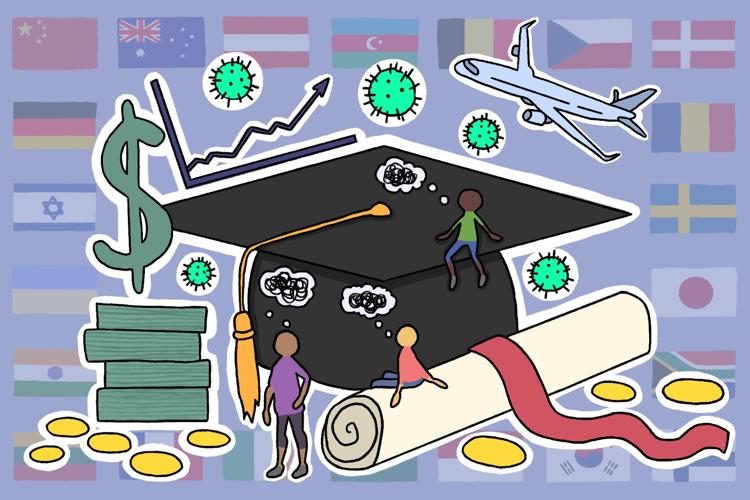 Western students are petitioning against hikes to international students' tuition amid the coronavirus pandemic — an event that has burdened students with economic uncertainty and caused concern over the quality of education as universities shift to online learning.
International students can expect their tuition to rise between $2,000 and $5,000 this year, depending on their program and year of study. Students began to vocally oppose the increase after Western University announced its decision to move most classes online for the 2020-21 academic year, leaving international students with dramatically increased tuition fees despite global economic uncertainty.
Sophie Wu, a domestic second-year math and school for advanced studies in the arts and humanities student, along with Wendi Huang, a third-year domestic student at Ivey Business School, began UWO receipts, an Instagram account and website aimed at educating the Western community about rising international student tuition, highlighting students' experiences, petitioning the school's decision and seeking better financial transparency.
Domestic students' tuition has remained unchanged as the Ford government instituted a 10 per cent tuition cut for Ontario universities in 2019 along with a tuition freeze for the 2020-21 school year.
Wu and Huang would like to see Western provide an unconditional bursary to subsidize international students' expenses. 
"At first I thought 'this doesn't really affect me,' especially because many domestic students like myself [assume] that international students can afford a high tuition in the first place," Wu said. "But after talking to friends who are international students, many of them are putting their families' finances on the line."
Peer research universities charging higher average international tuition rates is cited as the primary reason for the tuition increase in Western's 2020-21 capital budget.
According to a CBC report, fewer international students accepted offers of admission to Western this year, despite an increase in the overall number of offers sent out. 
The university sent 7,054 offers of admission to international applicants, compared to 5,308 offers made last year. Despite this increase, only 12 per cent of applicants who were offered admission this year accepted, which is a decrease from last year's 18 per cent.
This spring, 861 international applicants accepted offers of admission for the 2020-21 year, but Western expects to see only 630 new international students attend.
Wu and Huang created a public email template addressed to Lynn Logan, Western's vice-president of operations and finance, which encourages increased financial transparency from the university.
The team received an email response from president Alan Shepard on Aug. 19, which outlined that the increase was part of the "necessary changes to … academic programming and preparations for a safe return to campus."
In the email, Shepard cited hiring support staff for online course development; investing in personal protective equipment for all students, faculty and staff; developing safety plans to manage building capacities and pedestrian traffic flow and increasing student financial aid as some of the "substantive incremental expenses" Western is faced with this year.
Shepard added that Western is reducing ancillary fees and increasing financial aid in order to offset tuition costs.
Nistha Chakraborty, a fourth-year psychology major and international student at King's University College, began a petition with Kanvi Gupta, also an international student at King's, to fight the increased tuition after seeing the outrage circulating on social media.
The pair received nearly 3,000 signatures after posting their petition in the Facebook group "'Must Knows' for courses at UWO."
"It was so exhilarating to see [that] much support, not just from international students but also from domestic students," Chakraborty said. "I think that really says a lot about the situation and how it's just not fair."
But despite their outreach, the pair are yet to receive a response from Western after writing an email to Shepard and the administrations at both Western and King's.
Wu said she felt disappointed at Western's "dismissal" of the work that she and others have put into investigating the school's finances.
"I think [because of the pandemic] we'll never reach a state where the school is operating [ideally]," she said. "But the school … is forcing international students to pay without actually increasing the quality of the service that they're providing."
---
This article is part of our annual Frosh Issue, read the full issue online.