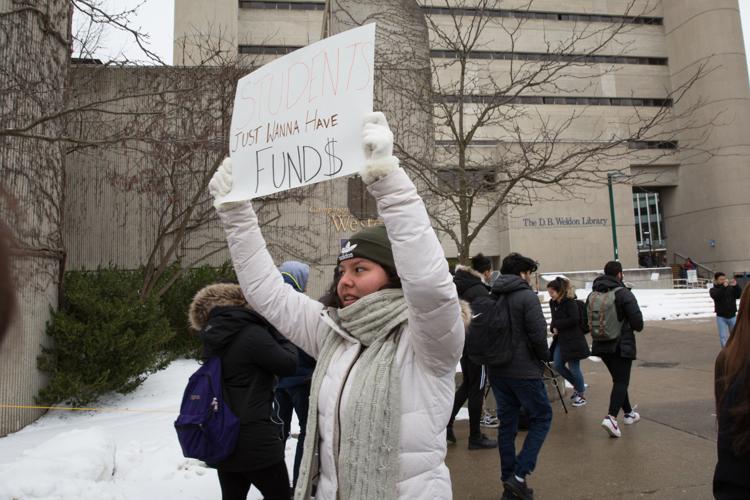 Students from 16 Ontario colleges and universities plan to walk out of class Wednesday to protest the provincial government's recent changes to the post-secondary educational framework. 
The Canadian Federation Of Students-Ontario is organizing the protest in response to recent major funding cuts to the Ontario Student Assistance Program as well as cuts to student union budgets through the Student Choice Initiative, which makes certain student fees optional.  
Both Western University and Fanshawe College students are participating in the protest. At Western, the protest is being organized by the Society of Graduate Students, the local member of CFS.  
"We are all going to be seeing the affects of some of the decisions that this government is making for the next several years," said Mary Blake Bonn, SOGS president. "Even if you've never gone to a protest before or you consider yourself apolitical ... this is a great opportunity to make it the first time that you go to a protest, write a letter or sign a petition. There are many ways to get involved." 
The students' demands of the provincial government include providing more grants instead of loans, eliminating tuition fees for all students, increasing public funding for post-secondary education, protecting students' independent voices and defending students' rights to organize on campuses. 
"Anybody who wishes to participate will simply leave their office or their lab or their classroom ... and report to Concrete Beach," said Bonn. "We have a few individuals lined up who are going to say a few words, and then likely we will march around campus to make ourselves more visible."

The event will take place Wednesday from 12 p.m. to 2 p.m. on Concrete Beach outside the University Community Centre. So far, 59 students registered as "Going" and 184 registered as "Interested" through the event's Facebook page.

"If the government is going to be making decisions that affect us, then it's appropriate for us to make our voices heard," said Bonn.