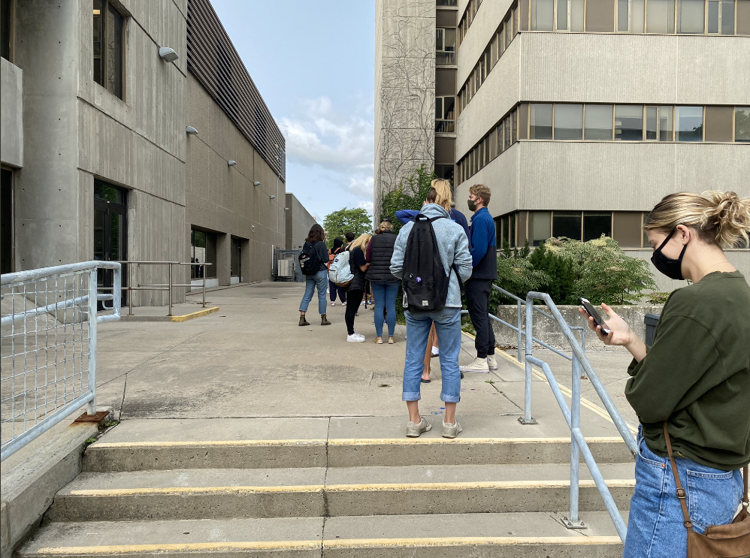 Western started turning students away from its mobile COVID-19 testing unit before noon today, citing limited testing capacity. 
Students started lining up before the unit opened at 11 a.m. Monday and the queue quickly grew, with over a four hour wait to get tested for those at the back of the line.
The mobile unit can only test three students at a time, with 220 tests available on Monday.
The spiked demand for student tests comes the day after Western reported five student cases, the first outbreak at a Canadian university. The affected students did not visit campus, but had numerous interactions at downtown bars and "neighbouring student residences."
The university started handing out red tickets to students in line, saying that when they ran out, they had reached their capacity and students without one would have to return tomorrow. Western tweeted they reached full capacity around 1 p.m..
Students are being told it's a four hour line. Staff are also handing out red tickets guaranteeing you will be tested, but when the tickets run out, you'll have to come back another day. pic.twitter.com/3g8b5A6d66

— sarah wallace (@sarahkwallace7) September 14, 2020
The Middlesex-London Health Unit, London's local health authority, urged students to get tested on campus after reporting three and four hour wait times at the city's other testing centres.
"One of my friends went to a restaurant where there was a positive case, so I thought it would be better to be safe than sorry," said fourth-year health science student Jessica Looije. "I want to be able to see my parents this weekend."
Monday's 220 tests are already an upgrade from the weekend's testing capacity. Friday, the unit's first day of operation, saw around 50 tests, while Saturday saw about 65 students.
Jennie Massey, Western's associate vice-president of student experience, said her team will be reviewing their testing capacity once again after seeing Monday's line and increasing capacity.
"I actually think to see that at such a large number of students coming were out for testing, I was really pleased with," she said in an interview with the Gazette. "To me it really speaks to the sense of responsibility of our students, how seriously they're taking the implications of COVID-19."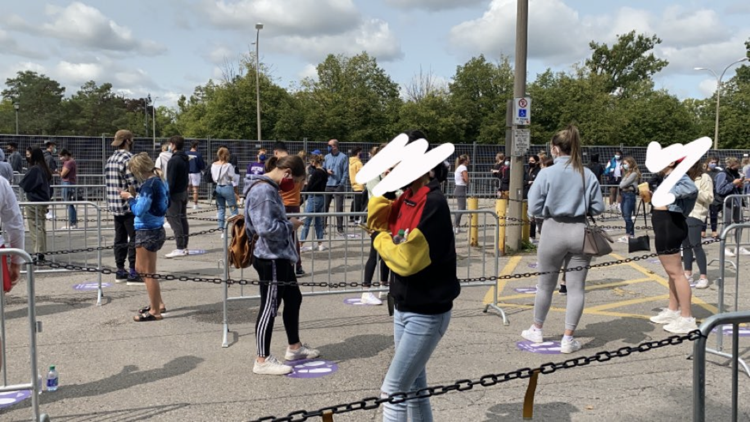 Western's mobile coronavirus testing unit opened just three days ago and, as of yesterday, extended their opening hours from 3 p.m. to 6 p.m..
Students waiting in the socially-distanced line have been provided with two timbits and bottled water to sustain themselves for the long wait. There are also regular depots with free hand sanitizer and masks along the line.
This article is developing, more information will be added as it is confirmed.
Update (Monday, September 14, 2020, 4:16 p.m.): This article was updated to include quotes from Jennie Massey, associate vice-president of student experience.