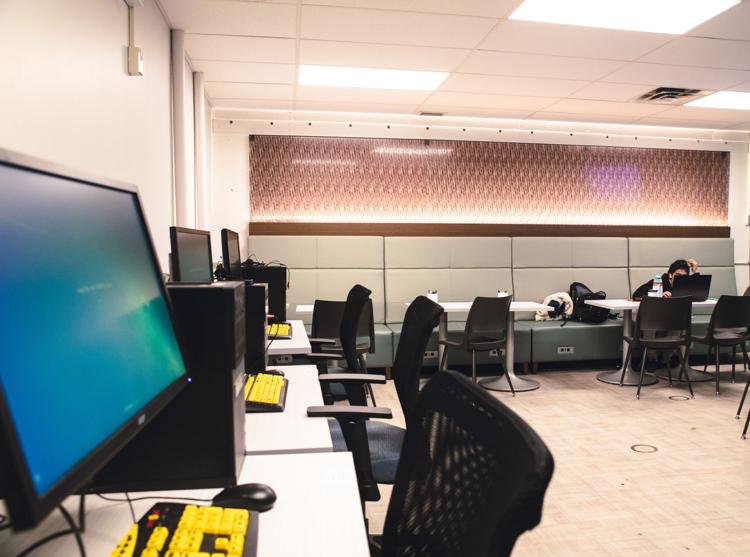 Weldon Library's updated study space, dubbed the Zimmerman Access Lab, will now suit the needs of students with disabilities.
"Originally, the space was set aside for us to make a lab with it in about 2001," said Wendy Dickinson, acting associate director of services for students with disabilities. "We had some equipment in it. We used it, but it wasn't great."
Located near Argo Tea Café, the quiet space is newly equipped with assistive technologies on computers as well as adjustable lighting, whiteboard desks and a printer. The renovations were completed last week.
The Zimmerman Access Lab is only available to students who have registered with services for students with disabilities and who have obtained an access sticker. The sticker allows students to sign out a key for the room. Students must also sign an agreement form to use the equipment properly.
Dickinson added that if students want to learn how to use the technology, Western University has an assistive technologist who oversees the lab and can teach them how to use it.
The Zimmerman Lab is one of the only spaces on campus with these assistive technologies.
"Some of the technology is noisy," explained Dickinson. "For example, if you're going to use voice-detection software, you're going to be speaking at your computer, and that needs to be done in a quiet space — you can't have five people in a row doing that."
According to Dickinson, most students with disabilities already have these assistive technologies on their own laptops. Some of lab assistive softwares are more unique, making them expensive to have installed campus-wide.
The renovation was funded by Western's services for students with disabilities, the Society of Graduate Students and Linda and Walter Zimmerman, who are former Western staff.
Dickinson believes that it is important to let students with disabilities know that there is a welcoming space on campus designed specifically for them.
"Hopefully, as people get more familiar with it, it can be a place for students with disabilities to build a community because it is a nice, quiet and private space," Dickinson expressed. "They can work with peer mentors and get to know one another. I think that's a great opportunity."