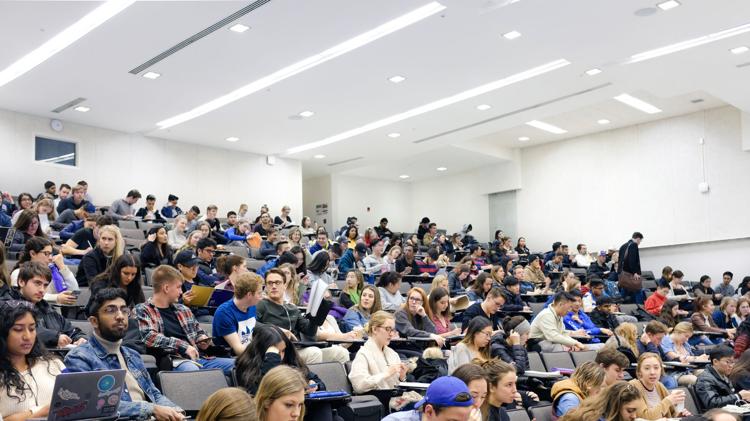 Researchers from Western University and Queen's University Belfast found that many students do not open online feedback from their instructors, and are looking to enhance students' learning outcomes by improving access to this resource. 
The study found that students' access of online feedback is dependent on the availability of assessment marks, gender and academic performance at Queen's University Belfast.
The paper was published in the British Journal of Educational Technology on March 6.
Using educational mining data, assistant professor in Western's Department of Biology and the Centre for Environment and Sustainability Paul Mensink collaborated with Karen King from Queen's University Belfast to determine the underlying drivers of feedback file access posted to a learning management system. 
Colleges, universities and district school boards use learning management systems like Blackboard or Moodle to post course material, assignments and assessment feedback online, explained Mensink.
"There's different companies that have these learning management systems that universities can subscribe to, but there are also ones that are open source, and universities can sort of modify them as they want," explained Mensink. "Western uses something called Sakai, which is an open source format that OWL is sort of laid on top of". 
Learning management systems are beneficial because they allow students to continually access feedback from their assignments online, said Mensink. 
"Because instructors give feedback online, you can access it wherever you are, or go back to it whenever you want," he added. "It's sort of held there permanently for you to go back and look at your feedback, instead of having some hardcopy buried underneath your desk."
In the study, researchers looked at learning management systems used at Queen's University Belfast and discovered that over a third of assessment feedback files were never accessed by students, equating to over 500 different pieces of feedback.
Mensink explained how feedback is a core part of the learning cycle, as students can review where they missed marks and apply this information to their course material and future studies.
"Looking at feedback online, you can see what you could do in the future to become a better student," said Mensink. "That's the whole idea with learning … slowly, step-by-step, you are gaining new knowledge." 
Mensink then determined which factors drive students to open feedback. This is a multifaceted issue, as it may depend on the marks students get, the weight of the assignments and when assignments are placed in the semester.
The study found that assignments with deadlines earlier in the semester were viewed more often than those later in the semester.
"A lot of those really largely weighted assignments are normally at the end of the year," explained Mensink. "If you get your mark on a major assignment at the end of the semester, you may not believe that you can use any of this feedback to help you in the future, so what's the point of looking at it?" 
Mensink says that if assignments were broken up throughout the semester, students may be more inclined to read feedback and apply it to a bigger assignment.
The study also found strong gender-specific differences in how students accessed feedback, which were also dependent on their academic performance. 
Regardless of a particular mark or how much an assignment was weighed, male students with a lower grade average were less likely to access online feedback. This is particularly concerning, as students who are performing poorly academically are the ones who probably need feedback the most, explained Mensink.
However, this wasn't the case for female students.
"There was only a very weak and highly variable effect in terms of if they were poor students overall when it came to females; they still accessed feedback close to the same rates they did when they were doing really well," explained Mensink.
One solution is to embed grades into online feedback files, so students would have to open assignment feedback to obtain their mark. 
Using this strategy, the study found that the amount of unopened feedback files dropped to 17 per cent, while males were more than 27 per cent more likely to open online feedback files.
Mensink now wants to determine whether this is an issue at Western, and discover ways students can better access feedback files at the university. To solve this issue, he suggests looking at how learning management systems are designed, and trying to release feedback before receiving a mark on systems like OWL.