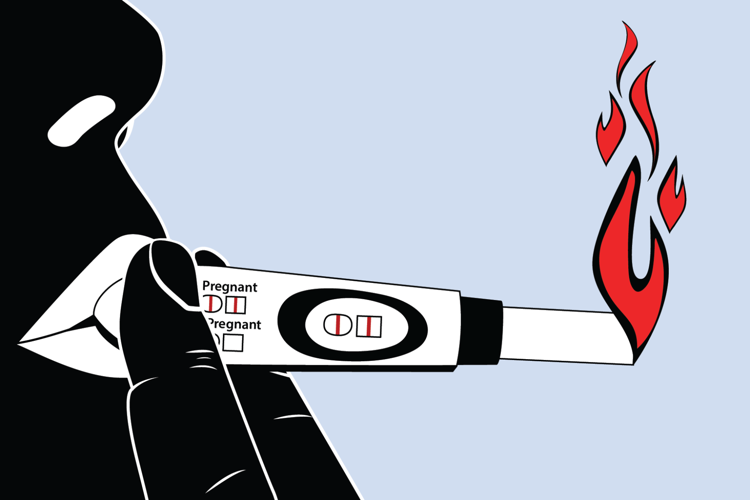 The preliminary results of an ongoing study at Western University indicated that consumption of low doses of THC, the principal psychoactive component in cannabis, during pregnancy results in significant deficits to fetal development.
Led by Daniel Hardy, a professor at the Schulich School of Medicine and Dentistry, the study administered low daily doses of THC to pregnant rats throughout the course of the pregnancy until birth. The amount of THC administered was equivalent to amounts present in the human body from 30 minutes to 22 hours post-inhalation.
Hardy explained the low doses are meant to mimic those pregnant human mothers may turn to on a daily basis to reduce anxiety, reduce nausea or help with decreased appetite issues. He added that levels of THC in cannabis have significantly increased in the past 30 years.
"With the legalization of marijuana … more women are turning to cannabis in pregnancy," said Hardy, who also works at London's Children's Health Research Institute. "It's actually been reported that up to one in five women who are pregnant have used cannabis at some point in their pregnancy."
The results indicated the THC had no significant impact on the rat mothers. THC did not affect the length of the pregnancies, the mothers' food intake, weight gain or litter size — the number of babies an animal carries in one birth.
However, THC exposure resulted in an eight per cent decrease in offspring's overall weight at birth. While this might seem like a small number, Hardy explained this translated into around 25 per cent smaller livers, 20 per cent smaller brains, 20 per cent smaller hearts and 25 per cent smaller pancreas.
Further, these offspring had significantly higher heart rates and lower stroke volumes — the amount of blood pumped per heartbeat. This means the THC exposed rats' hearts had to work harder than those of other rats to pump sufficient blood.
"We were quite surprised that this low dose of THC, which didn't affect the mom, had a huge impact on fetal development," said Hardy.
Although THC injections stopped at birth, these deficiencies in cardiovascular function continued to be present at three weeks of age, the equivalent of a 10 to 12 year old human child, according to Hardy. More significantly, offspring displayed decreased production of insulin at three weeks old due to pancreatic dysfunction.
"An animal with a normal pancreas has lots of brown insulin-producing beta cells," explained Hardy, "but the THC-exposed offspring at three weeks of age have less beta pancreatic islets that make insulin."
Decreased insulin indicates the animals might have difficulties regulating blood glucose and increases the likelihood of becoming diabetic later in life, explained Hardy. At five months of age, the animals are already displaying glucose intolerance, he added.
The study is ongoing to examine effects at six months of age. Hardy explained these deficiencies are expected to persist, because no recovery was observed during the earlier stages, although THC was no longer present.
Considering these results, Hardy emphasized that any consumption of THC could be detrimental for fetal development in humans. He added the rapid legalization of marijuana does not consider the implications for the entire population.
"That's why there's a very important push to get these studies done," he said. "People think that because we've legalized something that, therefore, it must be safe, and that's just not necessarily true."
The study began last January and will be completed in March. Hardy explained the next important question is examining the effects of Cannabidiol (CBD) — a component of marijuana that has been shown to counter some effects of THC — on fetal development.