Mark* started sugaring during his first-year at Western when he was 18 years old.
The now third-year business student said he first signed up to SeekingArrangement on a whim. He was attracted to what the website had to offer: "beautiful, successful people fuelling mutually beneficial relationships." In other words, the website connects rich, powerful individuals — sugar daddies and mommies — with young, attractive men and women — sugar babies.
About a month later, Mark began using the website more seriously. Fast forward several sugar daddies later, and Mark's life had become a frenzy of expensive steak dinners, shopping trips to Toronto and several pairs Louboutins — designer shoes worth over $1,000.
"The sugar daddy I had, his net worth was a couple million, and his annual income was $500,000," said Mark. "He owns a design firm, so he has a private jet. He lived in Michigan, so he would just come back and forth, and he would offer to take me on trips."
Two first-year social science students at Western University, Jamie* and Allison*, set up their SeekingArrangement profiles after hearing stories from friends who received purses and shoes worth thousands of dollars from their sugar daddies.
Allison recalls one case where a sugar daddy flew one of her friends to Miami for her birthday, on top of buying her a Cartier bracelet. Similarly, Jamie's friend from high school received a $3,000 Yves Saint Laurent bag from her sugar daddy.
"You'd be surprised how easy it is," said Allison. "It's a good way to make money if you don't have time for a job, you have a busy schedule or you have a really hard program."
Allison is far from being the only university student in pursuit of a sugar daddy. Founded in 2006, SeekingArrangment reports around 225,000 Canadian post-secondary students are now signed up for the service.
A 2018 report published by SeekingArrangement shows the number of student sign-ups are steadily increasing, especially at Western. Of the 20 Canadian universities listed, Western ranked fifth in number of new student sign ups in 2017. Last year, 122 Western students signed up for the website, for a total of 373 users overall.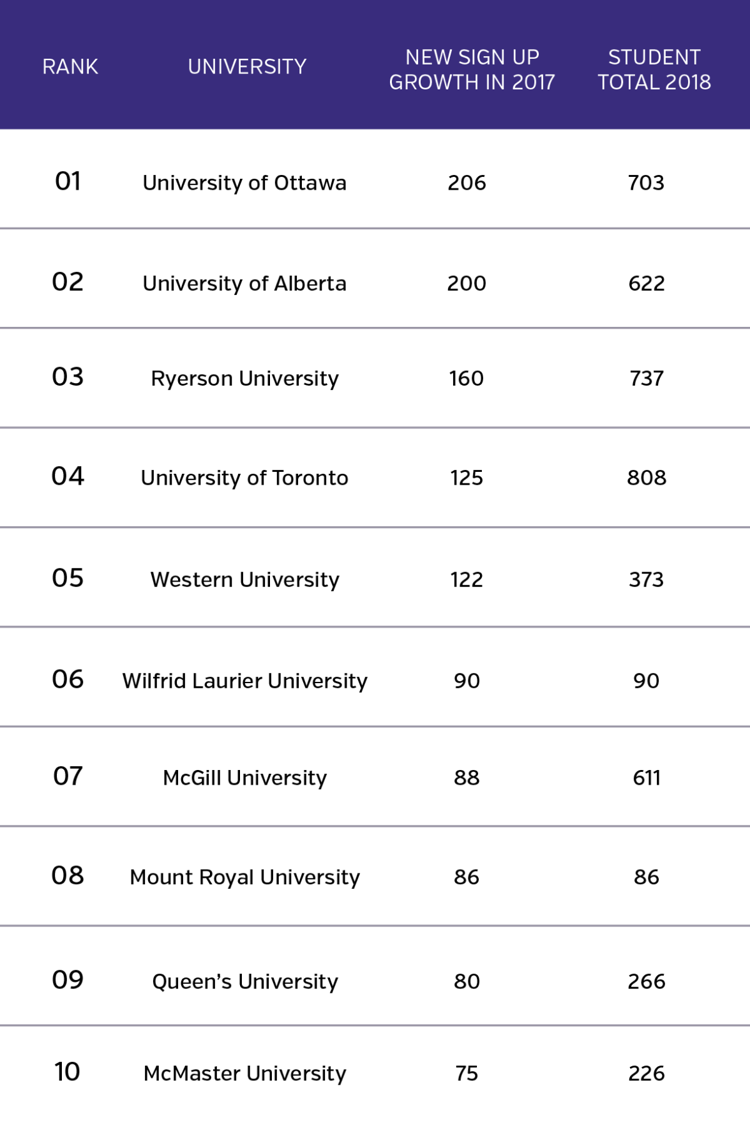 SeekingArrangement also highlights the extent of Canadian student debt. The website states: "Student debt is nearing $30 billion in Canada. Finding a way to manage student debt is a problem for most graduates, but students have developed a solution to this problem: sugar daddies."
Seventy-five per cent of Canadian students graduate with an average debt of over $22,000. With university tuition rising by an average of three per cent annually, more and more students may be turning to sugar daddies for some extra money. And for post-secondary students it's easy: the website targets college and university students by offering a free, premium membership to those who sign up using their .edu email.
Mark believes that more Western students are signing up for the service because it's an easy way to offset school fees. He also believes that many Western students come from upper- or upper-middle-class families, so they are accustomed to a particular lifestyle that tends to change when they start university.
"The idea that a lot of students should be living this luxurious lifestyle where they can pay for expensive things as well as their tuition is probably the reason they want to sign up for a website like this," said Allison.
How it works: "It's sort of like a business contract"
To thrive in the sugar baby world, there are a number of unspoken rules for setting up a good profile, according to Jamie. For starters, you never show your face in your profile picture. Instead, she says you should try to show off your physical assets, like your chest or butt. She also described the contents of an interesting bio.
"You can [say] 'I want to know everything about you and your job and how your business works,' because guys always love to talk about themselves," she said. "At the same time, you're like, 'I want to teach you a couple of things.' They find that so intriguing."
She explained that you can fake all of your personal information, such as your name, your age and your phone number. She even set up a PayPal account using a pseudonym to deposit money from sugar daddies so that it couldn't be linked back to her email. Jamie believes the anonymity provided by technology could explain why more students are signing up.
After their profile is set up, users can access sugar daddies' profiles. Profiles display their net worth, and a little check mark shows up if their status and income are verified. The website runs income checks on sugar daddies to make sure their funds are real.
Once a sugar daddy makes contact, the sugar baby often wants to make sure that he's willing to pay, Jamie explained. One way to do this is to ask for money in exchange for a phone number.
"The sugar daddy has to be wealthy to afford it," said Jamie. "If you don't make over $200,000 a year, it's hard to keep up a substantial relationship with a sugar baby."
According to Allison, the terms of every relationship are usually out in the open within the first few messages between a sugar baby and a potential sugar daddy. For example, they agree on how much money the sugar baby will receive per date, how much time they are willing to commit to the relationship and how much intimacy they expect.
All three sugar babies the Gazette spoke to said sugar daddies are often willing to pay hundreds of dollars for a date. Last year, the average monthly allowance for a sugar baby was $2,700, on top of gifts and other benefits, according to SeekingArrangment.
"It's sort of like a business contract," Allison said. "You get paid $500 a date, on average, and if you keep seeing them, you get a monthly allowance as well. A lot of them are willing to pay up to $10,000 a month."
"One of my friends, her sugar daddy actually pays her rent every month," said Jamie.
The majority of sugar babies are young, attractive women. On the other hand, the average sugar daddy is around 40 to 45 years old and not very attractive, according to Allison. Jamie said younger sugar daddies are around 25 to 30 years old, while older ones are around 60 to 70 years old.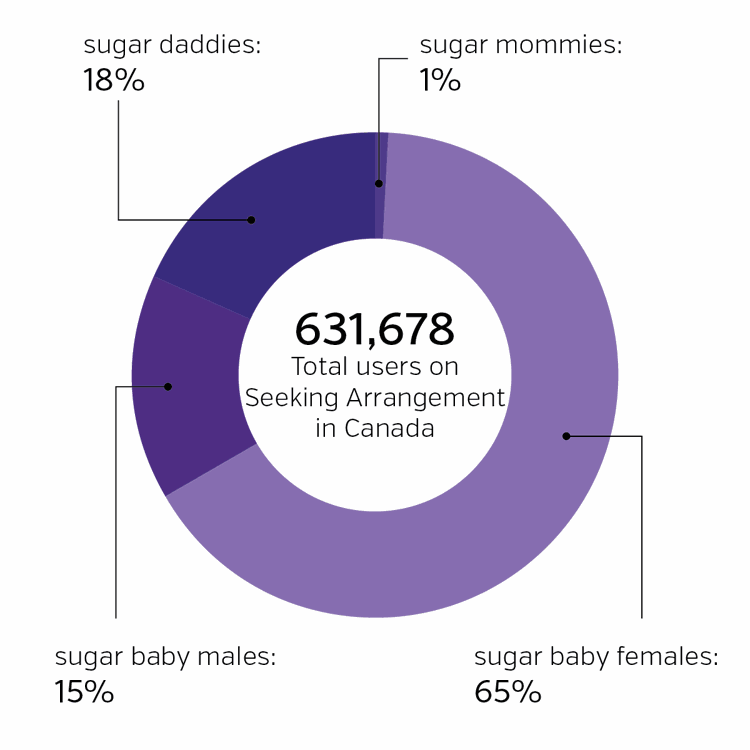 Some sugar daddies are married with a family, a fact they are not always upfront about, according to Jamie and Allison. As of 2016, around 40 per cent of sugar daddies on the site were married.
A small community of men also use the website to seek sugar mommies, which make up one per cent of users. LGBTQ+ men may often use it to find sugar daddies, as well.
SeekingArrangement advertises itself as a dating service. The login page explicitly states that commercial activity such as prostitution is prohibited. Any users who present themselves as escorts are deleted and blocked, according to the terms of service. Users are also not allowed to share nude or sexually explicit pictures through the site.
Consensual sex, on the other hand, is a different story.
"It's really not all about sex"
While many people might assume sex and sugaring go hand-in-hand, our sources report that sex is not a requirement for many sugar daddies.
Allison explains that, while many individuals expect intimacy, some of them might want you to be their arm candy for an event, and they pay you just to show up and look pretty.
"A lot of them do want a genuine connection," she said. "They want to talk to you all the time."
Jamie explained that some of them don't have a relationship with their wives anymore, and they just want to talk to someone. Others are single guys who don't know how to date.
"One girl I knew throughout high school, she was like 'I only have to meet with him every two to three weeks and we just get coffee,'" said Jamie.
In addition, Mark explained that a lot of gay men who use the site tend to have wives, so they go in search of attention that may not be socially allowed for them.
Some sugar daddy profiles explicitly state that they will not have sex with you and that they just want to sit down and talk to you about their lives, according to Jamie. Some will even state that they are looking for someone who is interested in certain activities, like hiking and travelling.
Jamie believes that some of these men have issues with themselves and that the only way they can talk about it is by paying somebody.
"I think people have this perception that having a sugar daddy is literally just having sex with this old guy who gives you a couple of hundred dollars and not calling it prostitution," said Jamie.
But Mark said it doesn't work like that.
"Just like with Tinder, you don't have to sleep with them," said Mark. "It's not an escorting service."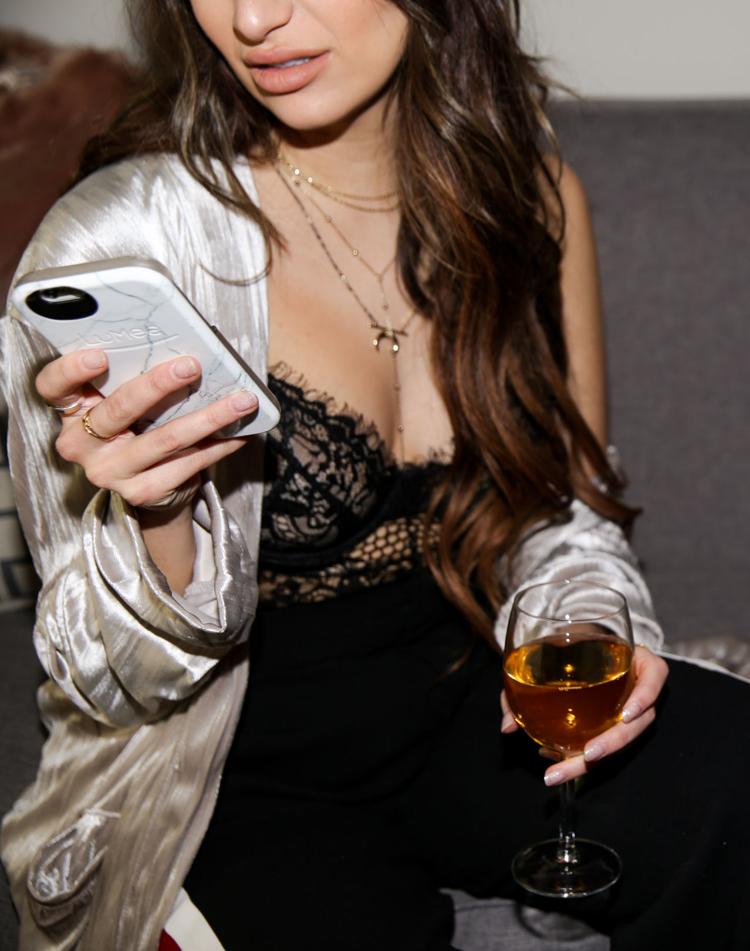 The price of being a sugar baby
But while sugaring may sound glamorous, there can also be real challenges to being a sugar baby.
According to Allison, some sugar daddies can be very controlling. For example, some of them don't want their sugar babies to have a job. While sugar babies can leave their relationship at any point, that might prove difficult if they are financially dependent on their sugar daddies.
For example, having a sugar daddy pay your rent entails being in a serious, committed relationship, as opposed to simply receiving gifts. This dependency gives him more power over the sugar baby, Jamie explained.
"All of a sudden, they can take control of your finances, your life and where you go," said Allison. "That's why I was kind of scared of it. I'm still a pretty independent person, and I don't want someone to control my entire life."
Allison believes that their ability to help young, vulnerable people who are in need makes them feel superior, in a sense. She describes it as a "weird, dominance thing to stroke their ego."
Having a sugar daddy can also lead to a secretive lifestyle for many people. It can be difficult for sugar babies to explain to friends and family the source of all the money and gifts they receive. While some relationships may turn serious, the age difference is another reason some may want to keep a low profile.
Additionally, it can be hard to maintain simultaneous relationships with both a boyfriend and a sugar daddy. Both Mark and Jamie's boyfriends did not approve of their sugaring. This might be because of the significant time commitment often required of sugar babies. According to Jamie, sugar daddies expect to be in constant communication with their sugar babies, often texting around five to six hours a day.
"They're paying you, [so] they have this sort of, not ownership over you, but like you are theirs now," said Jamie. "So they need your time and all your consistent effort."
When finals came around for Jamie in December, she was talking to five or six different sugar daddies at the time. That's when she realized that she would need to stop talking to them if she actually wanted to do well in school. She said she might pursue it again during the summer break, especially since she lives in Toronto, a "sugar baby hotspot."
Mark added that it is just like an actual relationship; you are expected to actively pursue it and to show them you're interested.
"It's kind of like a job," he said. "And you get paid for it, very much like a job."
*Names have been changed to protect the privacy of the individuals.
Photos by Taylor Lasota