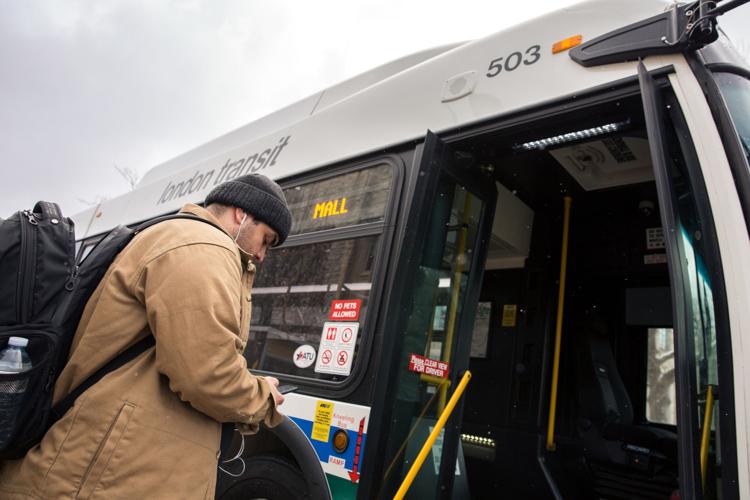 Around 40 per cent of surveyed LTC bus riders have experienced unwanted contact or conversations, according to an annual survey released February 28.
The London Transit Commission's annual Voice of the Customer 2017 survey found that close to 40 per cent of riders have experienced unwanted conversation or contact while waiting for or riding the bus. Around 50 per cent of survey respondents reported they had witnessed unwanted conversation or contact.
The survey asked participants questions about safety and security, customer satisfaction, ratings and impressions. A little over 500 bus riders participated in the survey, which was conducted in November. 
Despite some customers experiencing or witnessing unwanted contact and conversations, 75 per cent reported they feel safe while waiting for the bus, and 88 per cent reported that they feel safe while riding the bus. 
The survey reported 42 per cent of LTC customers are between the ages of 18 and 24.
Many schools in London have a large demographic of students who use LTC services to go to campus, such as Western University and Fanshawe College. At Western, full-time undergraduate students are issued annual bus passes in September. 
Vivian Tran, a fourth-year psychology student at Brescia University College, is a frequent user of the LTC. 
Tran uses the bus services twice a day on average. Last summer, she had an unwanted conversation with a stranger who approached her while waiting at an LTC bus stop. She said he shook her hand and began talking. She learned he was an high school student.
"I told him that he was making me uncomfortable. Every time I broke eye contact and looked down at my phone, he would call me out," Tran said, explaining the conversation lasted around five minutes. "I felt more annoyed than unsafe, simply because we were in a relatively open area and his build was similar to mine, but regardless, it's not a fond memory."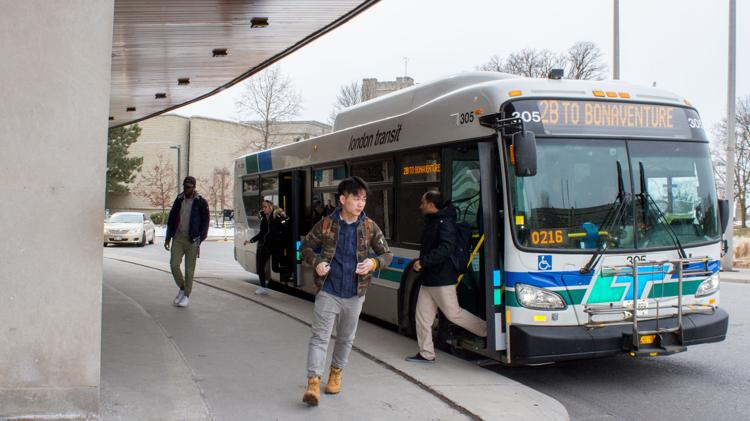 Tran said the incident didn't deter her from continuing to use LTC services and that overall, she feels safe while riding the bus.
"There are usually other people, if not students, waiting at the same stop as me. It's just a shame that there are people who are clearly uninformed or don't care about the severity of harassment," Tran said.
Caroline D'Souza, a fourth-year business management student at Brescia, said she had a similar incident last year. A man at an LTC bus stop asked D'Souza a variety of personal questions, like "Are you a Western student?" and "What are you studying?"
"At first, I just thought he was being friendly, but then he started asking about which house I lived in, how old I was, who I lived with and whether I was in a relationship. When his questions started getting personal, I pretended to get a call on my phone and avoided him until the bus came," D'Souza said.
The incident didn't deter D'Souza from using LTC buses, and she still feels safe using the service overall.
"If it was dark outside, I might have felt unsafe, but it was in the morning so there were plenty of cars driving by and it was bright outside," D'Souza said. "It's unusual for there to only be two people at my bus stop. Usually there are plenty of people waiting for the bus, so it feels quite safe."
Kelly Paleczny, the LTC's general manager, said that the results of the survey stating riders felt uncomfortable or unsafe were a bit surprising.
Paleczny said that there is a disconnect between feeling safe and feeling uncomfortable, and that the wording of the survey questions is likely what led to the discrepant results. She said unwanted conversation does not necessarily correlate with feeling unsafe but perhaps uncomfortable.
She also said the LTC is looking to set up a number of focus groups with various demographics to have conversations about these questions face-to-face so that they can dig deeper than the survey.
If customers do feel unsafe or uncomfortable while riding LTC buses, Paleczny encourages customers to move closer to the front of the bus, to let the driver know and to ask for courtesy stops if needed. Courtesy stops are custom location stop requests closer to the customer's destination. 
"What we're really looking for is if there are customers who don't feel safe or are hesitant to use the bus because of safety concerns," Paleczny said. "We want to know exactly what those concerns are, so we could look to implement programs to mitigate them."