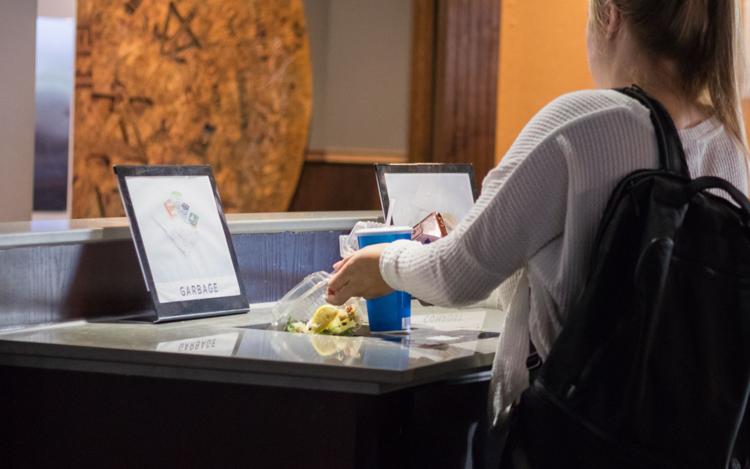 New plastic cafeteria trays will line The Spoke's wooden tables this year. The trays replace the restaurant's old compostable cardboard containers, a move they say is actually better for the environment.
The Spoke switched from biodegradable sandwich containers to smaller cardboard boxes, paper wrappers and an eat-in option on a tray over the summer. 
Mark Leonard, who oversees The Spoke, said the eatery has eight new packaging types, from paper french fry bags on tray liners, to plastic salad containers. 
The cutlery and straws are still biodegradable and can be composted.
Plastic containers could seem like a step backward from compostables, but the packaging is smaller and students are more likely to discard them correctly. So the switch is meant to be more sustainable in the long-run.
"It was creating a lot of extra waste even though the containers were compostable, still when everything goes into a big take-out box it creates a lot of waste," said Leonard.
The makeup of compostable materials makes them high-risk, high-reward, according to Paul Mensink, professor of environment and sustainability at Western. 
He said that biodegradable packaging is low-impact if it's actually put in the compost. But in a landfill, it's worse than plastic.
"That time scale — how long it takes for something to biodegrade, break down to its component parts — really depends on the environment its in," he said.
Compost, while breaking down in a landfill, emits methane — a damaging greenhouse gas. Plastics decompose into Carbon Dioxide, a better-known gas which is nonetheless milder than methane.
Although, he clarifies, composting properly is still the ideal option.
"If [compost is] being sorted properly then it's likely better, because the recycling process takes time, it takes energy, a lot of those plastics are not fully recycled, they're often downcycled."
Western has more trash cans than green bins, leading some to discard what they could compost elsewhere. Currently, two bins can be found outside of the Center Spot and inside The Spoke.
Mensink said he believed that a lack of understanding amongst students is a problem. While the Spoke has signs indicating where packaging should go, sometimes students don't even realize they're disposing materials incorrectly.
"What we can recycle here at the university is different from what a lot of students can recycle in their home regions," he explained. "So people come from out west and they can recycle different things than people who come from out east."
This initiative has been in the works since the restaurant was renovated two years ago. Leonard said although individual wrappers cost less than the former compostable boxes, overall the operation costs slightly more.
Leonard said the new trays are the biggest change, as they align the Spoke with the familiar trey and placemat of fast food franchises.
"It's just easier, you're not trying to juggle a drink, a CLT [wrap] or a burger in one hand," he said. "It just makes it a lot easier to serve the customer and it's more efficient for us in the kitchen."