Tobi's triumph
News editor Sabrina Fracassi profiles a USC president undaunted by defeat
Tobi Solebo takes a deep breath. Campaigning is finally over, and the results — for better or worse — are out of his hands. It's time to relax.
Or so he thinks.
His phone rings: it's his campaign manager. "Check your emails," he says. "Now." 
Tobi's in a race for the University Students' Council presidency, a 12-month position leading one of the largest student governments in Canada. The competition is fierce, and his campaign manager tells him a Team Tobi win has been thrown into jeopardy. Team Tobi has been accused of a number of bylaw violations, such as posting campaign messages in residence Facebook groups and unauthorized door-to-door campaigning. 
The USC's rules are clear: If a team racks up 31 demerit points — points awarded for elections rule violations — the candidates are disqualified. 
Already saddled with 13 demerit points, Tobi and vice-presidential candidate Landon Tulk, wait for the elections governance committee to decide their fate. 
"When we were waiting for the announcements to come out, me and Landon were texting each other the whole time. First it was eight demerit points, and then our total was 21. Oh my god there's no way we can do it," Tobi remembered. "Holy crap, another two. We're at 23."
Tobi is so close to the presidency, but he's been here before. In 21 years, he's become well acquainted with being knocked down.
Growing up in a suburb just outside of London, England, Tobi lived a normal life. His parents were born in Nigeria and moved to England to pursue university degrees. Growing up with his sister, Simi, Tobi spent his days after school playing with neighbourhood kids, racing bikes or playing soccer. 
At the age of nine, Tobi's family moved to Canada. Tobi's parents drove him and his sister to school in Richmond Hill every morning, an hour's drive from where they were living, before they eventually settled in the city.
"My dad would always play this one CD because it had all of his favourite songs on it, so my sister and I can literally sing word for word every single song on the entire album. Songs by Marvin Gaye and Michael Jackson," he said.
At Richmond Hill High School, Tobi threw himself into extracurriculars — he joined the high school student council in Grade 9 and started playing football.
But four years later, everything fell apart.
After years of committing to the student council, Tobi decided to run for student president. The decision seemed like the natural next step. "I was the institutional candidate," Tobi said. "In high school, I had been on student council longest. I was that guy."
He lost to a friend and took on a smaller council role.
At the same time, he had been playing football as a running back. He pictured a career as a college football player, choosing Western because he watched the Mustangs play for the Vanier Cup. But the summer before first year, he was tackled by three players during a game, blowing out his knee and breaking his tibia.
"After I hurt my knee, it forced me to find other things that I was really interested in," Tobi said. 
Tobi's final blow came in his second year at Western. He was studying economics and applied for the HBA program at Ivey, imagining a career in business. His application was rejected. 
"That was the first time that I really wanted something I didn't get, and I really could only blame myself," he said. "It taught me to work harder for everything else so, for every mistake, there's a learning opportunity."
After being denied his dream once again, Tobi decided to take a step back and focus on his friends, having already opted out of student politics since high school. After having joined the Phi Gamma Delta fraternity, better known as FIJI, in first year, he spent more time with his brothers.
Still, while Tobi was done with student politics, the people around him had other ideas. Tobi met Tulk during O-Week, and they later joined the same fraternity. The summer before third year, Tulk approached Tobi with the idea of running as a USC slate. 
"I said absolutely not," Tobi said. "I had done student council in high school, and I really didn't want to do it. I saw no reason for me to do it."
But the idea lingered. Things kept happening on campus, like program cuts and the administration's Homecoming changes, and Tobi realized that maybe this really was an opportunity for him to make a change. And by the beginning of third-year, he had made the decision to run — again.
His decision to run this time was different. It wasn't institutional knowledge. It wasn't pressure. This time, he wanted students' voices to be heard.
The decision definitely didn't come without challenges — some that Tobi and Tulk knew they were going to face and others, not so much. They anticipated push-back for being in a fraternity. They didn't anticipate the demerit points.
With the campaign over, the team had only racked up 13 demerit points — a far cry away from the clean campaign they envisioned but nowhere near the 31-point limit. Then the email arrived. Tobi knew it was going to be a long night. 
Finally, at 3 a.m., the numbers stopped growing. When he got the message that he wouldn't be disqualified, he and his roommates were ecstatic. Twenty-six demerit points. Team Tobi was still in the game.
A few days pass, and Tobi and Tulk were sitting next to each other at the front of The Spoke as the election results were about to be announced. The bar was packed, especially with people wearing Tobi's campaign colour, red. 
The results flashed on the screen: Team Tobi won by a landslide, getting close to 1,000 more votes than the closest runner-up, Team DiBrina.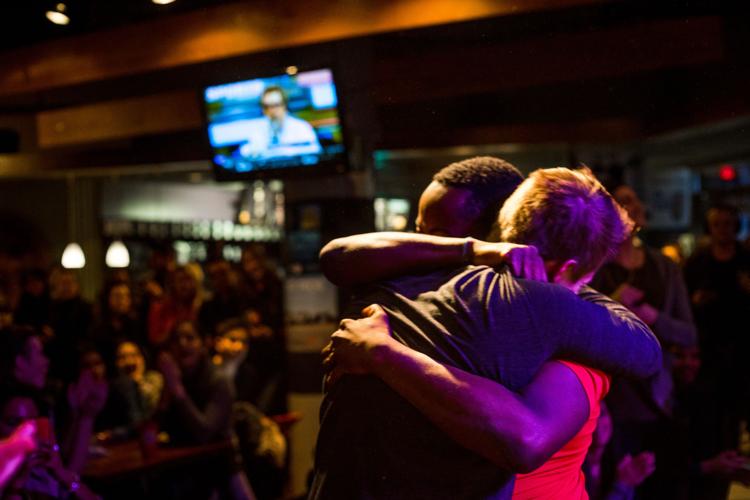 "The next half-hour or so I was just hugging everyone that was in reach. I wasn't looking at people's faces anymore because I was just so happy, and I was literally hugging every single person," Tobi said. "That time is such a blur: I don't even remember it, but it was the happiest feeling in my life by far."
When his family called him, he could almost hear them smiling over the phone. They called him Mr. Obama. 
Eight months later, Tobi is sitting in the president's office. The window faces Weldon Library and a massive photo of New York City decorates his wall.
He is the first black male president of the USC. Tobi says people get excited about things that haven't happened before, but he doesn't focus on it.
On his accomplishments, Tobi points to the strength of his team. He also points to tangible things like consistent executive office hours, a completed Spoke renovation and round table meetings.
For the future, Tobi wants to further develop the Wellness Education Centre by making it a triage point for other mental health services on campus.
Tobi's come a long way from a guy who had given up on student government.
"He's grown into a real leader," Tulk said. "He just has such an ability to rally people together and now he's actually doing it in a formal setting."
Come next September, Tobi will return to Western for his fourth year. Now only halfway through his presidency, he'll undoubtedly face more challenges. But if Tobi has proved anything, it's that nothing can keep him down.
Correction (Oct. 25, 2017 at 4:45 p.m.): a previous version of this article incorrectly stated Team DiBrina accused Team Tobi of USC election bylaw violations. The elections governance committee does not disclose who submits violations.