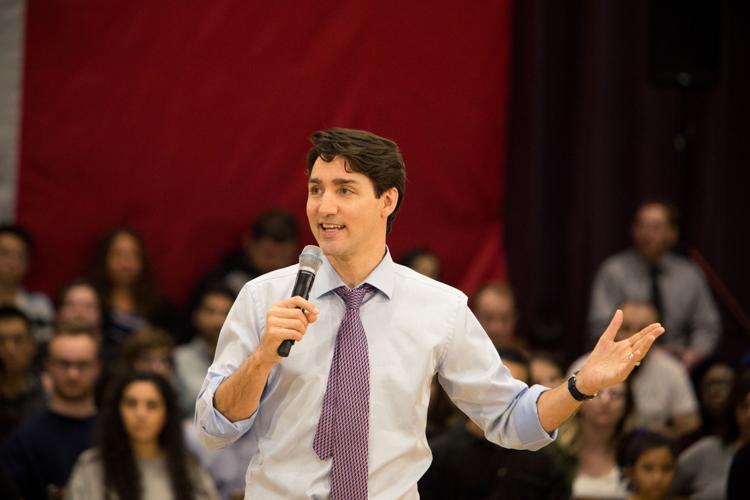 Prime Minister Justin Trudeau faced mild questions from town hall attendees tonight, despite disruptions by two hecklers — one of whom was forcibly removed.
Trudeau spoke about topics ranging from electoral reform to gender equality and indigenous issues. However, two attendees stood up during others' questions and shouted at Trudeau.
The first questioned Trudeau's views on free speech, asking why he was "rebuilding" ISIS and what he was doing in light of the near-100th anniversary of women's suffrage.
Later, a second heckler interrupted, alleging that Canada's justice system is corrupt.  
Trudeau paused to let the hecklers speak, acknowledging that "one of the responsibilities of free speech means listening to others." He eventually asked each to wait their turn, and the first heckler left. However, the second heckler finished his outburst by throwing papers in Trudeau's direction. Security removed him, and as he was carried out, he asked, "When am I going to see my son?"
A second heckler confronting Trudeau. pic.twitter.com/foBbhyo3QY

— Martin Allen (@_martinallen) January 12, 2018
Two Western University students said they were impressed with the prime minister's reaction to the disturbances.
"The response to the hecklers was very respectful," said third-year health sciences student, Madison Corkery. "It was nice that he was telling them 'You can voice your opinion; we are just trying to keep it peaceful,' and I really liked that aspect of it, instead of just forcing them out."
Justin Trudeau's London town hall
Third-year medical sciences student, Ayesha Warsi, agreed. 
"He comes out and he knows that he's going to get some tough questions. He's willing to come out, hear peoples' opinions and answer their questions, and be there for the public."
Overall, many of Trudeau's supporters came out to the event, greeting the prime minister with a standing ovation. Participants, including three children, asked the prime minister generally amicable questions, such as "What does it mean to be truly Canadian?" and "How do you deal with the haters?"
Huma Shareef and her father, Muhammad, are excited to finally see PM Justin Trudeau. "I missed him for the past two years so I wasn't going to miss it this time, I'm just here to support him." - Huma pic.twitter.com/qRrp4WYYzZ

— Sabrina Fracassi (@sabfracassi) January 11, 2018
Unlike Trudeau's other recent town halls, participants at tonight's event didn't press the prime minister on recent public controversies, such as the Omar Khadr payout or ethical violations as a result of his relationship with Aga Khan.
Instead, Trudeau fielded questions about electoral reform, gender equality and indigenous issues. An early questioner, a graduate student, asked what the federal government can do to promote gender equality in male-dominated fields, like science, technology, engineering and mathematics.
Trudeau responded that the early promotion of STEM fields in primary and secondary schools was paramount but that kindergarten to grade 12 education is a provincial purview. He emphasized the issue was important to him, leading to a raucous cheer from the crowd.
"Equality is one of those things that is of fundamental importance to me. I'm a feminist, and everyone in this room should be too." - PM Trudeau

— Sabrina Fracassi (@sabfracassi) January 12, 2018
Another attendee asked about what Trudeau teaches his daughter so that she may overcome gender barriers.
His response emphasized that feminism is not just for her but for his sons as well. He also took the opportunity to mention what he views as the problem of a wage gap between genders.
Next, an audience member questioned Trudeau about his failed promises of electoral reform. He said he put the promises aside when he learned the reform would not be best for Canadians and apologized to her. 
Several questions also pertained to indigenous peoples in Canada.
One attendee commented that it seemed as if Trudeau was favouring corporations by allowing the amount of pollution they create, which disproportionately affects indigenous bands.
Trudeau said it's a part of a larger issue of compromising between the environment and the economy. He said indigenous people are especially affected by environmental changes and that the federal government is investing in clean energy. Trudeau went on to say that Canada's legacy of residential schooling and the general disenfranchisement of indigenous peoples is Canada's greatest failure.
Toward the end of the evening, an Oneida band chief presented Trudeau with an eagle feather as thanks.
The event at Western's Alumni Hall occurred just under a year after Trudeau's last visit to campus. Both events filled Alumni Hall, with over 1,500 people waiting in line to see the prime minister.