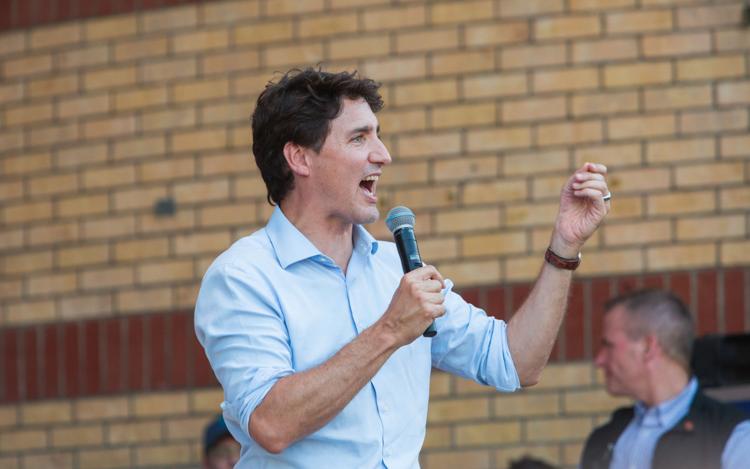 Justin Trudeau brought his campaign to London on Thursday, addressing voters on the stage of a kaleidoscopic global arts and music festival kicking off in Victoria Park.
The Prime Minister stood on the main stage of London's SunFest and addressed the several hundred attendees for roughly five minutes, having travelled from Montreal earlier that day. The festival has been showcasing musicians and artists from around the world for 25 years this summer.
After the opening musical acts — a Cameroonian afropop vocalist and the Eagle Flight Singers, a group of indigenous drummers — the Prime Minister took the stage.
"This festival showcases the best of London, the best of Canada, in its diversity," he said. "We're a model to the world....because Canadians know better than just about anyone else that diversity is something that makes us strong and resilient."
Trudeau also spoke about Canada's acceptance of refugees, an emblem of the speech's diversity theme.
"We open ourselves up to people fleeing hardship, conflict, violence around the world. Not just draw them in and giving them safety, but allow them to flourish, and thrive, and contribute to making this great country as great as it is today," he said.
Trudeau was joined on stage by event organizers and a gallery of London's political powers. Liberal MP Peter Fragiskatos introduced the Prime Minister, and sat with NDP MPPs Terence Kernaghan and Peggy Sattler, Conservative MP Karen Vecchio, and London Mayor Ed Holder.
In echoes of Trudeau's last visit to London, the audience was punctuated by signs bearing messages of disapproval.
Standing in the sweltering heat, many held signs about climate change, voicing climate activists' disapproval with his pipelines. A handful called for the PM to honour his 2015 campaign promise of reforming Canada's first-past-the-post electoral system. And a small coterie to right of the stage held signs decrying foreign intervention in Venezuela, and flying the flag of the Communist Party of Canada.
With his sights on the October's federal election — now in its overture, the official pre-campaigning period — Trudeau addressed the demonstrators. 
"I'm very happy to see so many people here tonight with strong political opinions," he said. "I encourage you to get and vote in the upcoming election. Because your voices matter," he shouted over applause.
But, he added, no one should boo the national anthem, which had been sung after everyone had come on stage.
"We are proud to be Canadian. And we are proud to be in a country that allows for a broad range of perspectives," he said. "As you look forward to these coming months, thinking about the choice you're going to make...think about listening to each other, and believing that better is always possible."