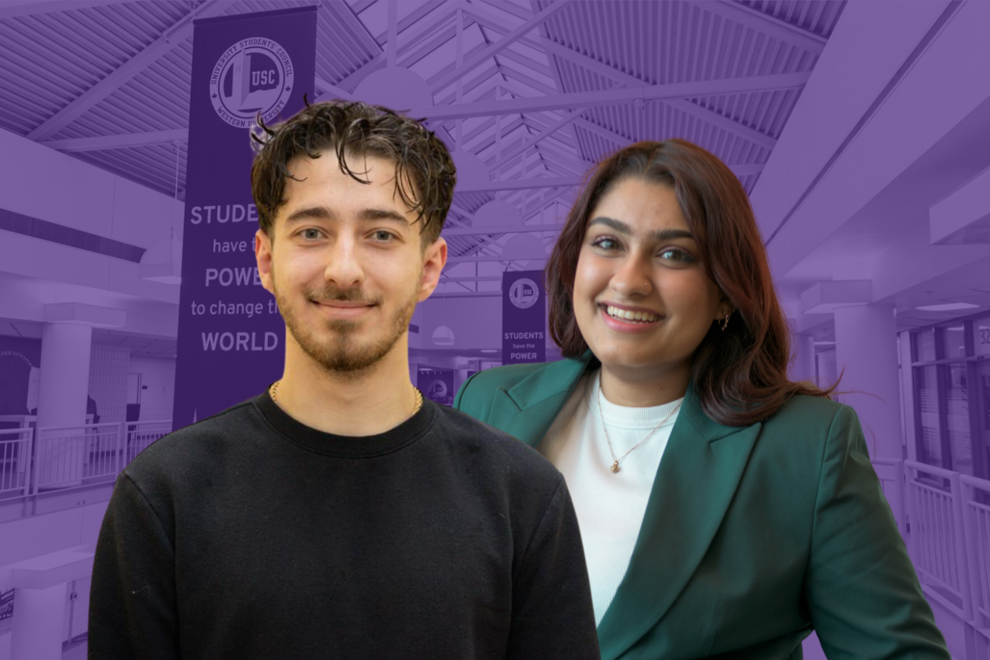 USC elections season isn't over just yet — council will vote March 6 to elect its new vice-president university affairs and vice-president external affairs. 
Two candidates are running to be the University Students' Council's next VP university affairs: Omer Abdalla and Maria Farooq. 
The USC's VP university affairs is responsible for advocating to Western University on issues facing the student community. Current and incoming USC councillors will vote using a blind ballot to elect the role.
Omer Abdalla
Abdalla, a fifth-year medical science and psychology student, is running in the hopes of shaking up the advocacy-based role. 
"Advocacy is bullshit," said Abdalla. "Any candidate who says 'I'm gonna advocate' — shut up. I know, that's all the power we have as a student body — but it's not, you're able to do so much more than that." 
Abdalla's leadership experience at Western has primarily been through his role as the Ski and Snowboard Club president. He decided to run because he feels university affairs is the area of the USC that "needs the most help." Abdalla also ran for USC president earlier this semester, but was disqualified before the campaign period began for not attending the all-candidates meetings. 
"I plan on scheduling walkouts, I plan on having protests on campus, whatever it takes to show Alan Shepard that, hey, we're not fucking around, and we want things to be different," he said. "I'm gonna do it. I don't care if it makes us look bad. There's obviously ways to do it that is respectful to professors and to students and to not take away from learning."
In the role, Abdalla said his priorities would involve improving campus resources for mental health support and academic support, and raising awareness of USC-run services. He also hopes to expand services for woman-identifying students. 
"Free the Dot., I love it, but it's the bare minimum," he said. "It's wonderful that they received $800,000. But what the fuck is that for? Why did you need to get $800,000 to put up a couple of dispensers?"
Abdalla said his past roles — as a student who has a history in dealing with academics and mental health, as well as running the Ski and Snowboard Club — makes him best-suited for the role. 
"I'm the best goddamn candidate the school has ever fucking seen," he said. 
Abdalla's Spoke bagel order is a jalapeño cheddar bagel with herb and garlic cream cheese.
Maria Farooq
In her four years as a Western nursing student, Farooq has seen a lot of what the USC and Western have to offer. 
She has worked part-time at the Spoke for four years, and volunteered at the Peer Support Centre and as an international peer guide. This year, Farooq served as the nursing councillor on the USC and the Western-Fanshawe Nursing Student Association.
Currently, she sits on the USC's University Affairs Standing Committee, where she is involved in reviewing USC policy papers and providing feedback, or seeing what perspectives may be missing.
"I got to see the inner workings of how advocacy is put into action and the impact that it has on students," Farooq explained. 
As a nursing student, she's no stranger to advocating for patients, and she said her time as a USC councillor has given her the chance to learn about how to write policy papers and strategic plans — two facets of the VP university affairs role. 
During her time as a councillor, seeing the USC's Free the Dot. campaign and serving on the University Affairs Standing Committee inspired her to run for VP university affairs.
"It inspired me to go into that advocacy route — to continue the foundation that the previous VPUAs have built on and take it one step further," she said. 
As VP university affairs, Farooq's first priority will be to foster safety on campus. 
"As a student myself, walking home alone and staying on campus, it just doesn't feel safe and my [platform] pillars kind of address that safety issue," she said. 
Farooq added that safety isn't just physical. To her, making a safer campus also includes changing campus culture. She said she hopes to improve anti-gender based and sexual violence training and equity, diversity and inclusion training — making them "more than just an OWL quiz." 
In addition to safety, her main priorities include USC outreach, transparency and mental health accessibility.
Farooq's Spoke bagel order is a mushroom swiss bagel with roasted red pepper cream cheese.
---
— With files from Adshayah Sathiaseelan
Correction (Tuesday, Feb. 28, 2023, 5:32 p.m.): This article has been corrected to reflect that voting for VP university affairs and VP external affairs will take place March 6.