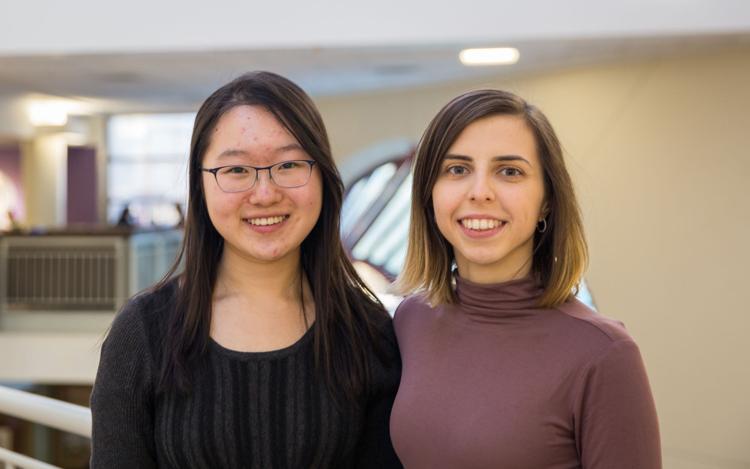 Two Western University students were among four Canadians to attend the Amgen Scholars Asia Program, a 10-week international scientific research experience, during the summer of 2018.
Amgen offers research opportunities in science and biotechnology to undergraduate students through their various regional programs hosted by world-renowned universities. Megan Lam and Madalina Benea, both in their third year at Western, were selected from more than 5,700 applicants to participate in the Asia stream of the competitive program.  
Lam, who is currently pursuing a major in medical sciences, attended the Kyoto University program in Japan where she focused her research project on neurogenesis — the formation of new neurons — in adults. 
"It was a really big learning curve, being put into a lab where very few people spoke English and doing research on something I really didn't know anything about," she said. 
Lam described the program as not only a valuable learning opportunity for science students, but as a confidence-building experience.  
"I feel like living in another country for two months … was something that showed myself that I could do all these things and survive in a foreign country," said Lam. 
Benea, a student at the Ivey Business School, was enrolled in the food and nutrition program at Brescia University College before attending the Amgen program at the University of Tokyo. There, she took part in a food biotechnology lab where she accessed equipment usually reserved for graduate students. 
"Going in, I had never had a lab experience, … so it really opened my eyes to what it would mean to do a master's or go on to a PhD," she said. 
Benea acknowledged that the program's competitiveness may seem intimidating but encouraged those interested in research to apply.  
"I think it's a program to explore your options," said Benea. "No one expects you to be the next Einstein. They just want to see that you're interested in this field, you work hard [and] you have initiative." 
All expenses of the Asia Program, including flights and accommodation, were included. In addition, students were provided with a stipend to cover other living costs for the 10-week period. 
For the summer of 2019, the Asia Program has been expanded to two additional universities, including the National University of Singapore and Tsinghua University.
While Canadian students were previously only eligible to apply for the Asia Program, Amgen now offers a Canadian program hosted by the University of Toronto. Applications for both programs are due on Feb. 1.