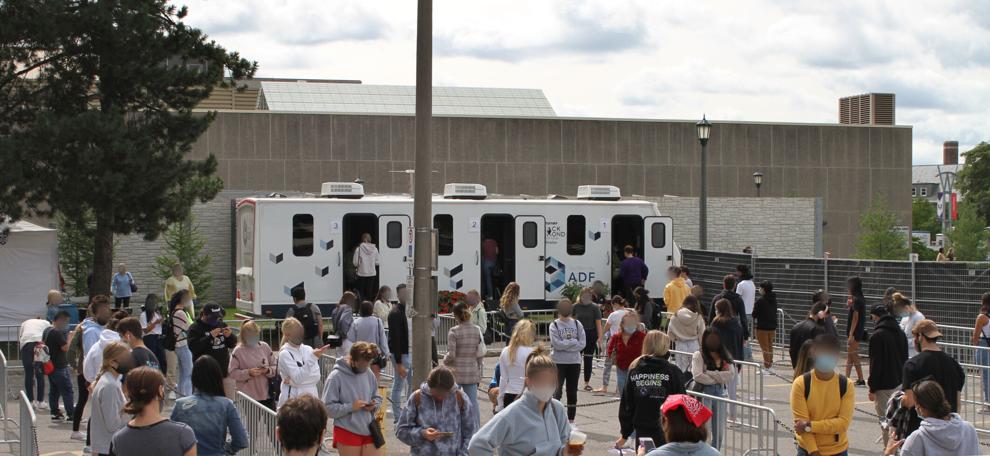 Two Western students exposed to COVID-19 are refusing to get tested, according to the Middlesex-London Health Unit.
The MLHU is labeling these two students as "high-risk probable cases" but is not including them in any case-count totals. Aside from these two students, Western University saw no confirmed positive coronavirus case Tuesday, leaving the total at 46 in under two weeks.
Both probable cases are symptomatic and were close contacts of a confirmed positive case. The students are not linked to Western's two outbreaks centred around Lost Love Social House and a Huron Street house party from the weekend of Sept. 12.
"We did have two more high-risk probable cases, these are folks who are close contacts at Western who declined to go for testing," said Dr. Chris Mackie, medical officer of health at the MLHU.
London also saw the first positive case notified by the province's contract tracing app. The individual was alerted by their app and reached out to the MLHU to seek testing.
"This is an individual who we otherwise would not have known about, and in fact, the case previous, we did not realize that this person had been a close contact," said Dr. Mackie. "It was only the app that notified us."
London health officials are pleased with the university's plateauing case count. Western has only seen five positive cases in the past three days compared to 11 cases on Friday alone.
"[Over the past weekend] bylaw officers focused their efforts in neighbourhoods in and around campus," said London's Mayor Ed Holder at Monday's press briefing. The neighbourhoods, I am pleased to tell you, were described as 'exceptionally quiet.'"
The MLHU also reported a case from Fanshawe College today, bringing the college's total to two since classes resumed.
With files from Emily Tayler, Editor-in-Chief.
Correction (Sept. 23, 9:48 a.m.): This article has been corrected to reflect that no Western students tested positive for the coronavirus on Tuesday, rather than one as previously indicated.