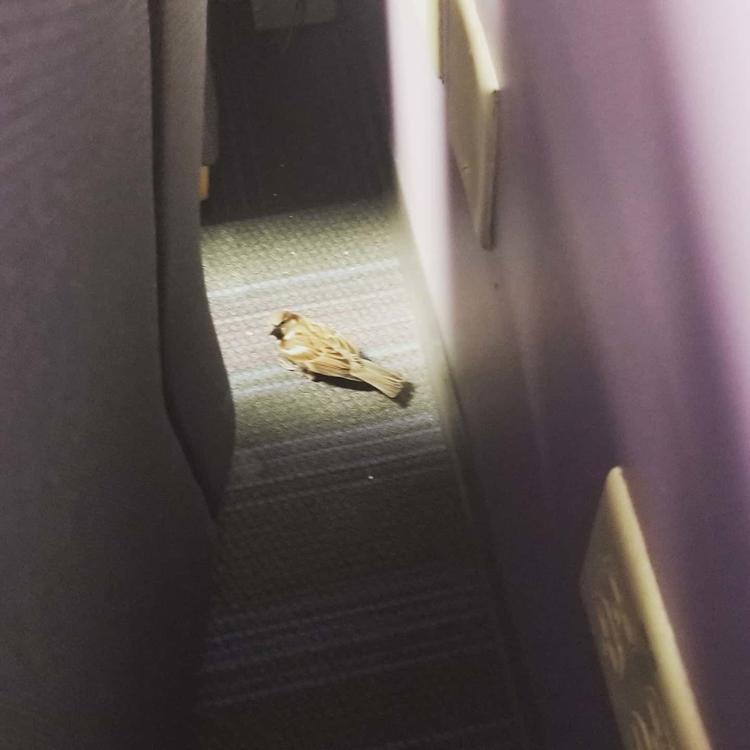 Western's most-wanted bird has flown the coop.
This summer, a common house sparrow flew into the University Community Centre. In the months since, the bird has made a temporary home in the rafters of the third floor of the UCC, swooping down onto tables to greet students, sneaking food from cafeteria scraps and staring out the windows, chirping and hearing no reply.
But Friday, after a final flight from humans, it shot out an office window, disappearing out over the D.B. Weldon Library and into the sky it came from.
Months of traps and bait have failed to catch the bachelor bird. But he was finally freed on Valentine's Day, after a run-in with the Careers and Experience office.
After spotting it in the corridors near the office where she works, Kate Placide — global experiential learning coordinator at Western University — made a move.
"We kind of chased it down the hall with a box," said Kate Placide.
But, known to be quite the trickster, the box was no match for the bird. There was a ensuing scramble in the small group of offices — the bird flew into a window, leaving a mark, and pooped, also leaving a mark.
After some time being pursued by Placide and her coworkers, the bird hit the ground running and took cover under an office couch.
Video taken by a coworker shows how the administrators grappled with the surprise visit.
"If you guys want to tip the chair up, I'm going to try to shove [the box] on him," said one.
The bird is in fact a "him", according to Keith Hobson, a biology professor at Western, who concluded in 2019 that the bird is likely male as there is no nest in the building where it has lived.
The three employees turned over two chairs before finding the one the bird was hiding under. It sputtered upwards to the ceiling, sending one of employees retreating.
"Actually, that's not OK. Um …," said another, as the bird perched itself on the office clock.
Just as they were ready to give up, months of caution and readiness wore off from the sparrow. It simply calmed down, Placide said, and allowed her to pick him up and take him to a nearby window.
"I picked it up with my hands, gently placed it out the window," said Placide. "We watched it fly off past Weldon."
It is an improbable end to an improbable life on the lam. But after watching the changing of three seasons since he first entered the UCC, the bird may have been ready to leave.