Union members passed leaflets around Western's campus Thursday morning in support of their librarians' and archivists' contract negotiations, after the union's leaders walked away from the table over the summer.
Members of the University of Western Ontario's Faculty Association handed out pamphlets with pro-union messages in the Mustang Lounge, Concrete Beach and outside of Taylor Library. 
The Mustang Lounge housed a "Welcome Back to Campus" social, attended by Western University officials and hosted by the university's president.
The union's key bargaining issues are outlined on the back, such as workload, professional autonomy and compensation. The sheets are titled "overdue," "checked out," and "shelved."
UWOFA has been in negotiations on behalf of librarians and archivists with Western University since June 11, two weeks before their contracts expired. The union met with the school for bargaining around 15 times over the summer.
But negotiations were cut short after UWOFA cancelled the final two meetings last week, set to be Aug. 30 and Sept. 3, saying in a bargaining update, "the Employer has shown an unwillingness to make any reasonable proposals."
"The administration team has yet to show us that they are respectful of the issues faced by librarians," vice-president of UWOFA, Beth MacDougall-Shackleton said in an interview. "It's because of that disrespect that our negotiating team had to reluctantly step away from the table."
MacDougall-Shackleton, however, said the union members distributing union pamphlets supporting librarians were asked to leave the welcome-back social. 
The newly-minted president of Western University, Alan Shepard, attended the "Welcome Back to Campus" cupcake social in the Mustang Lounge this morning, shaking hands as the flyers circulated the room.
The University Students' Council said that members of the faculty association and PSAC local 610, another local workers union, were not allowed to distribute their materials in the Mustang Lounge since they had not booked the space. The union members then left the event.
"As per USC policy, we do not permit the active distribution of unapproved materials in USC spaces," the USC said in a statement. UWOFA and PSAC members were redirected to Concrete Beach.
David Heap, a Linguistics and French professor at Western University, referred to Western's recently introduced free speech policy on Twitter to defend the union's presence at the event.
"They were there peacefully handing out information and engaging people in conversation," she said. "As far as we're concerned, our position is that people shouldn't need to book the space just to educate the university community."
More puzzling was the attitude of @WesternUSC staff, who told @UWOFA librarians & a @PSAC610 member they had to leave "because they didn't book the space" at the #Mustang lounge. An novel take on #FreeSpeech at #UWO in #LndOnt : by reservation only? https://t.co/SqLBrFGQxg

— David Heap (@DavidHeap) September 5, 2019
UWOFA later tweeted a photo of president Shepard and Heap, who was passing around leaflets. The photo is captioned with a quote from the president, saying "I'm a big fan of libraries and archives."
MacDougall-Shackleton said that although she appreciates the statement, she would like to see that sentiment at the negotiating table.
"We certainly appreciate his support. I would hope that he would agree with us that librarians and archivists deserve fair compensation and professional autonomy," she said. "I'm yet to see evidence of that, but we're hopeful."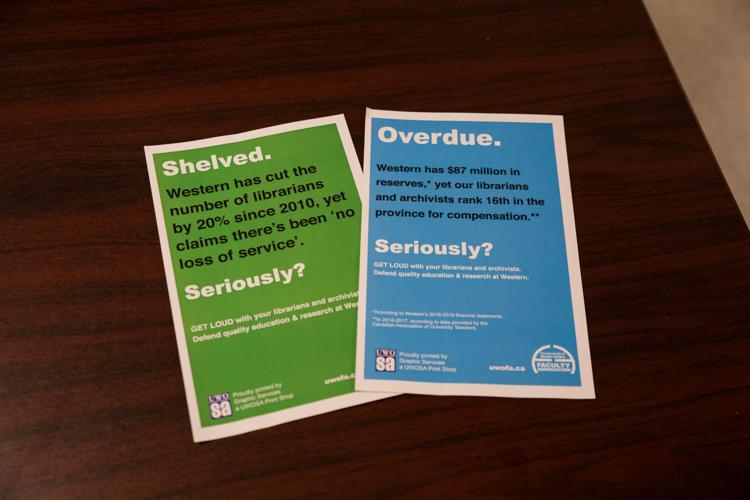 Talks are set to resume next week. If parties still cannot come to a collective agreement, a mediator can then file a "no board" report with the Ontario Ministry of Labour. A lockout or strike is legally possible 17 days after the report is filed.
"If things keep going along as they have, I'd say it's a very real possibility. So I think the community has to be prepared for that," she said.
Western University's most recent strike update was posted on Aug 22. They said the groups involved have a "history of working professionally through contract talks." The university said they will continue to meet with the union in the fall.
The union voted 97 per cent in favour of a strike position on Aug. 22. This does not stall labour, but allows union leadership to call a strike if further bargaining does not reach an agreement.
MacDougall-Shackleton said a strike would freeze the 42 librarians' and archivists' roles in assisting students and faculty with their research and teaching.
Over the summer, the union's application for a government mediator was accepted. Conciliator Greg Long oversaw last year's disquieting negotiations between Western University and its campus-wide faculty union, which nearly ended in strike.
Each collective agreement lasts four years.