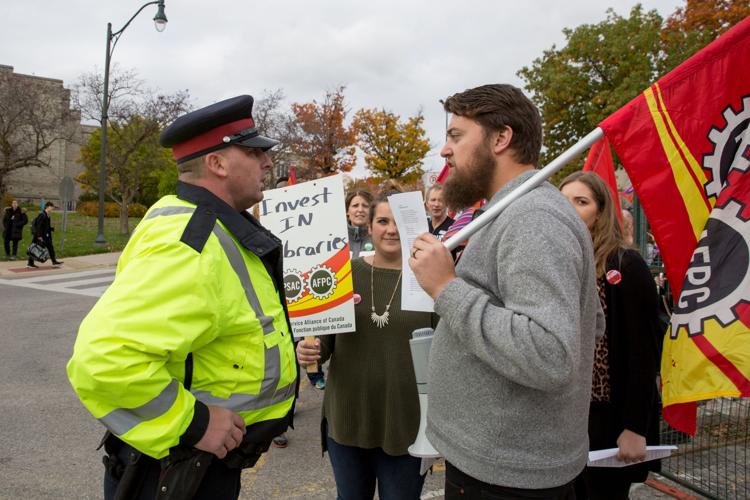 Western's faculty union narrowly avoided a strike two weeks ago, reaching an agreement with Western just hours before they could form a picket line. Now, after members sent them back, union negotiators have two days to make another deal.
Western University's 42 librarians and archivists voted 74 per cent to reject a tentative contract deal on Tuesday, turning away the result of months of negotiations between the union and Western.
Negotiations have resumed as a result, and the University of Western Ontario Faculty Association has set a new strike deadline — aiming to have a new deal by midnight Tuesday morning.
The union's president, John Ciriello, said he thinks this will be a quick turnaround, given the minor changes made in the new proposal. He said the dissatisfaction among members stems from the eroding library system at Western.
"We're hoping that [it will be quick], in fact because the modifications of the original tentative collective agreement are minimal — but they're still addressing the concerns they have," he said. "And if those are respected by the employer, we'll all be over with ratification the very next day."
UWOFA will hand an amended proposal to Western during a bargaining session Friday morning. Ciriello said he hopes to hear back by Monday — and if not, librarians and archivists are prepared to stop working and form a picket line around campus.
The union has been in a legal strike position since Oct. 8.
Western posted a response to the news online, which says only that campus would be notified by email if a strike occurs.
The surprise cancellation prompted another joint showing from union members across campus, many of whom are recognizable faces from Western's repeated flare-ups with labour groups.
"Solidarity forever" at another union march
They held an "emergency rally" Wednesday morning, marching through campus and landing outside a convocation ceremony in Alumni Hall, where they brushed up with police by the building.
All the hall's entry doors were locked, save for one, which was manned by police officers.
A London officer told a Gazette reporter that the doors were not locked because of the rally, which was announced in advance. But a campus police officer told the reporter later that's why the doors were locked.
The marchers were comprised by UWOFA-LA, PSAC, SOGS and various professors.
Demonstrators chanted their way from Concrete Beach to Alumni Hall, singing solidarity songs to a silent audience in the D. B. Weldon library.
The protest appropriated some images from the convocations to grab passers-by's attention.
David Heap, professor and representative of the strike committee, wore a graduation gown during the entirety of the rally. And marchers pinned pro-union buttons on a mannequin in a grad gown outside the Purple Store.