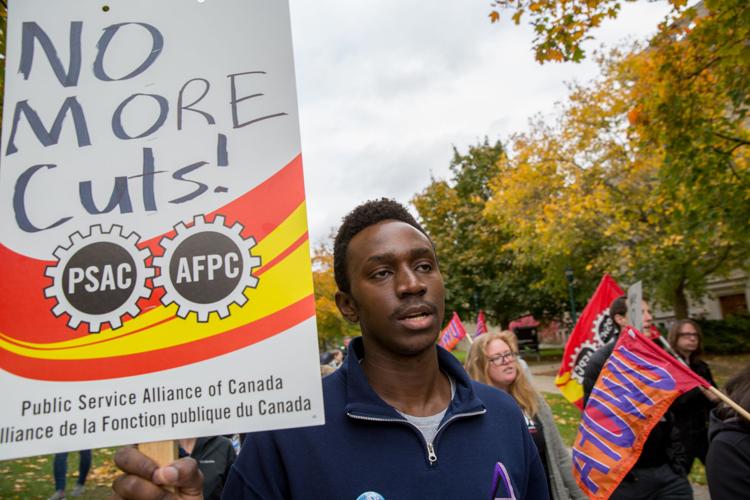 Negotiators from Western's faculty union are confident in new contract agreement reached with the university, and are hoping it will be approved by union members that rejected the last proposal.
The parties agreed to a tentative agreement on Monday night, on the heels of a midnight strike deadline.
The latest proposed contract still needs to be ratified by Western's 42 librarians and archivists — the group that voted 74 per cent to reject the last proposal, citing a shrinking library system as a primary concern not addressed in the deal.
Both parties ratifying the agreement would lead them out of five months of tumultuous negotiations, with the threat of a strike looming at its end, and finish Western's fourth labour dispute this year.
"We feel very, very confident going into this. Our negotiating team is recommending this, they believe it is a good agreement and I'm hoping that the members feel exactly the same," John Ciriello, the union's president, said.
In a joint media release, the university agreed both parties reached a amicable resolution.
"This positive outcome of the collective bargaining process resulted from the hard work of the bargaining teams who approached this process with collegiality and good will," said Karen Campbell, vice-provost of academic planning, policy and faculty.
The original deal was rejected Oct. 22, sending both parties scrambling to adjust the contract before a new strike deadline, arbitrarily set for Monday at midnight. Librarians and archivists are legally in a strike position, meaning they could stop work until the deal is ratified.
Parties exchanged new proposals on Friday, coming to an agreement after the weekend.
Labour negotiations often stretch out for months and routinely narrowly avoid strike action. But, rejecting a proposed agreement is more rare, and surprised many.
The University of Western Ontario Faculty Association's president said the research workers were concerned the first deal did not address erosion of the workforce; their concerns helped inform the latest agreement, he added.
"All along we've always been pushing our concern that erosion of the library system is a major concern to all of Western and our union specifically," he said. "The tentative agreement has gone a long way to alleviate some of those concerns."
Bill 124, another major concern in negotiations, is still included in the proposed contract. The proposed provincial legislation would restrict public sector wages to a one per cent annual increase — something UWOFA argued would be a wage cut.
"Bill 124, regrettably, as you can appreciate we have no control over," Ciriello said. "It's the government of Ontario with possible legislation."
The bill — dubbed the "Protecting a Sustainable Public Sector for Future Generations Act" — was first proposed in June, before provincial parliament's extended summer break. The bill was debated twice this week, starting on parliaments' first day back at Queen's Park.
The bill is currently on its second reading, and is not yet legislation.
Union members will meet on Nov. 4 to review the agreement. Details will be released after it is ratified.