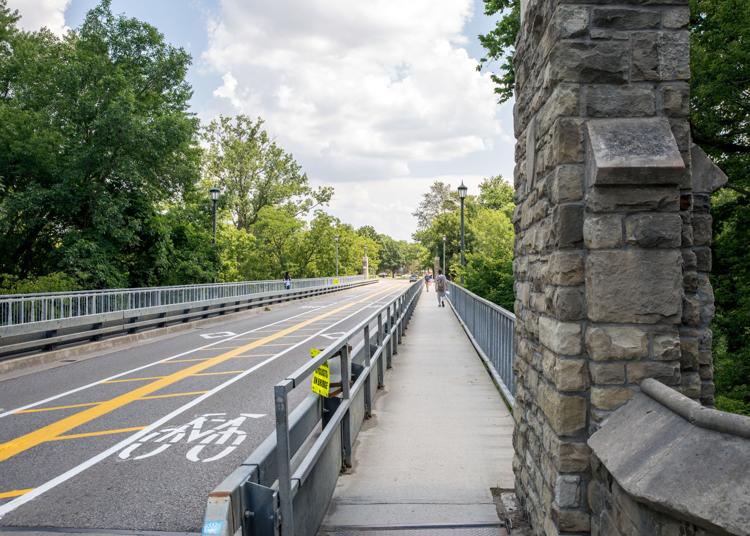 The University Drive bridge will close for all motorized vehicles on Thursday, Oct. 18 for several months. It will remain open for pedestrians and cyclists.
The bridge is campus' most direct connection to downtown, with Richmond Street one of its most trafficked areas.
Helen Connell, Western University's associate vice-president of communications, said in a press release the bridge is closing to undergo repairs recommended by an engineering firm after a routine inspection.
The announcement does not specify when the bridge will reopen.
Bus routes 6, 13 and 106 will detour from Oct. 15 onward. Each route will enter and exit campus from Windermere Road rather than Richmond Street.
The 6 Northbound will run north on Richmond Street and loop into campus via Windermere Road and Perth Drive before turning right at Perth Drive and Middlesex Drive, the main intersection before the bridge. The southbound bus will not detour.
The 13 Northbound will run north on Richmond Street and enter campus through Windermere Road and Perth Drive, turning right onto University Hospital Access Road, continuing onto Western Road, then exiting campus upward to Windermere Road before turning left onto Richmond Street
The Southbound will travel south on Perth Drive before returning to Richmond Street and its regular route via University Hospital Access Road to Western Road, with another right turn onto Windermere Road.
The 106 Northbound to 102 will travel up Richmond Street to Windermere Road, turning left on Perth Drive and right on Middlesex Drive to its regular route. The southbound will not change.
The 95-year-old bridge underwent inspection in Autumn 2015, and in March 2016, major bus traffic from the 6 and 6A Richmond and the 13 Wellington lines stopped short on their routes at Richmond Street Gates to allow additional inspection. They returned to their normal routes a few weeks later.
Western has also announced the bridge will close permanently to car traffic in 2022 if London's Bus Rapid Transit plan rolls out.
Correction (1:38 p.m., October 11): This story originally stated that the 13 Northbound bus would take a right onto Middlesex Drive. This is incorrect, as the bus will instead take a right onto University Hospital Access Road. The Gazette apologizes for this error.